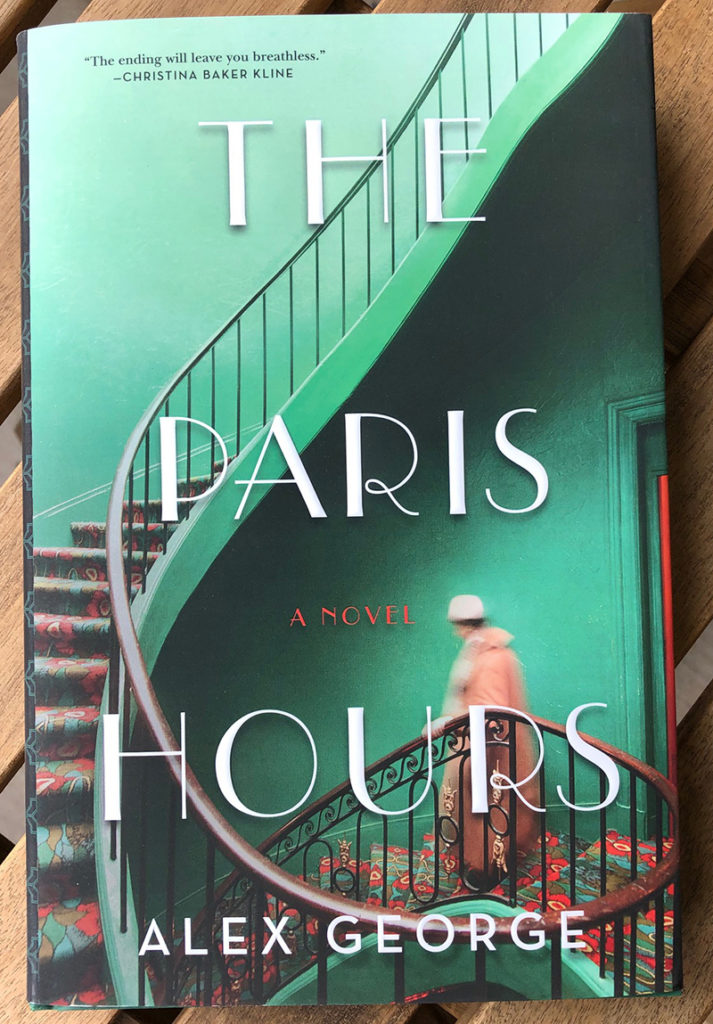 [A disclaimer: I am friends with Alex George, the author of THE PARIS HOURS. That said, I knew Alex's writing before I knew him (through his old blog). And even if I knew nothing about Alex, this is still the review I'd share…]
The Paris Hours
Moments after finishing THE PARIS HOURS, I messaged Alex this:
Holy fuckin' shit, that's a damn fine book, Alex!
Not my most eloquent moment, but it summed up my feelings about a beautiful story that comes together in its final chapters in a thrilling manner.
The next morning, I was a bit more reserved when I told Alex that it's simply a beautiful book. I feel that way about Alex's other books, A GOOD AMERICAN and SETTING FREE THE KITES. But there is a particular cadence to THE PARIS HOURS that took the edge off a currently crazy world outside my door. There is a confidence in each line I suspect Alex might even argue exists (at least to that degree). The book is a pleasure and comfort to read.
The History of Time and Place
THE PARIS HOURS takes place over one day in Paris in 1927. While readers are introduced to celebrities of the time, the focus is on a handful of characters you can't help but love. That's not to say their lives aren't messy and that they are all pure of heart; one character in particular means well in his actions, but he is definitely mired in trouble that keeps an element of suspense beating beneath every chapter.
The handling of time in THE PARIS HOURS is masterful. While the story races forward, we learn about each character's past without any jarring leaps from third person, present tense to past tense. This only added to how effortless all the entwined stories and times are handled.
A Well Wrought Book
I am a fan of literary novels that simply unfold. I don't require a driving plot, as long as a character's life or story plods along in its own way. I enjoy losing myself in beautiful writing (and some forward movement doesn't hurt).
But I'll admit that when I read Anthony Doerr's ALL THE LIGHT WE CANNOT SEE, I adored the combination of beautiful prose and a nail-biting plot. THE PARIS HOURS struck me the same way, with the prose coming along so smoothly and a plot that never seems forced.
The way Alex's latest book comes together in it's final chapters is as tense and exciting as any thriller I've read. To take nothing away from the literary merit of THE PARIS HOURS, I'd watch the hell out of it were it a movie!
The Characters
THE PARIS HOURS is built around the stories of an artist in a bit of trouble, an Armenian puppeteer, a writer, and a fictionalized version of Marcel Proust's real-life maid. While we're also introduced to a handful of celebrities from the time (I'll refrain from listing who because it's fun to be surprised by who Alex chose to include in the story), the protagonists outshine the more famous characters. Even some of the secondary characters are remarkable (like Arnaud, who evoked in me everything I loved about Andre the Giant's character, Fezzik, in the Princess Bride).
Man, That Ending!
Have I mentioned the last several chapters of THE PARIS HOURS come together in an exhilarating way? (Oh, I have…? Well lemme tell you again!)
I would have been content seeing each character's story play out with little cross over — I liked them all that much. But the story does build to an amazing last two chapters that had moments where I almost gasped out loud. (I definitely stopped a few times and thought, "Goddamn, Alex…that's slick!")
There are several masterful turns in the final chapters, but none seem clumsy or loud. Secrets are revealed; things occur that change some characters forever, while other things happen that could have changed some characters forever. (That might be one of my favorite things about the book!)
(Did I mention I could totally see this as a movie?)
Down to its final line, Alex George's THE PARIS HOURS is a joy to read.
Some Final Thoughts
I've loved Alex's three U.S. releases. In some ways, I relate to certain aspects of SETTING FREE THE KITES more than other books Alex has written, but if somebody asked me which is his best book — without hesitation — I'd point them to THE PARIS HOURS!
It's the kind of book that, as a writer, I aspire to pull off. It's the kind of book that makes me happy for a friend. (Alex recently found out the hardback is going into a second printing!)
It's a solid complement to an already impressive list of titles, and seriously…just get it!
How Can I Get It, You Ask?
As I mentioned, A PARIS HOURS will soon see a second printing. (And hopefully more after that!) If you want a signed first printing, I believe you can get one directly from Alex's store, Skylark Bookshop. You can also get it here, or wherever you get your books. (If you're in the Dallas/Ft. Worth Metroplex, I'm sure Interabang Books can help!)
Right now, the world seems rough. I would ask no one to turn a blind eye to all going on right now, but if you want to get away for a bit, I can recommend no better book to take you someplace else!