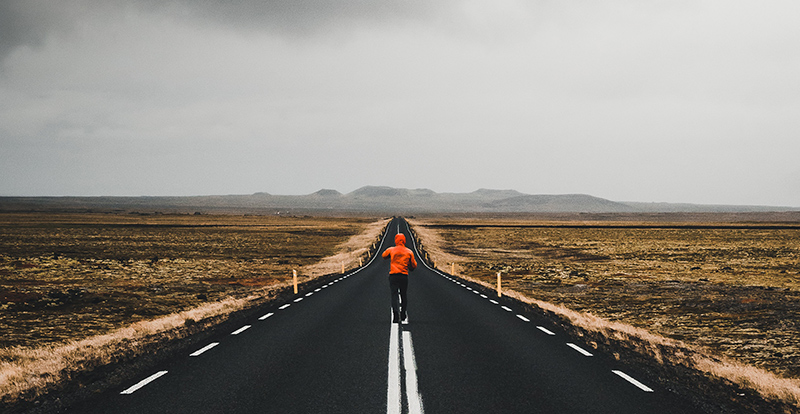 [This got a bit long…]
We live in a world where so many of us are told we can become anything we want to be.
From a young age, we're told if we simply work hard, all our dreams will come true. (And the sharper side of that message: if they don't, it's all your fault.)
Entire industries exist — huge sums of money are made — fluffing up people's hopes, while denouncing those who say, "Well, if we're being honest, most people won't make it…"
Those people are often branded as heretics; after all, if you make a nice living telling people all they have to do is believe (and can point to the very small percentage of people who bought your systems for success and actually succeeded), you are best served casting stones, rather than speaking honestly about the odds.
A Reality of Writing Fiction
The majority of people who set out to write fiction full time never will.
This isn't a gloomy, nay-saying statement meant to thwart people from pursuing their dreams, but as solid a fact as any fact that exists.
The sun will rise and set and most people won't "make it" writing fiction; in fact, many "successful" writers still have day jobs.
This isn't to say you can't go on to make supplemental income, feel a certain sense of pride self-publishing your own e-books, or do other rewarding things with your stories. Hell, you might become one of the lucky ones!
But it's undeniable: the vast majority of people who dream of writing fiction full time never will.
So What About Ambition?
We laud ambition in the U.S. (around the world, really).
Otherwise horrible people who make it in industry are forgiven of their sins because they have the ambition to make even more! Decide to live a simple life, and you're not living up to your expectations.
I recently chatted with two very close friends about this. One of them, an artist, was all but "destined" to make it with his talents. The other, a writer who made me a better writer over the years, stopped writing for his own reasons.
We chatted about ambition, and how it's so strange that what someone decides to do as a kid and later realizes wasn't what they believed it to be are almost reviled by society. How dare they not do what they were clearly destined to do?!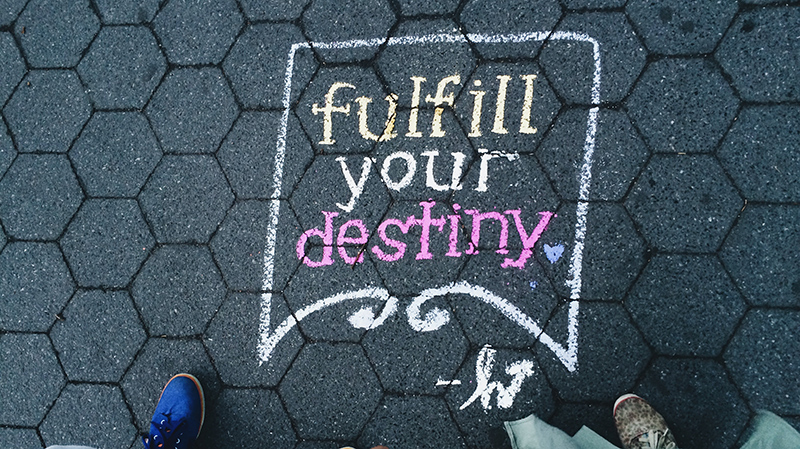 My Own Ambitions
I've always been an ambitious person. Even after realizing nothing about fiction works the way I believed it did when I was younger, I continued on. (I continue on today.) I figure if I'm going to write novels regardless, why not see if something bigger can happen when I'm done?
I have friends who are full time writers and know it's far from the world of long lunches, packed signings, and shelves full of awards some believe it to be. While most of my writing friends write very well, even they will tell you their abilities to speak, teach, and their willingness to connect with others sells more books than simply writing great stories.
As I get older, I suspect that if I ever found a day job I adored (and that paid well and provided all my wife and I need and want), most of my ambitions would deflate.
Detecting Ambition
My all-time favorite television show is Detectorists. It's about two good friends (and their wider circle of friends), who head out into the English countryside with metal detectors and do their thing.
Okay, it's about much more than that, but one of the big points the show makes is that there's something nice about just doing a thing you love for no other reason than you love it.
No grand designs to find the hoard you can retire on and put up your metal detector; no thoughts of how to monetize the thing the characters in the story love. It's a celebration of hobby and friendship.
There's a scene where one of the main characters, Andy, talks about how he feels like he's failed his wife. His best mate's answer is wonderful:
Andy: I'm not ambitious enough.

Lance: No shame in that. Ambition's overrated. On TV, all these people reaching for the stars, striving to be the best. It's exhausting. I suppose, ya know, not being ambitious doesn't mean you have to stagnate. Means you're not tied down. You're free to go where the wind blows ya…
I always saw ambition as a sort of fuel, but I think writer/director, Mackenzie Crook, is right: there's a freedom in simply doing a thing for the sake of doing it…and if you don't want to make that thing your reason to be, there's no shame in that; in fact, you're likely better off.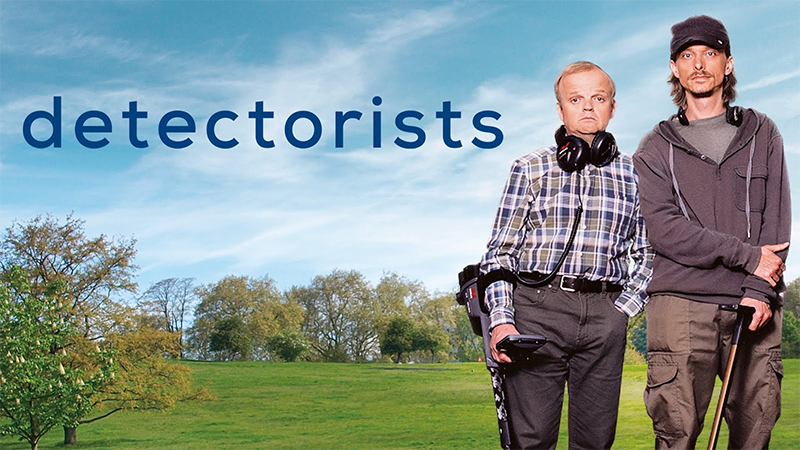 Twenty-Four Pages of Ambition
Early on in my writing, the first comic book script I wrote went on to be published. (I was batting a thousand!) I went on to write a handful of independent comic books before moving on to screenplays and then — finally — novels.
At the time, I was especially shy. Like almost-pass-out-walking-past-a-group-of-people-on-the-street shy. But when it came to selling myself and what I was writing, more confident friends who were afraid to sell themselves tailed me at comic book conventions when I approached would-be editors. I was focused on what I wanted — ambitious, even — and nothing was going to get in my way.
I've not written a comic script in decades. It's still a first writing love, but since moving on to other writing, I've seen so many writers and artists who were comic book heroes starting GoFundMe campaigns for basic needs. Ambitious people who gave an industry everything they had, people we all believed lived the lives the rest of us craved, struggling to get by.
I wish we talked about ambition-gone-wrong as much as we touted ambition for the sake of ambition.
A Tale of Two Artists
Cartoonist, Roger Langridge, is not a household name. He's worked on some big projects, but even in comics, his name isn't a first choice when people talk about artists. (At least outside his circle of fans.)
This is such a damn good strip about someone doing a thing for years and receiving a more realistic level of success: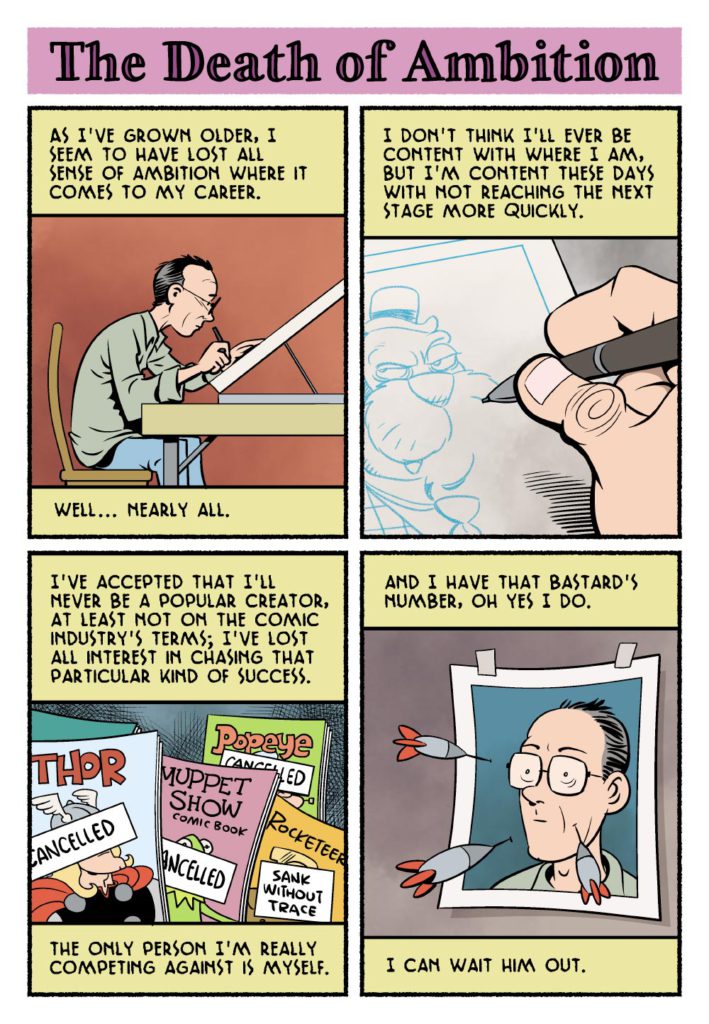 Evan Dorkin is one of my all-time favorite creators in any industry. He's won every major industry award for his works; he's worked for the biggest companies out there; he's written for television and so much more. In almost any other industry, he'd be set!
But follow him on Instagram, and it's not uncommon to see him, late at night, selling complete runs of comp copies of DC collections he's received over the years.
Some nights he posts Twitter threads about how being a full time artist isn't all it's cracked up to be…and his reward for his honesty: he's often met by people telling him to stop bringing them down…or how he just needs to suck it up and work harder. (Never mind he's one of the hardest working people out there.)
Other nights, he shares devastating things like this:
Down with Ambition?
In reading this, you might think I'm not a fan of ambition, but I have many friends whose ambitions brought them to the lives they once dreamed of. I know it happens.
While I am not as ambitious as I once was, it's still there. I want to write fiction more than I want to be a technical writer, but if I'm being realistic, it's likely that even if I did see novels published, I'd not make even a fraction of what I've made in my years writing technical documents.
Sure, it still might happen, but odds are it won't.
I think ambition is a wonderful thing…I just wish, as a society, we were more honest about it. I wish we'd acknowledge that the people many look up to are the exceptions and not the norm…that you can have every industry award on your shelves, but still struggle to make ends meet while living in fear of an uncertain future.
(And if your response is, "Just hustle harder, bro!" you're a shitty human and part of the problem.)
The Cost of Ambition We Don't Discuss
Like many people, I've struggled with depression. And when I look back at the times I was most depressed, so much of it arose from working hard and smart and being ambitious, but…not achieving what I set out to do. (That shreds some people and makes them question their worth as an artist…and even as a human.)
Fortunately, I never doubted my abilities, even in my darkest days. I was fortunate to have people I greatly respect in industries see something in the work I did…it just wasn't the thing they knew how to sell. (Or in the case of the close call with a screenplay, one large studio was bought out by an even larger studio that wanted a new direction.)
But when you're entire life you've heard things like, "Dream it; achieve it!" "Work hard, and it will happen," and "If you build it, they will come," and none of those things happen, it can sting some people and destroy others.
We need to talk about that reality more than selling the slick marketing line that all you have to do is visualize things and the universe will provide.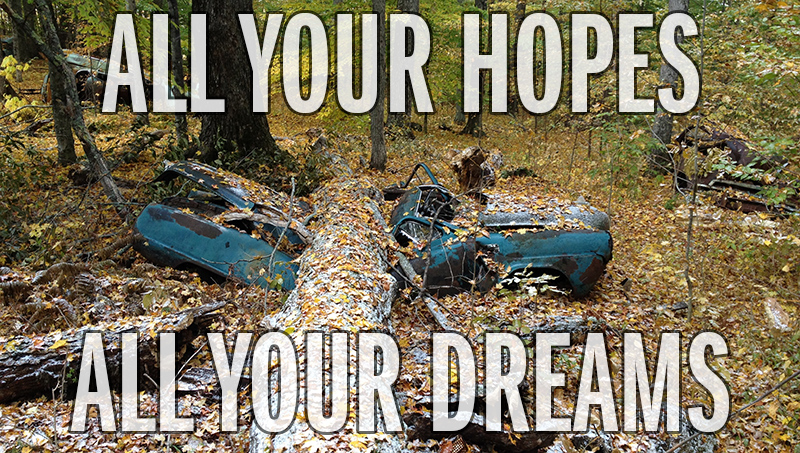 Why Not Quit?
If it can be that bad, why not quit, right?
Some do, and I don't fault them for their decisions.
For others, there are many reasons to go on.
I can only answer for myself: I like to write.
I'm not one who has to write. Sure, a compulsion to create something exists, and there are few things I love more in life than pulling off a novel I was not sure I could write when I started.
But there are other things I love doing as well; in fact, while nothing is as satisfying as writing is to me, I like hiking and canoeing more. Juggling, too!
I like hanging out with my wife, my mom, and my friends more than I like writing. (And I really like writing!) If for some hypothetical reason I could never write again, I'd still do cool things and be a happy person.
But still, there's something I adore about the dark of morning…rolling out of bed and going straight to my office. No coffee — just a stop in the kitchen for a glass of water guzzled over the sink by the dim glow of a nightlight.
And then it happens: I fall back into the thing I'm working on. The world falls away, and it's just me and the story. Later in the day, it might be rereading what I wrote on my lunch break in the back corner of the cafeteria, where two walls of windows meet and look out over a courtyard between buildings. Existing in a space where hundreds of people create a sound I barely notice as I sometimes figure out what needs to be fixed, but other days realize the morning's writing was as good as it felt. And some nights I write before bed, only to get up and do it all over again.
It is an act where ambition doesn't exist…just doing something simply for the sake of doing it.
It's only when it's complete that ambition creeps in and I think, "Well hell, it's written…I may as well see what else can happen with it, eh?"