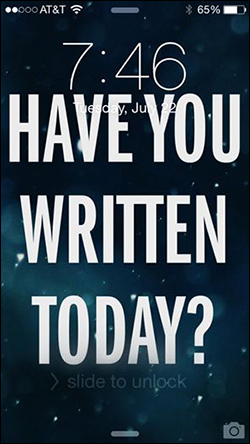 Inspired by Austin Kleon's cool phone lock screen, I made the lock screen you see here.
It's not that I really need the reminder to write, because most days begin with writing — and those day's that don't…I usually write in the evening.
But…
Some Days I Don't Write
I will admit that there are some weekends when my wife wakes up at the same time I wake up (or before me). In over 22 years together, we respect each other's space and need for time making the things we love making.
On those Saturday and Sunday mornings we're both up early, I want to hang out with her. And then there's usually podcasting (or at least editing podcasts) when my podcasting partner and I don't have enough built up. There are also hikes and tennis and other things that can be done.
More hang out time with my wife in the evenings.
So especially on weekends, when I'm mostly likely to use social media to kill time in a lazy manner, the reminder HAVE YOU WRITTEN TODAY? is nice to have.
The Reaction
I've shown a few people the new lock screen on my phone. Some people think it's cool, but more than a few people have said, "That would make me feel pressured," or "That would make me feel like shit each time I didn't write." The best reactions:
STOP PRESSURING ME, PHONE!!!
That's sad to me.
Today
So far today, aside from writing this entry and my work as a technical writer, I've not written today. I might not write today.
I don't mind the occasional day off. I suppose I stay busy enough most days that I don't feel bad taking some days off from writing.So, for me, the lock screen doesn't make me feel pressured. In the handful of days I've used it, since I usually do wake up and write, it's a cool reminder that my day's writing is already done by the time I actually look at my phone.
The Lock Screen
I made this for the iPhone 5, but since iPhone 5s are tall, I'm sure it can be cropped to fit most phones if it's your kind of thing. Download it here.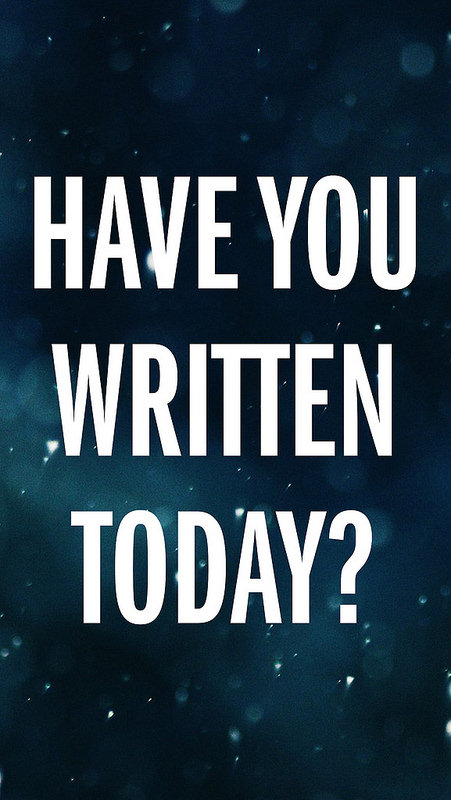 And ya know, looking at the lock screen…forget what I said about how I might not write today.
There's still time to get some writing done before bed, and that's what I plan to do!