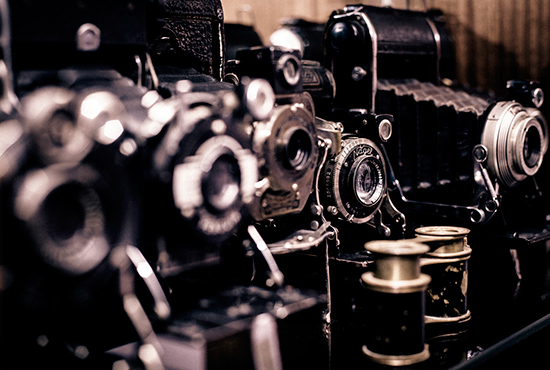 I follow quite a few photographers from my Google Plus account and from my Flickr account. Every so often, I see someone post images taken with an old camera that impress others. I've seen people modify digital cameras with old lenses. Again, people are impressed by the results. For all that can be done with Photoshop (unless you're really good with Photoshop), there's just something about an image shot through an actual old lens that a Lightroom preset or Instagram filter can't totally mimic.
There's a certain weight to old photos, even the old snapshots many of us have in photo albums. We revere photographers like Ansel Adams who took images that still hold up today — even though many were taken with cameras and lenses that are far outdated by today's standards.
It's not too much different with writing.
The Weight of Art
Many modern novels are fun and well written. But even "serious" novels seem to carry a tone that is distinctly of our time…and it should (because part of literature is the time in which it was written). Still, sometimes the tone of modern novels comes across as, "I wrote this as fast as I could to be heard!"
Then there are the writers who don't sound like they are emulating a current bestseller cranked out as quickly as possible in a race to put quantity before quality. There are writers focusing on modern themes who carry a certain weight in all they do. Just reading them, you can feel the deliberate effort put into their words. You will find no cliches or easy way around problems.
I've read some short novels that carry far more heft than an entire series of bestselling novels badly in need of editing. There's something familiar about the density of the words and the manner in which these novels are paced.
Looking Back
A friend posted this on his Twitter feed yesterday. I'll confess to not being the biggest Updike or Hemingway fan, but I cannot say their words didn't carry weight. Updike is a weird one with me…I can read his sentences all day. I can think about what went into each line he wrote, even though I can't say he's a favorite writer. (The example in the shared link isn't a really good example of his skill in constructing chains of words that stick with you.) Today, Jonathan Franzen hits me the same way: I'm not a fan, but damn, the guy can put a sentence or paragraph in your head that pulls you to the ground with its weight.
I've only recently — finally — read some Margaret Atwood and Alice Munro. In their writing I see that same deliberate use of words like bricks, constructing something so solid that it inspires me to fortify my own writing. And John Cheever…if you read this blog with any regularity, you know I came to read contemporary adult literature through his short stories when I was in 7th grade. I didn't get them all, and I skipped some along the way, but I recognized from the start that there is something gripping about writing done at a slow pace with extreme focus.
An Even Older Lens
Just as there's something that demands attention in old photos taken by master photographers, there's something about old-school writers that's hard to beat. Going back even further, to Regency, Victorian, and Edwardian times…I'll be the first to admit there are novels written back then that are hard to get through, but once you lock into the cadence of many of them, you see the world of the writers through an old lens.
Even in those writers paid by the word and serialized regularly, there is little sense of rushing through a story. Sure, Dickens could spend pages describing a table — to the point of boredom — but the guy could put something big together that sticks with you. Like looking at old landscape photos or dreamy images created in large studios, there's a majesty to a lot of old writing that doesn't seem as pronounced today.
Choosing Your Lens
Just like photography has changed with fairly recent processes, writing changes as well. And it should. But just as anyone with a cell phone can take a photo of their dinner, apply an Instagram filter, and call it art, a lot of writing, today, seems to be done at a sprint.
And it shows.
I love digital photography and post-processing in a big way. Still…it's easy to shoot 250 photos, toss the bad ones, and quickly get 50 images online that look like everyone else who used the same filters and presets or read the same tutorials. (In a similar manner, you can often pick out a writer who has been through an MFA program — sometimes down to the school!) Maybe it's just me, but there seems to be something more in taking time getting only a handful of perfect images that stand the test of time.
The same goes for writing. There's something about being more deliberate in the act, treating it like something that matters — not cranking it out in a rush to get it online. There's nothing wrong with that if it's your thing, of course, but when I see photographers stop and stare at a deliberate image captured on film, it's like when someone puts the effort into not just word choice while writing, but giving the way it's all laid out a deliberate weight.
Photographers always have a favorite lens or two, just as most writers rely on a handful of techniques they love best. Old is not by default better than new…but it never hurts to look at the things we do through the same lenses used by revered creators who've come before us and carry a little bit of that into today.