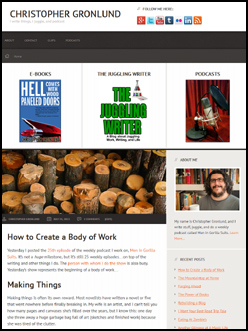 While I've had a blog set up at christophergronlund.com, I haven't done much with it. The Juggling Writer and now, Men in Gorilla Suits, gets most of my attention.
That's changing…
The Juggling Writer Guarantee
I promised to never create lists and things, here, just for the sake of doing entries. (Which is why I sometimes don't post for a bit — I wait until I have something to say.) While I still post the occasional list on The Juggling Writer, it's become a bit more personal in the last year or two. Now it's more, "This is something I thought about while working on this novel, and I hope it helps you…" instead of, "10 Ways to Write that Novel!" And as I've revealed more about myself on The Juggling Writer, I've missed having a place where I can truly post whatever comes to mind.
I Don't Want to Be That Guy…
I like having a personal blog. Sometimes, like today's entry about creating a body of work, it's something that can pertain to what I talk about here. I want to share it, or maybe just cross post those kinds of entries here…but I don't want to become that person who's like, "Look at my personal page, too!" I know some people are fine with that; I know some people come here just for Juggling Writer entries and don't care what I thing about my other interests. (But I'll still post the occasional juggling video, here…'cause, ya know The Juggling Writer and all…)
I guess this is my way of saying if you like The Juggling Writer (and even like me), I've finally cleaned up my personal site with a better design, and I'm writing stuff there as well. I may eventually call out a particular entry over there that I think pertains to writing (this is another fave from this week), just as I'm sure I may point people from my personal site to The Juggling Writer.  But I'll try not to do it too often.