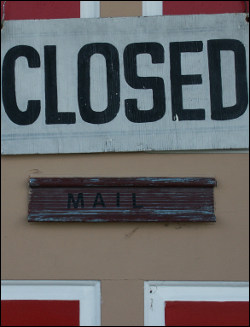 As the end of the year closes, I find myself deleting a lot of people I once followed on social media sites. People claiming that it's all about the message, but freaking out because people aren't doing what they want online.
I read something from a prominent blogger (Chris Brogan, who does seem like a decent guy) about removing a bunch of people who wrote newsletters who didn't live up to his expectations. I long ago deleted his newsletters; he is, after all, the guy who touted, "I am launching this really great site I love 'cause I love you," but bailed when it seemed it didn't make him any money. Now…he gripes about people's newsletters, when his own newsletters are wrapped in dollar bills — not the love of the message he claims to hold dear.
Cutting Out the BS
As the end of the year comes to a close, I find myself cutting BS from my feeds. Mostly, it's often the same people I once looked forward to reading. Now, with exceptions, I find myself soured on the social media message; I find myself keeping in touch with those who can offer little more than the conversation I crave, whether they've put money in my pocket or not.
I don't know if many of the people I've chatted with — the people I look forward to hearing from — have bought anything I have for sale. I really don't care. I enjoy chatting with these people whether they have put money in my pocket or not. It's why I don't monetize my blog, even though I belong to a WordPress group that's all about monetizing typical blog posts.
There's nothing wrong with making money. Politically, I'm apolitcal (with a left lean), and don't care about people making money or not. Capitalism or altruism — I don't care, but when the message is wrapped in faux love and tossed aside when the coffers aren't filled, I question the intentions of those claiming to be about the message more than the money.
It's the holiday season, and while I believe in no spiritual beings or ethereal reasons for the season, it's a good time for reflection. Maybe I'm shooting myself in the foot by not clamoring for cash, but whether I make money or not — sharing the things I love online is it for me. I know the novels I create and the posts I write are true; they aren't written with SEO and other things in mind as I scurry for a quick fix of cash.
The Best to All
I don't hope the bottom falls out on those who gripe about things not being the way they once were, but when your schtick is, "It's all about a problem and the solutions, people — and the love of the message!" and you fume the moment you become too lazy to solve an issue (e.g. ranting about people using AdBlocker and cutting some of your income)…maybe it's time to check your head. (The tune at 4:50 in kind of runs with what I'm talking about.) All I know is this: in 2013, I'll write the best novel I've written to date. Whether it's accepted or not, it will be available to people who like what I do…for money, or maybe for free (or both, depending what people can afford).
Truly, I love the handful of people who support me, and I will never piss on you because you haven't filled my bank accounts with gold. The conversations and other things you've given me mean so much more than money.
Money's nice, and I'd love to write full time, but…if the best it gets is a little beer money from the things I write and working a day job I like for the rest of my life, I can think of worse things in life to complain about.
Here's to a new year and all it holds!