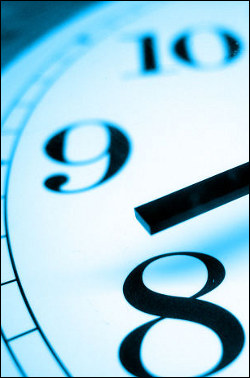 I meant to write this post a couple weeks ago, but time got in the way. At least that's how we're conditioned to look at it — when we don't get to things or do things, it's a matter of time.
"I don't have the time," has become our mantra…and our prayer is, "What I wouldn't give for another hour or two in this day…"
I meant to post and discuss these links:
There were other things I planned to share and discuss, but I never got around to it because, "I didn't have the time."
The funny thing? I did have the time.
I just chose to do other things with it…
"Busy" vs. Busy
I've worked with people who aren't the most productive people at work — people who choose to spend their time at day jobs gossiping, paying their bills, and making sure to respond to Facebook updates immediately. They are the people who find it strange that I have no push notifications set on my iPhone and that most times you send me a text message, it goes hours without being answered. They talk about all the TV shows they watch, and they boast about the overtime they work. (They usually have to work overtime because they spend a good part of their days not actually working.) Every aspect of their lives is "busy" with an all caps "WHEW!"
And then…
I'm friends with some genuinely busy people. There's a very good friend whose job, church, and two young daughters keep him busy…yet if I called him and said, "Wanna play tennis sometime this week?" the answer would be "Yes, of course!" I'm friends with entrepreneurs in start-up mode and videographers running all over the place who still find time for their hobbies and seeing friends. I have friends who are always traveling and rushing about who still slow down for the things that matter most to them.
Mean Ol' Father Time!
Time is not a bully. It's up to us to decide what to do with it. Sure, there are some people who truly don't have time — but most of us do. If we watch more than an hour of TV a day, stay connected to social media, argue about politics on Facebook, play Words with Friends, or know more about the day's gossip at work than the tasks we're paid to do…we have time!
Very rarely do I not have time, despite how busy I may claim to be. Most times I claim to be too busy to do things, it's my own fault for not managing my time better or because I chose to do other things.
So it's really not a question of having time — more a question of what you're doing with the time you have? Answer that and your world just might change for the better.