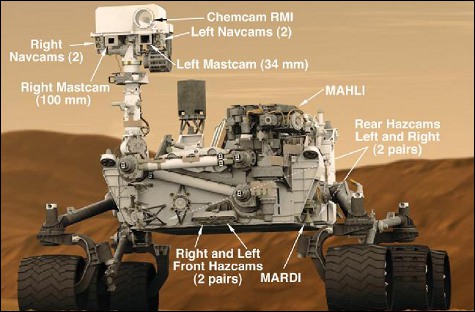 So last night we landed a science laboratory on the surface of Mars.
Let me say that again: last night, we landed a science laboratory on the surface of Mars!
It hit me at some point watching the landing live: two things that have always inspired me are science and writing. While I don't write science fiction, or even read much science fiction, the stuff of stories often precedes real discovery. The iPad is becoming common, whereas in the mid 90s, it was something many of my friends who watched Star Trek: The Next Generation only dreamed of having. Last night, some of them watched the landing on a data pad!
I'd be lying if I said I've never worried that anger and ignorance might someday destroy us as a species…or at least hold us back from what we can truly be. But I'm an optimistic nihilist who wants to see us do great things as a species, and I refuse to believe that we'll stagnate before flying even higher.
Last night, we landed a science laboratory on the surface of Mars. It's quite an inspiring thing to think about what we can do as a species when we work together — not against each other.
All the people behind the Curiosity mission remind us just how cool dreams can be. As a writer, I'd be happy to be a fraction as awesome as the minds behind this mission. If I can inspire even one reader to dream big after reading something I've written, I'll have done my job.
It's sometimes easy to think that all that time spent alone on a story doesn't matter, but think about how many times a scientist — or anybody doing something cool — has mentioned a story that inspired them to do great things the next time you sit down to write. We all have a shot at doing something special for our species if we keep those around us in mind when we set out to do the things we do…
* * *
And a total aside…as a technical writer, I must confess to a geeky grin when I heard Mission Control say, "We're on page 96 in the procedure…" last night — and later confirm steps they finished.
I've been fortunate as a technical writer to write things people actually use — not just sit forgotten on shelves or on a server somewhere. Last night was a reminder that all the little things we do can add up to something much bigger than us…and that's mighty cool!