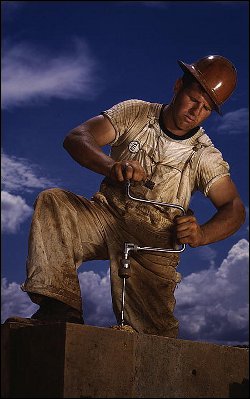 As I get older, there's something I've seen more and more at jobs: people my age (and older) claiming those new to the workforce are spoiled because "They think they are entitled to things without paying their dues."
A couple jobs ago, somebody in their early 20s came in and many of the people who had been at the job didn't like her from the start. Now, granted, she had a lot to learn about business acumen, but…she worked hard and learned fast. I was the only one in the group who answered her questions when she started. When she was out of the room, people my age (and older) talked behind her back…mostly about how she must "pay her dues," in order to "earn" their respect.
If I pointed out that she worked hard and learned fast (and was very accurate in the work she did once it clicked), that didn't matter to others. In the minds of those around me, even if somebody came out strong from the start…they still had to "pay their dues."
Hard Work
I work hard at things. When I was put into learning disability classes for dyslexia in junior high school, I worked hard to get out. When I taught myself how to juggle when I was 12, it became an obsession — and I worked hard to get better. When I traded that obsession for writing, I could easily hole up in a room and write for 16-20 hours at a time. Even at the jobs I didn't like (restaurants, fast food, and working in the Texas heat outside or in warehouses and factories), I often worked harder than those around me.
In those jobs, I was often singled out by foremen as the model worker, much to the chagrin of those around me who'd been there longer than me. While they slacked off and slept on the job and clustered in their little groups criticizing others, I worked without complaint…sometimes even doing their work for them. (Hey, it had to be done in order for us to leave!) But…since I was new, they became mad when I moved up because "I hadn't paid my dues." It was said as though there was some gauntlet I had to run before I could have their respect.
The Imaginary Gauntlet
I understand things often take time, and that when some say, "Paying one's dues," they mean working hard. But more and more, I see people who work hard and move up fast become the target of ridicule — in jobs, and in writing. And the excuse often used to keep these people down is, "They haven't yet paid their dues."
There seems to be in the minds of many an imaginary, undefined gauntlet one must run in order to "earn our respect." It's the mental equivalent of being assumed guilty before a trial, and it's quite an unbecoming thing. I can't imagine being so petty that the instant I meet someone that they must prove themselves to me.
With me: I like you when I meet you — and it's only until you give me actual reasons to not like you that I step back. (And even then, I'm a pretty forgiving person.) So I'll help you, and if you become better than me faster than it took me to get where I am…fine! If you can get to that point in a matter of month's without "paying your dues," more power to you!
Paying Your Dues vs. Hard Work
It happens several times a year: an author "comes out of nowhere," and gets big, fast. When it happens, some become incensed at the success because, "They haven't paid their dues."
I'm not a fan of Nicolas Sparks's writing, but I remember feeling bad for the guy when he got big because some people said his success was undeserved…"he hadn't paid his dues." The funny thing? The book he hit it with was not his first. I can't remember if it was his 3rd or 5th book (maybe even his 6th?), but the point: it didn't happen overnight. He worked his day job and, from what I recall, he worked hard at that as well. In his free time, he wrote, working hard behind the scenes until hitting it big.
He didn't just work hard at writing…he also worked hard learning about the industry. Granted, hard work for the sake of hard work means nothing if you're not completing finished work and at least trying to get it out there. But Sparks wasn't just holing up in his room, writing character sketches and pieces of novels and saying the effort deserved praise — he was completing novels. He worked so hard that there was no reason he should have had to run some imaginary gauntlet for a decade or two before "earning it."
He earned it by putting his ass in a chair and producing finished work — not tinkering with things and complaining about others.
Work Hard
I don't care if it's the 20-something, just-entering-the-working-world newbie or a writer I'm not fond of hitting it big: if you work hard, there should be no gauntlet to run — no reason to "pay your dues."
Sure, there are industries where paying dues matters. I've worked on a 35mm independent film crew and did whatever was asked of me. I ran errands, cooked dinner for the entire cast and crew, and jumped at the chance to do anything else I was asked to do. In that sense, I was "paying my dues." I started as a production assistant and quickly ended up as a grip.
But most people who complain about those not "paying their dues," aren't really talking about hard work. They jump on new people and find reasons not to like them. They claim new people coming in feel a sense of entitlement when, in fact, they are often the people acting entitled. I've heard writers I've looked up to say we need to stop publishing so many books…so they can stay on top!
I've met many people over the years who feel they can rest on their laurels and slow down once they've "paid their dues." They stop working hard and coast. Their "work" becomes doing all they can to keep others down and maintain their position, even at the cost of crushing new ideas that would make things better for everybody. They are often the first to criticize and the last to help.
No wonder they get so mad when others skip past "paying their dues," work hard, and pass them by…