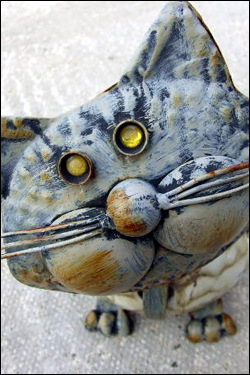 Over the weekend, my wife and I chatted with a friend about how what we've all wanted from our creative endeavors has changed over the years. While it was once an all-or-nothing race toward doing what would afford a living doing something creative, these days we all do what we want for the love of the work, and if something good happens as far as opportunities to make a living doing what we love go, all the better.
At this point in our lives, doing what we most want to do is what matters more than "making it." Sure, there may never be book signings and a plot of land in the country away from it all afforded by writing, but…the feedback we do get makes up for that.
There's something cool about a stranger letting you know they stumbled upon something you wrote, drew, or [in my wife's case] sewed — and that they really liked it. That alone is its own form of payment.
Chatting about all this over the weekend made me think about the cat licker…
The Cat Licker
Sometime in the mid 90s, my wife and I attended the big Chicago comic book convention (the first year it became Wizard World Chicago). We were there promoting a comic book we did together. We settled in at our table, hoping for a good convention. Early on Friday, a guy stood before our table looking away. He turned and saw us. He squinted, doing his best to take in everything we had at our table as quickly as he could.
"OH MY GOD, IT'S YOU GUYS!!!" he yelled. Okay, maybe not a total yell, but he was definitely not using his indoor-at-a-big-convention voice, which is still a pretty loud thing if you've ever been to a big con. It was loud enough that everyone within 20 yards turned to see what the commotion was about. He charged up to the table with a huge smile on his face — we thought he was going to leap over the table and onto us he was so excited — and proceeded to tell us how much he loved everything we had done. (Even little self-produced mini comics — one about two cats.)
He seemed so excited — and we were so unknown in the grand scheme of things — that it would have been easy to think that a friend put the guy up to it as a joke. But you can tell how genuine someone is by their eyes, and this guy's eyes said he was our biggest fan.
After proving to us that he was our biggest fan by talking about all he liked about what he did, he was comfortable enough to move on to idol chit chat (all at still an alarming volume and mannerisms that made me think he was already on his third pot of coffee).
That's when he told us how he woke up that morning…
Ever Wonder What a Cat's Tongue Feels Like On Your Nipples?
He proceeded to tell my wife and me that his cat woke him up that morning…by licking his nipples!
Just out of the blue like we were old friends, in a very animated manner, he told us all about the cat licking his nipples and how the rough tongue felt on his nipples and how it was oddly a good feeling had it not been so shocking. As other comic book creators from tables around us looked on, he went on and on in his animated way about being pulled from a dream by the brush-like, moist tongue of his cat…licking his nipples.
Shocked by his cat's actions, there was only one thing he could do: he picked up his cat…and…he licked it back, asking how it liked being licked! Then he went on to tell us how it's not a good idea to lick a cat because cats are hairy and a tongue full of cat hair is not an ideal way to begin a day. In great detail, he went on about removing the cat hair from his tongue and then on and on about how much he loved his cat.
Why I Love the Cat Licker
After chatting some more, the cat licker finally departed, but not before — again — telling us how happy and surprised he was to have seen us. He didn't know we were going to be at the convention, and it was quite a surprise for him. When he was gone, the guys at the table next to us told us they had no idea how we could have remained so patient during the "ranting" of the cat licker. It was clear that they were uncomfortable just being near him, and that if he had been at their table, they would have blown him off and hoped he left.
But here's the thing about the cat licker: he'd read our stuff. He was happy to see us. Sure, we had some nice endorsements for our little book, but in the sea of creators at that convention, we were virtual nobodies who'd driven to Chicago all the way to Texas in the hope of introducing what we were doing to people. We didn't expect to meet somebody who'd already fallen in love with everything we were doing.
We were nobodies, but already had a fan who was more than happy to see us. While the guys next to us made fun of the cat licker and were seemingly amazed by our patience with him, we had just started the biggest convention we'd been to at that time by meeting our biggest fan.
Odd as he may have been, the cat licker kicked off the con with a bang!
Some Things Are Better than Money
Being paid for writing is nice. Really nice. Getting paid for writing you really love doing is even better. But it's not all about money…
We did well at that comic book convention in Chicago. We made some money, introduced new people to what we were doing, met a lot of great people, and sold out of the second issue of our book.
But what I remember most about that convention — what I talk about all these years later — is the cat licker! Yes, he was a bit odd. Yes, his cat may have been his only friend. But you could just tell he was a good guy, and he was happy to see us. We weren't about to blow him off or turn him away.
The Work Is Worth It
The comic book my wife and I worked on started when we lived in a crappy little apartment in Denton, Texas. We put a lot of effort into that book, squeezing time in while I was going to school and later, when my wife and I moved and we worked in a hot Texas warehouse. The last thing we wanted to do after coming home covered in resin (we made the body parts to collectible dolls) was work some more in a house that had an air conditioner that couldn't beat back the Texas heat. But we did because the work alone was reward enough.
We put off parties and other things to work on that book — other sacrifices were made. What little vacation time we had was spent working on comic books; what little money we had went to supplies and other things related to comic books. We did the work because we loved the work, and we knew the likelihood of making it was slim.
When I talk about those days with people who followed a more traditional route when it comes to careers, they can't fathom putting that much into something that probably won't "pay off." They ask why we did it and still work hard at the things we love, and the answer is, in part, for the satisfaction of the work.
But it's more than that…
We create things for a connection to like-minded people. I write what I want to write and these days my wife sews historical costumes. We do it because we enjoy the work, but we also like finding others who like the same things we like, or what we're doing.
The cat licker liked what we were doing — more than anybody we'd met up to that point or after that convention.
We Should All Be So Lucky…
To this day, the cat licker is a reminder that you spend all this time creating something out of the love for the work and often feel like you're throwing it into a void to be forgotten when you're done.
But it's not forgotten.
Somewhere out there is a guy in that void who finds what you've done and consumes it. It becomes important to him, and a connection is made. In many ways, that connection is better than money; in many ways, that connection is reason to put your work out there.
Sure, you may never have a legion of fans who support you enough to pay your mortgage or rent, but we should all be so lucky to at least have a cat licker at some point along the way!
For me, the cat licker will always be a reminder than no matter how small the production, it matters to somebody…even if that somebody  is a loud guy who licks his cat after his cat licks his nipples early in the morning.