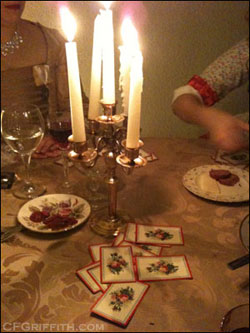 Last week, I spent an evening watching a group of women in 18th century costumes drink wine and play cards.
My wife's big hobby is historical costuming, and one of her friends decided to have friends over for dinner and games…dressed in costumes from the 1700s.
There were more than the four people necessary to play a game of whist at the party. When my wife was asked if she wanted to play, she sat it out, opting instead to watch others play.
In the almost 20 years I've been with my wife, this I know: when given the choice, it's more likely that she'll watch. It's not that she's opposed to taking part — she played whist at the last get together with the group — but she'd rather watch things unfold.
I can't knock that; I'm guilty of it myself.
The Power in Observation
More than a few times in recent months, I've seen this article about introverts circulating. I'm a reluctant extrovert, but even though I'm more comfortable than some being out there, I still prefer to observe.
There's power in observing. At work, because I listen to people giving me information for the procedures I write, it saves time for all of us. But it's when writing fiction that observing has served me the best.
I may never hold my own with the prose of Michael Chabon, but people who read what I write tell me they feel something. They care about the characters I create and the situations I put them in. The best compliment I get is that the people I write about seem real — even those deliberately over the top.
I chalk that up to observing.
How I Observe
I'm not one to sit in a café listening in on conversations and writing down what people say to use in stories — anybody can do that. It takes a genuine effort to really listen to the way people talk and treat each other. Observe enough, and you can not only come up with the conversations you hear in cafés…you'll be able to create better conversations.
The weird guy at work who makes people's skin crawl? Take time to get to know him. Genuinely embrace all that's wrong with him; he's not just a specimen to use and toss aside. Do that, and you'll probably find things that are right about him — you may even feel ashamed you've ignored him all this time. Make readers hate him and then feel for him and you're on to something.
Listen to and observe those with opposing views. No matter how odious they may be, try to understand where they are coming from and why they are the way they are. There are some views I can never find defensible, but in taking time to see why people look at things a certain way and dropping that in a story is much better than making a stereotype of a stereotype.
Don't look down on people with different accents or people who talk slow. Living in Texas, I know a lot of people smarter and funnier than me with quite a drawl. There's a certain pace to some regions that shows in speech and in the way groups even think. Many times, the person you think is slow is just really thinking through what it is they plan to say — much like the "voice" in my head that I hear when I write.
Notice Something?
In all the examples above, there's some degree of interaction with others. Observing as a writer isn't just about sitting back and watching from a distance. While my wife sat out the game of whist last week, she was still right there chatting and caught up in the pace of the game. She may not have talked as much as some people at the party, but she was still taking part.
If you spend all your time observing from afar, it will show in your writing. Characters will lack a certain something that can only come from being able to see beyond the surface of others. I'd go as far as saying to be a good writer, one must like people. Maybe not being a social butterfly, but at least fascinated with the reasons why people are the way they are.
An Example
I once knew somebody who was…rather difficult to deal with, for lack of a better term. She had an underlying anger about her that many — myself included — found off putting. She fixated on rules that only mattered to her, and she was angry when others didn't abide by these rules only she knew. In short, she was a pain in the ass.
I still took the time to treat her decently, even though she often didn't extend the courtesy to me. I even chatted with her. One day I overheard her talking about how you have to hit a child to earn their respect and give them what they need to be a good adult.
I was never spanked growing up, and I turned out much better than most people I know who were spanked and hit as children. I brought this up, and it angered the woman. We went round and around on the issue, and then she said it:
"Oh, I loved it when Daddy hit me with the brush. It was attention."
If that's not a devastating line giving a glimpse into what makes a person tick, I don't know what is. (And to add to it all, she spent a lot of time slowly brushing her hair with an old hairbrush — more than anybody I ever knew.)
At that point I just let her talk, and while I can't say I liked the woman any more than before talking to her, I at least knew why she was the way she was.
Some writers observing from far away might have just created a character who was mean and fixated on brushing her hair for no reason. While I don't use real people in my stories, were I to make an exception and turn her into a character, she'd be much more interesting because I found out why she loved that damn hair brush so much!
A Final Thought about Observing
The world isn't a slide beneath a microscope.
As writers, yes — we must observe the world around us, often with a critical eye. So many times, though, I read characters spewing dialog that seems sterile, like it was fashioned in a lab.
If you're going to view the world like a specimen on a slide or pinned to a board, at least get your hands dirty in the process.
It's that dirt on your hands and how it got there that is often where the story lies.