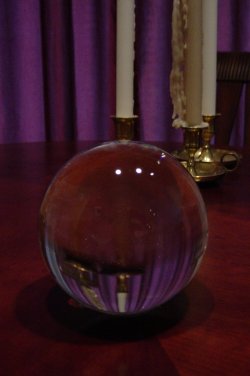 During my 101-day social media break, I cut back on the number of blogs in my blog reader. But one category always seems to grow, despite my best intentions of taming it: my "Writing/Publishing" category.
On any given day, all kinds of information comes through — much of it about the future of publishing.
"E-books will destroy all books!"
"Print books will prevail in the end!"
"Something we can't even imagine today will devour the book and e-book tomorrow!"
"All publishers will perish!"
"Agents will soon be obsolete!"
"We will use the DNA of all dead classic writers and create a vat-grown uber writer who will WRITE ALL STORIES!!!" (And destroy cities, because they will also be a giant!)
The Future
Each week on many blogs, predictions are made — some saying this will happen…others saying it won't.
It is important to think about what may come; it's how we come up with new ideas. But a funny thing about the future: it's often not what we imagine.
I don't have the flying car of old predictions, but I do live in a world where I can connect to the world while on the go with my smart phone.
The future is not revealed in a crystal ball — it's all guesswork.
Nostradamus's Daily Quatrain Blog-O-Rama
Nostradamus predicted a lot of stuff…that is, if you believe in that kind of thing. (It's probably pretty clear that I don't.)
He thought about things that had happened, things that were happening, and things that might happen down the line.
Were he alive today, he'd probably have his very own "Nostra's Daily Quatrain Blog"…and it would be buried in a flood of other blogs, unless he was also good at marketing himself. But back in the day, he was like Ze Frank when he started out — just doing his thing.
Back in the day, though, he didn't have as much competition. Nostradamus wrote thousands of cryptic quatrains, giving people today a lot to look at and say, "See? He was right!"
Write enough about the future of publishing and you too can one day say, "See, I was right!"
Just Write…a Lot!
It's fun to think about the future of publishing — I've done it myself.
It's even more fun when your predictions come true. If predicting things is your thrill, be like Nostradamus and write…a lot! Say this, and say that. Do it enough and eventually you'll be able to point to something and say, "Yep, I called that!"
Or…you can accept that there are some probabilities about the future that are more likely than others and focus on bigger things.
My big prediction about the future of publishing: no matter how they are delivered, people will always like stories.
So write stories…a lot. Do it enough and you might just luck into some of them rising above others, much like Nostradamus's better known quatrains.