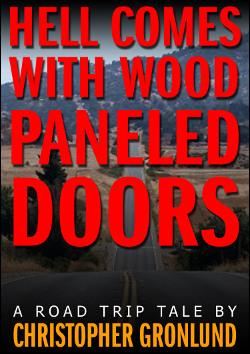 While it's been in the 100s all week, summer has officially arrived in Texas (and the rest of the northern hemisphere). In honor of the start of summer road trip season, I'm releasing the first novel I ever wrote, Hell Comes With Wood Paneled Doors, as an ebook.
Right now, it's available on Amazon.com and BarnesandNoble.com.
If you haven't heard me talk about Hell Comes With Wood Paneled Doors and you wonder what it's about…it's a humorous coming-of-age story about a family traveling cross country in a possessed station wagon. You can learn more about the book here.
So head over to Amazon.com or BarnesandNoble.com and take a summer road trip for less than the cost of one gallon of gasoline!