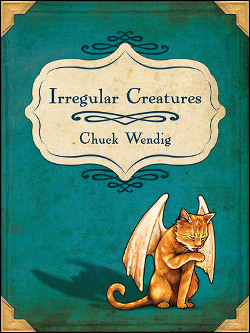 I don't read many crime novels, sci-fi stories, horror shorts, or fantasy epics. It's not that I have anything against genre fiction (in fact, I think everybody who writes should start out with genre fiction because it's a great way to learn structure) — it's just usually not my kind of thing. So it says even more that I really enjoyed Chuck Wendig's Irregular Creatures.
Chuck Wendig's TerribleMinds blog is one of the writing blogs I look forward to reading everyday. Wendig's a cool guy who dispenses great writing advice in a much more direct way than I.
Turns out he's a damn good writer, too.
Wendig's Experiment
Irregular Creatures is Wendig's first leap into e-book publishing. It was something he talked about on his blog, and it didn't take long for him to stop talking and do it. (I started experimenting with e-books, in part, because I read about Wendig's experiences with electronic publishing.)
The Irregular Creatures Review
Irregular Creatures is comprised of 9 stories — the first weighing in at approximately 14,000 words.
"Dog-Man and Cat-Bird (A Flying Cat Story)"
This story seems to be a favorite among readers.
Oh, sure, it has a cute, flying cat, but there's a lot more going on. Beneath everything there's an underlying theme of creating art we love vs. working a day job we hate.
The story's about Joe, a sculptor who hasn't created much of anything, lately, and the stress it puts on his marriage. Joe finds inspiration in a flying cat he finds in his garage one night; he creates a prophetic piece of art that plays a role in saving his son from a very strange attack.
I don't think there are many readers — regardless of their tastes — who wouldn't find things about this story that they love. It's just a damn good story, and at 14,000 words, it's worth the $2.99 price for the e-book.
But wait — there's more!
"A Radioactive Monkey"
If you're in a bar and offered a Radioactive Monkey, best not to drink it.
To find out why, you'll have to buy the e-book.
"Product Placement"
I warmed up to this story very fast; partially because it reminded me of something one of the guys in my writing group would write. But the more I thought about it, I just loved the way Wendig makes the reader feel like the character in the story.
Without giving too much away, reality begins doing some strange things to Donnie, who has even bigger problems than his little dimensional glitch. His girlfriend is pregnant and doesn't want the baby.
"Product Placement" is a great example of a story that shares its secret with the reader. We feel like Donnie, wondering if we're losing it while everybody else is oblivious to strange changes going on around us.
I loved the way this story unfolded; one of my favorites in the collection.
"This Guy"
A short glimpse of a person's descent into madness.
Over and over…
A macabre slice-of-life!

"Mister Mhu's Pussy Show"
By now, it's clear that Wendig can write. He's funny, old school while still being hip, and he does an excellent job pulling readers into his stories.
"Mister Mhu's Pussy Show" is a great example of the kind of thing I normally wouldn't be into that surprised the hell out of me.
Wendig's descriptions in this one drop the reader into the underbelly of Bangkok. It's not a pleasant story, but even if it's not your thing, you have to step back and be impressed by the writing.
Damn fine stuff!
"Lethe and Mnemosyne"
The shortest story in the collection drops fast, and I really liked it. There's not a big resolution; there doesn't need to be a big resolution with this story.
What I liked about it: Wendig puts a situation in the reader's head, makes that situation sooooooooooo ridiculous but vital to the survival of the characters and an entire town, and leaves the reader thinking, "What would I do in that situation?"
Giant chicken — hell yeah!
"The Auction"
From comments on Wendig's blog and reading other reviews, this seems to be a second favorite story in the collection.
It's kind of like what would happen if Wendig channeled Ray Bradbury, Clive Barker, and Terry Gilliam. It's a story about a father who takes his son to an auction where some of the strangest things imaginable can be had.
Wanna buy a Sasquatch? Check!
That kind of thing.
Benjamin's father brings him to a strange auction. Dad tells Benjamin to stay close as he makes a phone call. Dad talks and talks and talks…
Benjamin does what I would have done: he wanders off.
He finds a mermaid for sale.
Tie it all together with a huckster holy man and chaos, and you've got yourself a mighty fine read!
"Beware of Owner"
Solicitors beware; some people aren't content simply slamming the door in your face!
Some rough stuff, and a perfect example of a writer giving the reader just enough to make things even worse in our minds.
"Do-Overs and Take-Backs"
A kid from a rough part of town…a guy who has it all, but still isn't happy.
A hobo hermaphrodite in a suit of magical rags. (Yep, you read that right!)
Stuff happens in between some mighty fine writing.
Redemption happens for some; not so much for others…
A good end to a great collection!
Who Would Like Irregular Creatures?
Fans of Joe Lansdale should dig the hell out of Irregular Creatures.
That doesn't mean it's just for fans of horror, dark fiction, or strange tales; Lansdale does so much more than he gets credit for writing, and Wendig's that kind of writer, too.
The first story alone is worth $2.99 — and there are 8 stories after that. Not a bad deal at all; I had a great time reading it and will definitely buy more Chuck Wendig stories when they come out.
(Link to Wendig's "Books for Sale" page where you can purchase Irregular Creatures.)
*          *          *
Oh, and if you're in the mood, you can listen to an interview with Chuck Wendig about writing here.
He talks quite a bit about outlines, so writers really should check it out!