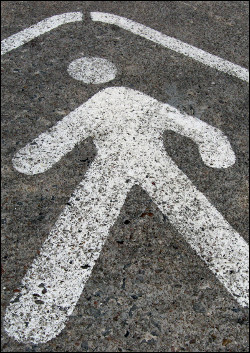 I get many of my ideas while reading, or when thinking about something I've read.
I get ideas while driving — when I do most of my thinking (and when I talk to myself).
I also get ideas when I'm doing work I'd rather not be doing and thinking about how I'd much rather be writing.
When it comes to blog entries for The Juggling Writer, most of my ideas come while walking.
Listening for Ideas
I walk 45 minutes to an hour more days than not.
When I walk, I listen to podcasts.
If it's an interview, I find myself thinking about how I'd answer a question asked to guests. Other times, I think about how what is being discussed applies to me.
When I realized a flood of ideas came everytime I walked and listened to podcasts, I began focusing on what I listened to.
If I'm thinking about productivity, I listen to podcasts about productivity for ideas.
I listen to interviews with writers and other creative people to force myself to think about the creative process.
Even if a podcast I'm listening to seemingly has nothing to do with work, writing, or life, I always find myself flooded with ideas — many of which end up as blog entries. (For example, this recent entry about how I get things done came to me while listening to people on a podcast talking about how much they love OmniFocus. I don't use OmniFocus, but the discussion got me thinking about my process for doing things, which resulted in a blog entry.)
Taking Notes
When a thought comes to me while walking, I quickly jot it down using the notes feature of Evernote or the iPhone Notes program. (I still haven't decided which method I prefer, but I lean toward e-mailing myself the ideas from iPhone Notes, since I then quickly transfer them to WordPress as rough entries and don't need to tag them. (And since Notes can be synced with Gmail.)
I'm sure some people see me walking and think, "Poor guy can't even enjoy a walk without texting or checking e-mail," because when an idea hits, I jot down a note on my iPhone and probably look like a workaholic to people who probably live a more hectic life than mine.
My walks are meetings with myself that I look forward to each day. Sometimes I just listen to music and enjoy thinking about nothing at all, but since I started working at home, time walking has become time to think about blog entries.
While I plan to go back to 3 entries a week in January, so far this month I'm 18 for 18 — posting an entry each day in December. I owe that productivity to being able to podcasts that make me think and capturing my thoughts while walking.
Give it a Try
If you're having a tough time coming up with ideas for articles, your blog, or anything else — think about what you want to write about, find some podcasts that will make you think about the topic, and go for a walk!
Capture your thoughts as they come, and get the rough ideas into WordPress or whatever blogging platform you use as soon as possible.
It's a great way to stay productive…and healthy!