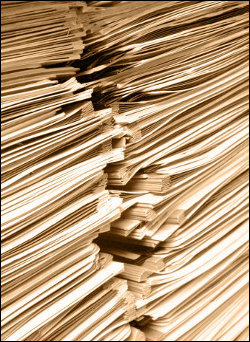 I hear people complain about all the e-mail they receive throughout the day.
Most of it is spam, or mailing lists they've signed up for, but never unsubscribed from.
Many of the people I hear complaining about their full inboxes are writers — the same writers who have no problem sending out blanket queries to agents they haven't thoroughly researched.
Think YOU Have a Full Inbox?
The next time you complain about being buried beneath a pile of e-mail, be glad you're not an agent.
Imagine receiving 100+ queries a day, through e-mail and regular mail. Now imagine even more e-mail, phone calls, and messages on top of that. (Office correspondence, meeting requests, e-mail from family asking what's for dinner.)
It doesn't make the 10+ pieces of spam I have to delete in my various inboxes first thing when I wake up seem so bad.
We Can At Least Delete
Most e-mail I get is information that I can read and delete.
Most  of my correspondence these days seems to take place on Facebook and Twitter. Outside of a few close friends who still love exchanging e-mail, most of what comes through during my day is short and can be read quickly and then deleted.
Now imagine you work for an agent. You can't just delete things; you have to read them and send a reply.
I've never felt slighted receiving a form rejection letter from an agent or editor because it's not too hard to imagine myself in the same position sending a form rejection letter, even though I'd love the time to send a better reply. And that's not even accounting for queries not meeting your needs.
Put Yourself in Their Shoes
The next time you feel overwhelmed by e-mail, text messages, Facebook, Twitter, and even snail mail — as you say, "I'm tired of all these piles!" imagine what it's like to be an agent.
Maybe you'll research a bit more and realize the agent you're sending your fantasy novel to only represents non-fiction. (You'll save yourself — and non-fiction writers — valuable time.) Maybe you'll be more focused with the queries you send, contacting a handful of agents at a time, instead of armfuls. And maybe you'll have some sympathy about the time it takes for agents to get back to you, instead of following up days or even weeks later, asking if they got your query.
Agents' Week Off
As writers, we should all pick a week and decide, "During the first week in April or May, we will send no queries — we will give all agents a break."
We will give them a week in early spring to get refreshed. We will give them a week to get a little caught up on all the piles of things that beg for their attention; maybe even allow them time to figure out, "Yeah, what is for dinner tonight?!"
We will give them a week off from our queries as a thanks for the work they do. Hell, we might not even send a flood of queries the next week; maybe we'll let things trickle back to the firehose flow they're hit with every day.
If we don't do that, we should all — at the very least — really research markets better and consider if what we're sending to agents is good enough (and appropriate enough) for their attention.
I'm guessing that alone would be seen by most agents as thanks enough for all they do…