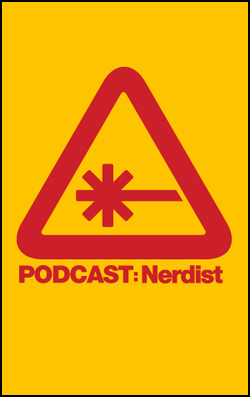 I stumbled upon The Nerdist Podcast the week the second episode came out. Since then, it's one of my favorite things to listen to while working out or going for a walk.
The Nerdist Podcast is a weekly interview with creative famous people: musicians, comedians, actors and actresses, and even a writer. (I'd go as far as saying the linked interview with Scott Sigler is a must listen for anybody wanting to not only write, but do anything online.)
Writers often look for interviews with other writers for inspiration. I'm no different — my iPhone usually has a handful of author interviews on it at any given moment. But I find myself even more fired up and thinking differently after listening to the Nerdist Podcast.
Even if you're not a fan of Rob Zombie's music, listening to his interview — how all his life he was told he couldn't be a writer, a filmmaker, or a musician (let alone all three at once), and what he did to get there (lived for what he loved and worked his ass off) — you come away with a renewed desire to make the mistakes necessary to figure out your way to better things.
I'm not particularly a fan of Ozzy Osbourne, but his interview is so full of genuine love for his fans that it's no wonder he's such a success. Hard work and integrity go a long way.
Listening to any interview of the Nerdist Podcast is a reminder that every successful person — even if they had a bit of a head start — got there through working hard doing what they love.
I often hear people say, "Yeah, but those people are just lucky — success like that can't happen for the rest of us."
Listen to these interviews and you'll hear stories about people who started with nothing more than a dream and made it real.
I think that's an important thing for writers to hear.