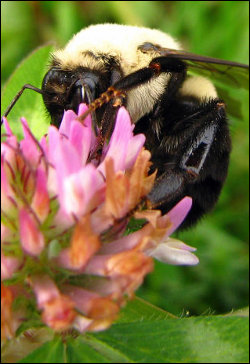 It's Monday — that means back to work for many juggling writers who will hear things like, "We need to hit the ground running this week, attack the low hanging fruit in order to maximize productivity, and utilize our group dynamic to create a paradigm shift that positions us as forerunners in the [insert industry here] arena."
Ah, corporate speak. Sadly, the extreme example above is not too far off from something a manager actually said to a group I once worked in.
The problem with corporate speak is it says nothing — it's a cover up. Anybody who's ever had a cat knows it can cover a piece of poo in its litter box, but the poo's still there, stinking.
Some problems with my example:
Unless you're a professional athlete or selling beer at a hockey game, you don't work in an arena!
"Hitting the ground running" is another way to say, "We're behind!" — so why not just say, "We're behind"?
Attacking "low hanging fruit" is a not-so-clever way of saying, "If we ignore the big things that matter and do enough little things that really don't, we at least look busy (even if we're still ignoring the big problems)."
And why do people use utilize instead of good ol' use?
Sadly, corporate speak and buzzwords sometimes make it into articles and fiction.
I've heard visionary used as a buzzword quite a bit, lately. Everybody who does something a little different than normal is now a visionary.
Last week, a couple friends joked with me because I mentioned a trailer for the new Robin Hood movie got to me. In the trailer, somebody says, "Your father was a visionary…"
The word seemed out of place — probably because I hear it used so much as a buzzword. So I looked the word up in two dictionaries. Depending which dictionary I trust more, the word was first used in either 1648 or in the early 1700s. Regardless of when it was first used, it's not a word that was used during medieval times, when Robin Hood takes place.
It's a case of a buzzword not even in use at the time making it into a work of fiction.
Buzzwords creep into articles and news stories, too.
Don't tell me to "leverage cutting-edge moves for maximum returns on your workout!" — say, "Try these new exercises," and give me some pictures.
Communicate with me.
Buzzwords and corporate speak date your writing; more than that, they destroy your message. Keep it out of your correspondence — written and verbal; Keep it out of your queries and pitches.
Don't tell somebody that your article is basically about something — tell them what it's really about!
I'm guessing agents and editors could care less about what happens to your characters at the end of the day… — they want to know what happens at the end of the book!
You owe it to editors, agents, and readers to avoid buzzwords.
And you owe it to yourself.
The ability to communicate clearly is one of the most important abilities there is.
Don't ruin it by telling us  "It has been brought to our attention by outside forces that our actions may have been construed as a failure to communicate properly on our part; please rest assured that we are doing everything in our power to ensure that this is a mistake we do not intend to repeat," when what you really mean is "I'm sorry — I won't do it again."
*          *          *
If you want to share corporate speak terms or stories that drive you nuts, feel free to discuss them in the comments. I'll include a couple of my favorites below.