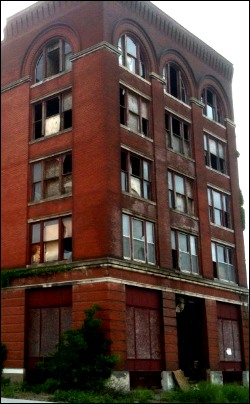 One of the earliest lessons I learned about writing is there are times when unexpected things happen and writing is put aside for a week or two.
The past couple weeks have been one of those times for me.
My wife and I were in southeast Missouri and southern Illinois, visiting ill relatives — one of those out of the blue/best get up there and visit now kind of things.
I wrote a little bit while on the road, but it was more important to be there for my wife.
So…no Juggling Writer entries. (Sorry 'bout that — I'll be back to regular entries next week.)
The drive did make me think about a simple writing exercise I used to do: I'd look at a person, place, or thing and think about a description for an article or story.
My impression of Cairo, Illinois:
If Route 51 were a spine, Cairo, Illinois is a diseased vertebrae, deteriorated and at risk of crumbling to nothing. Brick and stone buildings look like they could be toppled by a shove from a fourth grade playground bully. There are enough weeds growing through the pavement on some streets to graze goats. It's easy to imagine the town was bombed by the Soviets at the beginning of the Cold War and then forgotten.
Cairo, Illinois is one of the saddest places I've ever seen. It's clear there was a time when it had no rival in the area, but today it lingers and suffers.
The two relatives we visited were raised in Cairo. The weight of driving through the town on the way out wasn't lost on us. My wife said it best when we crossed the Mississippi River on our way home for Texas:
"It seems fitting…"
I knew what she meant.
Just like that town where the Ohio and Mississippi Rivers meet, there's little left of them these days.
I'm glad we got up for visits, and as sad a town as it is, I'm glad we finally drove through Cairo.