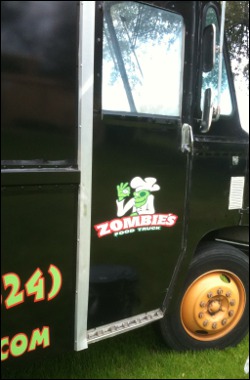 While food trucks seem to have taken many cities by storm, the Dallas/Ft. Worth area is just beginning to get a taste for the mobile goodness.
I was very happy to see Ft. Worth become the home of a vegan food truck called Zombie's. Offering a variety of sandwiches, the buzz surrounding what the Zombie's crew makes didn't go unnoticed by me; in short, I couldn't wait to give their food a try.
This weekend, the Zombie's crew headed north, to Denton, Texas, where they fed hungry Keep Denton Beautiful volunteers. After that, they had public food service from 1-5
.
It would have been a travesty to miss out!
Denton Bound
While I'm probably right in the middle between Denton and Ft. Worth, the drive to Denton is more scenic, and has much less traffic. That, and my wife and I just like Denton. (She also had to drop off her fiddle with a luthier in Denton.)
So off we went!
The Food
You probably don't care to hear more babbling…you want to see the food. So here it is: