If you know me, you know that I do a weekly podcast with a friend called Men in Gorilla Suits. Men in Gorilla Suits is a [sometimes] philosophical look at pop culture. (Sometimes we're anything but philosophical.) I also have a novel out as a podcast, which also hangs out at Podiobooks.com.
But I don't just make podcasts — I also listen to a handful regularly. (Since I pay the bills writing, I can't really listen to as many podcasts as I'd like because I can't listen to people talk while writing. Also, my commute is only 10 minutes each way to work, and I work from home half the time. So when I listen to podcasts, it's time dedicated solely for listening — there is no multitasking involved.)
Someone recently asked me what I listened to, so I figured I'd share.
My Favorite Podcasts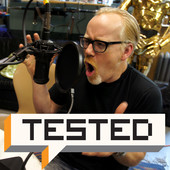 Still Untitled: The Adam Savage Project
This is one of the podcasts I will drop things for to listen to. It's not just because I've watched a lot of Mythbusters in the past…I just love people who make things — and Adam, Norm, and Will make things.
But it's much more than that. For me, the people behind the show not only make things…but they talk about travel, reading, and so much more.
Even if you don't like Mythbusters, give it a try. The only podcast that's ever made me think, "Yeah, I would pay for the premium content for this…"
Favorite Episode(s):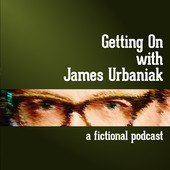 Getting On with James Urbaniak
If you do not know who James Urbaniak is…FOR SHAME!!! Just kidding! (Not really.)
James is the voice of Dr. Thaddeus Venture in The Venture Bros. More than that, you may have seen him in things you watch and love (and not even known it).
I cannot even describe the brilliance. It's so brilliant, you might argue with me that it's brilliant at all (bearing in mind that I am 6′ 3″ and built like a defensive tackle). But seriously: brilliant!
Favorite Episode(s):
A Tiny Sense of Accomplishment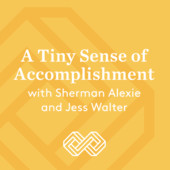 Sherman Alexie and Jess Walter write like badasses. And I am sooooooooo grateful for the mighty Lisa Eckstein for recently telling me about this podcast…that's fast become an all-time fave!
You want readings of works in progress — you've got it! You want funny commentary about everyday life — it's there. Interviews with cool, creative people? They have that covered.
Really, there's nothing bad I can say about this podcast. It might be one of the few that, at times, reaches the level of all-time best things ever recorded. Yes, it's THAT good!
Favorite Episode(s):
Cheston, Applied Science, and Star Anna (Jess Walters reading "Cheston" would make this worth PAYING for…and you get it FREE!!! That line about 20-year-old scotch is wonderful!)
Psalms, Spokane, Stusser, and Seeping Gunk (I really DO like Sherman Alexie, but Jess Walter's poem about Trader Joe's is the star of this episode.)
Jess Walter Is Taking His Talents to the Grave, With Special Guest John Sirois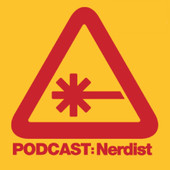 The Nerdist
In the nerd world/geek world (listen to the episode with Wired's Chris Anderson for a discussion about nerd vs. geek), being there first counts to some. I do not hold that philosophy, but if I did — I win against MOST Nerdist listeners.
While unemployed, I discovered this podcast on its second episode (the one with Drew Carey). I don't think there's a podcast I've listened to more.
I'll go ahead and say it: one of the few podcasts that's brought me to tears it's so touching at times. The ONLY podcast that's made me tear up from laughter AND sentiment in the same show. Truly one of the best, even though it's now big and Hardwick has a media empire (and in some geek circles, that means I must now hate it…but I never will).
Favorite Episode(s) (HOW CAN I CHOOSE JUST ONE?!?!?!):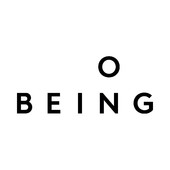 On Being
If you know me, you know I'm an atheist. Solidly…all my life. There has never been a time (nor will there ever be a time) that I believe in a god of any sort.
But I'm not a dick about it.
On Being is definitely spiritual at times, but it's also beautiful. Just as I'm not a dick about atheism, I don't mind people talking about faith…as long as they aren't dicks about it. On Being does that well…and more times than not, it's just about reflective moments we can all love — no matter what we believe (or don't believe).
Favorite Episode(s):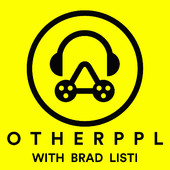 Otherppl with Brad Listi
If you like reading and authors, you should be listening!
I can't describe what I love about this podcast, other than it's like when The Nerdist interviews authors without the trademark Nerdist stuff. That may or may not make sense to you, and it is praise for both shows.
Definitely one of the better podcasts out there interviewing authors.
Favorite Episode(s) (Some of he best interviews (Jim Lynch, George Saunders, and Susan Orlean) require a premium account
. But still…):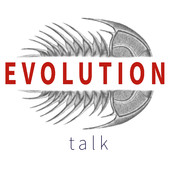 Evolution Talk
A recent edition (because it's a relatively new podcast), Rick Coste's Evolution Talk has quickly become my favorite new podcast. I put it up there with A Tiny Sense of Accomplishment. It's that good.
One of the few scripted podcasts I'll listen to (think "being there," instead of just being talked at), Coste does such a damn good job with this podcast that it's almost ridiculous! (And his output of other shows and videos will make even a productive person feel puny!)
The production of this show is wonderful; the way it's presented makes one think of the potential for the medium.
(Oh yeah…Rick also does Philosophy Walk, which is also mighty impressive. He might be the only podcaster I'd follow into battle!)
Favorite Episode(s):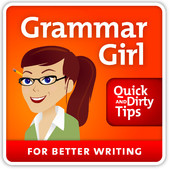 Grammar Girl
Mignon Fogarty is kinda badass.
I make a living writing, and have for some time, and these short podcasts always leave me thinking about better writing.
You might think, "But I'm not a writer." If you wrote even one email or posted on a social network in the last week, you need to listen to this show!
Favorite Episode(s):
Too many! Just go to the site!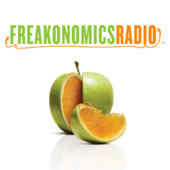 Freakonomics
I heard the podcast before watching the documentary.
The documentary made me realize these guys think in some really cool ways. (Even when I have an opposing view, I love the way they lay things out.)
You can say this is about economics, but it's really a show about how humans look at…everything. With something that solid, how can you not listen?
Favorite Episode(s):
Like Grammar Girl, there are too many to list. Just hit the archives and have at it!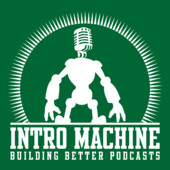 Intro Machine | Building Better Podcasts
Another newer podcast. I met Ian at Podcast Movement 2014, and he was torn between a couple shows.
When he mentioned Intro Machine, I — and others waiting for a session at the conference to start — told him that Intro Machine sounded great!
We were not wrong…
Favorite Episode(s):
They're short, so just listen. (I like the How to Make a Thing episode…but really, all of them are good. And there's a bit more than sound at the end of each episode that makes the show about more than just production.)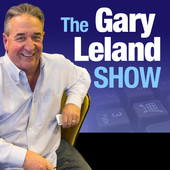 The Gary Leland Show
Gary Leland is a cool guy. Seriously.
Gary started selling blinds door-to-door in the 80s, and in the earlier part of the 90s…sold wallpaper ONLINE…when everyone told him it was a dumb move. It wasn't, and Gary now has his own little entrepreneurial empire (that really leans toward fast-pitch softball. Seriously)
I shy away from entrepreneurs interviewing entrepreneurs, but Gary makes even talks with people I'm not too fond of something worth listening to. And you would be hard-pressed to meet a cooler, more genuine person. Gary's the real deal, and I would say that even if he wasn't a friend.
Favorite Episode(s):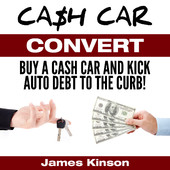 Cash Car Convert
I'm kind of stubborn when it comes to reading and thinking about money. I read Your Money or Your Life, and I was good. (Full disclosure: I have not read the version I linked to, and the book can be sumarized like this: figure out what your time is worth for every hour of your life…and decide if that 2.5 hours in traffic and business travel and time away from all you would rather be doing is really worth it!)
James Kinson is one of those truly good people…so I'm glad he has a podcast. It's about much more than buying used cars/driving your existing car for a decade or more to put your money elsewhere. It's about finances, but it's also about being decent and living a good life.
Like On Being mentioned above, it's one of a few podcasts that I don't turn off when it gets more spiritual. It's always with purpose, and I can see the parallels in the life I live. James is just a mighty good person! (And yes, I know him…but knowing him does not change that one bit.)
Favorite Episode(s):
Podcasts I've Listened to (and Mean to Listen to More Regularly)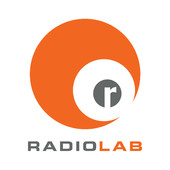 Radiolab
A good friend told me to listen to an episode with They Might Be Giants.
Other friends have told me to listen.
Hell, Laura Mills mentioned the show in this blog entry, and I am convinced you will not find a more intelligent and reflective Millennial on the planet! So…I need to listen more!
Favorite Episode(s):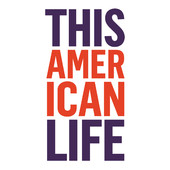 This American Life
Psst…Maybe you've heard about this show 🙂
Maybe you saw this video about how to listen to podcasts.
This is one of those shows that people will miss decades down the line when Ira Glass is no longer around. I don't know why I go through periods of not listening, and then consuming like a fiend…
Favorite Episode(s):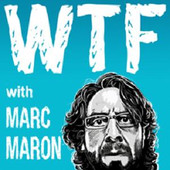 WTF With Marc Maron
Sure, you can say, "He's crass," or whatever you want…but Marc Maron is rather badass.
I read fiction because I want real, and I love that Maron freely admits that he was a complete asshole in so many ways in his past.
More than that, I love that his redemption came as one of the podcasters out there to pave the way for the rest of us. Like him or not, those of us podcasting will probably never have the success Maron's made for himself. For that reason alone, his interviews are worth listening to.
Favorite Episode(s):
Remembering Robin Williams (A beautiful interview)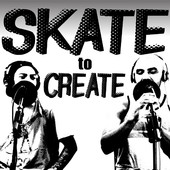 Skate to Create
What if I told you a small group of skaters thought, "Wouldn't it be cool to have a business podcast…that focused on skate culture and how that led to entrepreneurs making a living doing what they love within skateboarding?"
You might think, "I'm not sure about that…"
Regardless of where you stand, this is one of the most genuine and focused shows I've heard about turning what you love into a business.
Favorite Episode(s):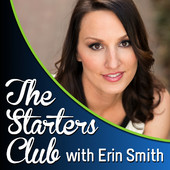 The Starters Club
Confession: I would go as far as saying I loathe with the passion of 10,000,000 white-hot suns podcasts with an entrepreneur interviewing other entrepreneurs.
I mostly feel that way because it all comes off like a big friggin' circle jerk, with "Entrepreneur A" interviewing "Entrepreneur B," whom every other "Entrepreneur" has interviewed 20-times over already. It all sounds the same, and the industry it's spawned is even worse than the shows feeding the beast!
Erin Smith is actually an entrepreneur. She's not just saying, "I'm en entrepreneur," because she has a podcast — she has a podcast because she's started several successful businesses. Sure, they may not be the kinds of things I want to do, but between her weekly tips and interviews, I can see how what she talks about can apply to being a full time writer.
Favorite Episode(s):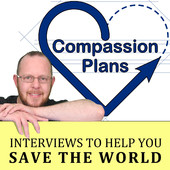 Compassion Plans
I like genuine things.
The handful of episodes of Compassion Plans I've listened to are genuine.
That alone makes it one of the shows I go to when I'm done with my absolutely must-listen-to shows!
Favorite Episode(s):
How to Disrupt Compassionately with Evo Terra
Marketing is Compassion with Tad Hargrave
Running Over the Debt Monster with James Kinson