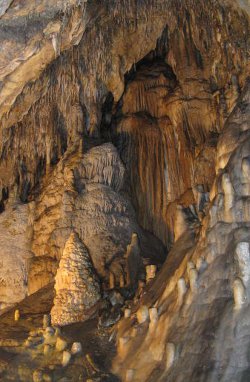 Lucky taunts Michael again, and the twins go missing inside Mammoth Cave. When all's back to normal, the O'Brien's belch and fight around the campfire.
*          *          *
Giveaway
In honor of the holidays, I'm giving away a signed copy of Troy Paiva's awesome book, Night Vision: The Art of Urban Exploration (affiliate link), 1,000 Places to See in the U.S.A. & Canada Before You Die
(affiliate link), and three copies of Pirato Ketchup's debut EP.
What do you have to do to have a chance at winning something? Listen to this episode and find out, or simply leave a comment for Chapter 10, 11, 12, or 13 telling me what you like about Hell Comes With Wood Paneled Doors. Sharing a story about a favorite road trip works, too!
On January 8, 2011 — on what would have been Elvis Presley's birthday — I'll assign a number to everybody who replied and randomly select 5 winners.
Oh, and don't worry if you live outside of the United States — I'll still send things your way if you win.
Okay, on to this week's chapter!
*           *           *
00:00:00 – Introduction
00:00:08 – Theme Music (by Pirato Ketchup)
00:00:54 – Commentary
00:01:14 – Giveaway Announcement
00:03:39 – Giveaway Rules
00:04:34 – Left Behind: A Road Trip Tale
00:06:07 – Last Week
00:06:30 – Chapter 10: "Lost Deep Down in the Belly of the Earth"
00:07:46 – Mary's Coverup
00:09:27 – Sing-A-Long (With Lucky)
00:12:56 – At Mammoth Cave
00:16:23 – The Twins Go Missing
00:20:52 – The Twins Are Found
00:24:07 – Belching Contest
00:25:16 – Fight!
00:26:34 – What Attacked Mary?
00:28:21 – Coming Next Week
00:28:37 – Credits
00:31:05 – End
Podcast: Play in new window | Download