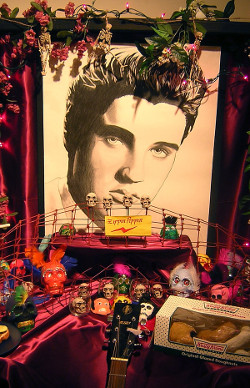 Today I'm recording one of my favorite chapters in Hell Comes With Wood Paneled Doors.
In the next chapter (available late Saturday/early Sunday), the O'Briens visit Graceland. It's an experience that changes Mary's life forever.
In honor of this week's chapter, a reminder that Elvis is everywhere by Mojo Nixon and Skid Roper:
Elvis shrine photo courtesy of Theogeo.