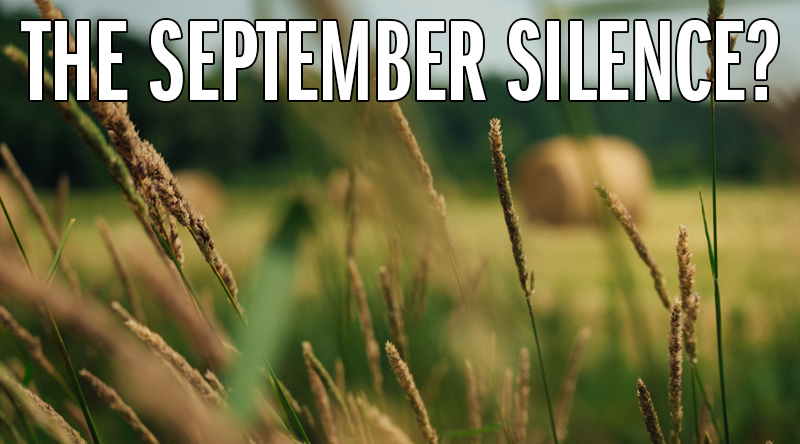 It's that time of year: "The September Silence" — that month when I step away from social media and focus on writing.
Except, after 9 or 10 years of the annual September social media break, I'm not doing it this year.
The September Silence
I started the September Silence after taking longer social media breaks in the years leading to it becoming and annual thing. It was a time to celebrate — that while it will still be hot in Texas into November — my favorite season is approaching. (At least on the calendar. We get a few autumny days in October, but have to wait until November to feel like fall has arrived and stayed.)
It was a time to focus even more on writing than I already did.
But things change…
What Changed?
The quick version:
The September silence bums out some friends who like staying in touch and seeing what I'm up to through social media.
The writing I do is practically automatic.
Absence might make the heart grow fonder, but unless they are great actors, my friends are already fond of me. And I miss seeing friends I'm only in touch with through social media.
And since starting Not About Lumberjacks in 2015, I'm always writing, recording, and releasing fiction.
A Release Month
Speaking of Not About Lumberjacks, September is a story release month. In past years, I didn't share that a new story was out there. Of course, many subscribe through podcast apps, but others count on a reminder on social media that I've released a new story.
While I'm not one to chase numbers or obsess over statistics, the show's had steady momentum in the past year and I don't see why I should let that slump just to take part in a tradition I started for myself.
And so, there's really nothing to gain this month by disconnecting from social media.
A New Annual Thing?
So, is the September Sound now a thing? Will I become even more active on social media when September rolls around each year?
Nah! No change at all, really.
Maybe another September comes along when I need a month-long (or longer) break from social media, or maybe a new month becomes the month I step away. Maybe I never take another social media break again.
But one thing is certain: at least now, the September Silence is a thing of the past…