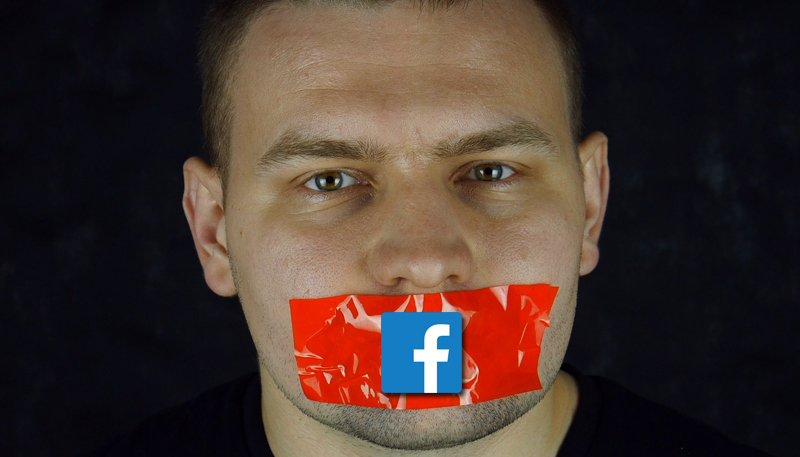 Okay, the topic is click-bait, but…Facebook did ban a writing comment I made.
And, because many don't get to see the dispute process, I figured I'd share it here…
What Happened
A good friend posted that he was watching a Jim Jarmusch movie, and I mentioned Jarmusch's Paterson.
Before sharing the screenshot of my comment, here are my thoughts on Paterson!
All right, if you didn't read the link to that entry, just know Paterson is my favorite movie about a writer…
So, this was the reply about Jim Jarmusch and Paterson that started the problem…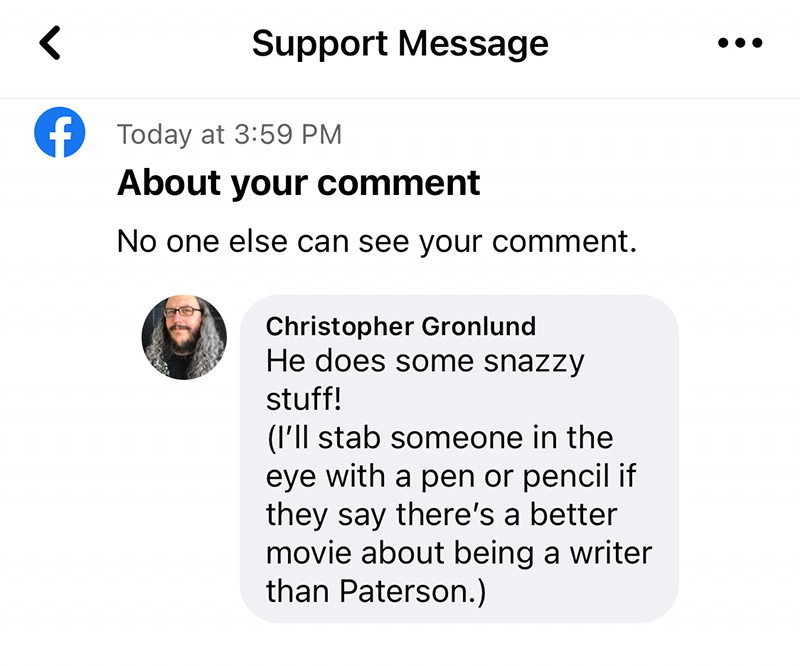 Obviously, I'm being hyperbolic about the stabbing thing. I'm a pacifist, to the point I don't even eat animals because there's more than enough suffering in the world. It was a joke, but then this rolled in…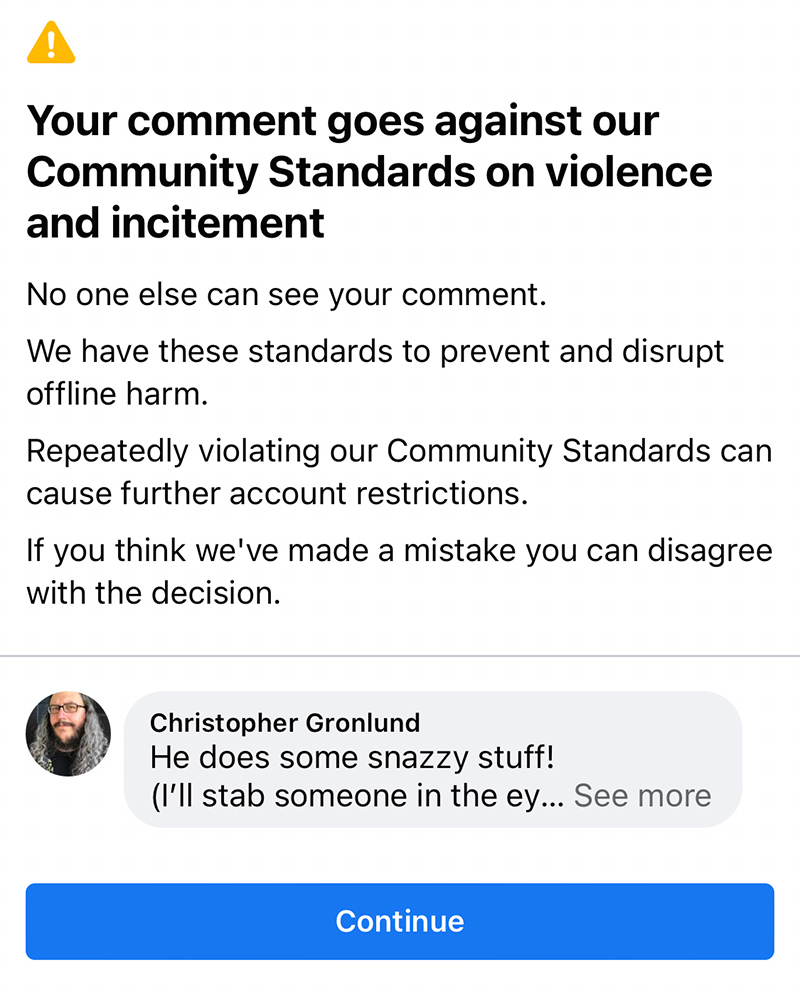 All right, fair enough I suppose. I mean, it's a private company's site…they are allowed to call the shots.
I'm not gonna act all wounded like the governor of Texas and our shitty Senators, Lieutenant Governor, and criminal Attorney General who are all trying to pass legislation saying social media sites should not be allowed to control what's on their platforms.

If Facebook is like, "You cannot use the following words: fish, bungee, balloon, liberal, butt, and cruciferous," that's their call. They are private companies, so…up to them…
However…Facebook lets sooooooooooooooooo many toxic elements through. They have given a voice to some of the worst people out there. So…I figured, "If they say, 'So you think we've made a mistake? You can disagree with the decision,'" why not disagree and see what the fight process is like?
So…I disputed it, and got this message: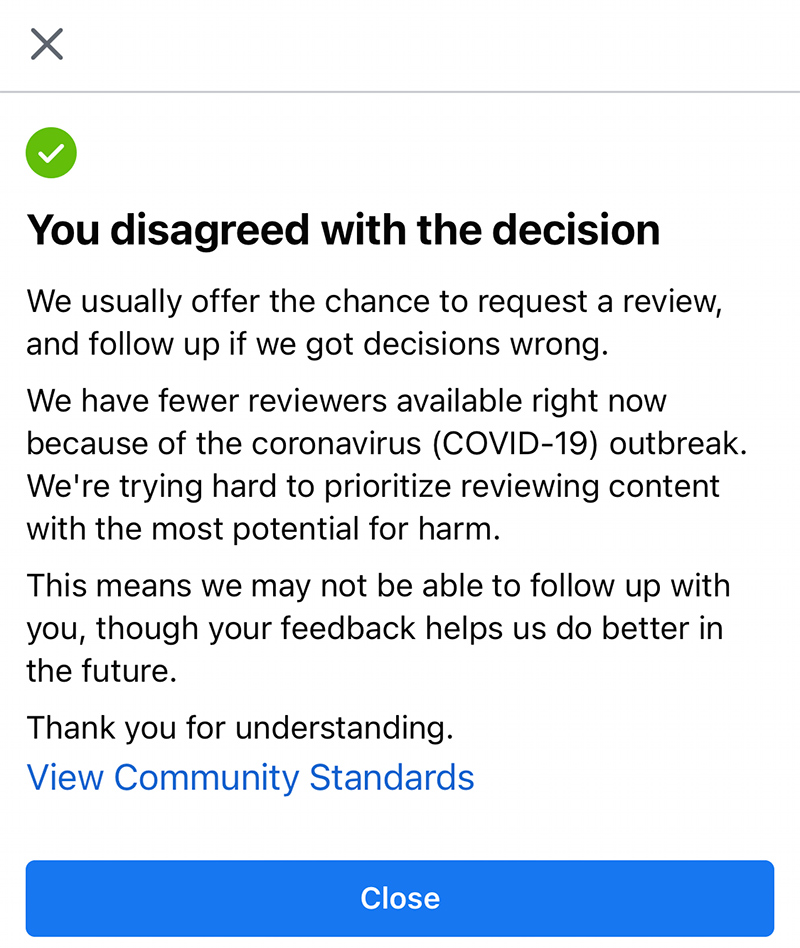 There were some other exchanges, with Facebook saying they agreed they are right. But…they let you keep appealing…
And here's the thing: I have NO problem with this. Facebook has BILLIONS of users, and I don't expect anything to get a quick reply. They do well to reply given how many users they have…
MY gripe was all the crap they allow. So…I continued my case…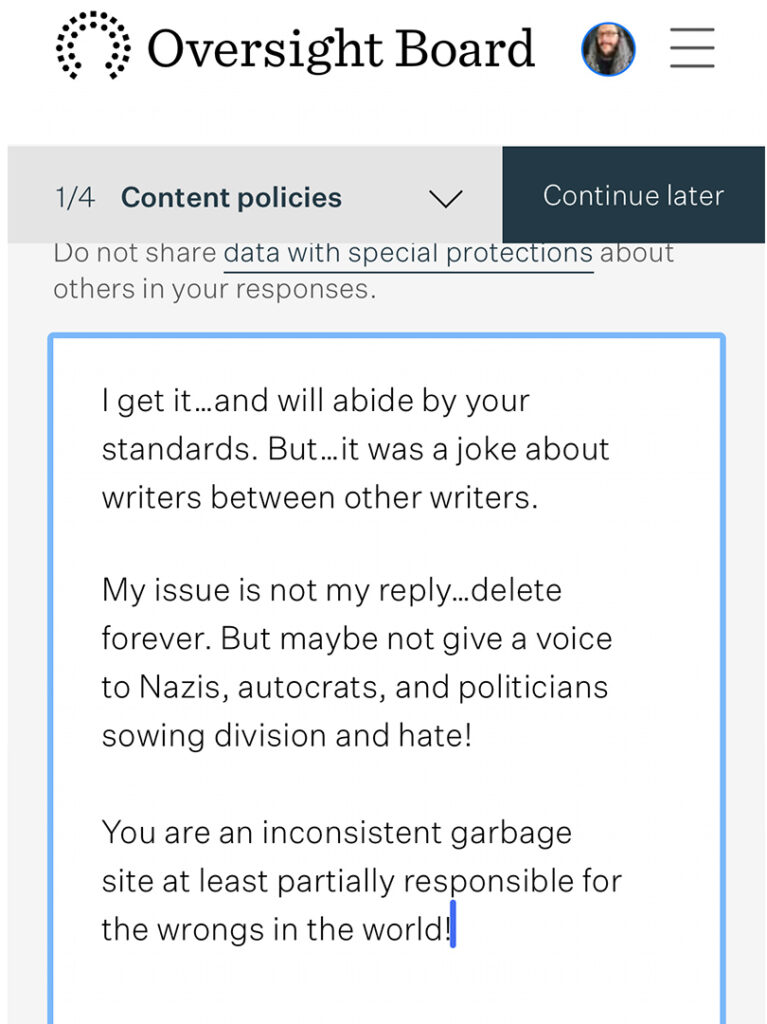 My issue with Facebook is they CAN shut down so much hate, but they make money from it, so…they are lax. They only shut things down when enough people respond to what they let slide through and it's enough to hit them in the bank.
So…they kept asking about my comment…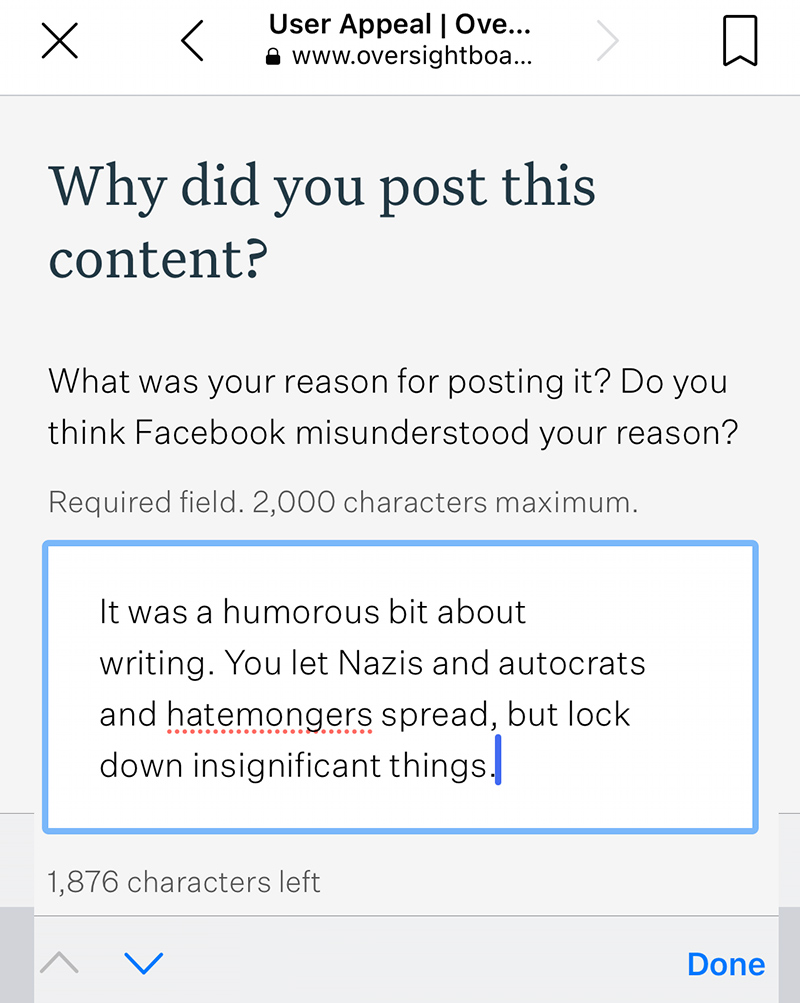 And more…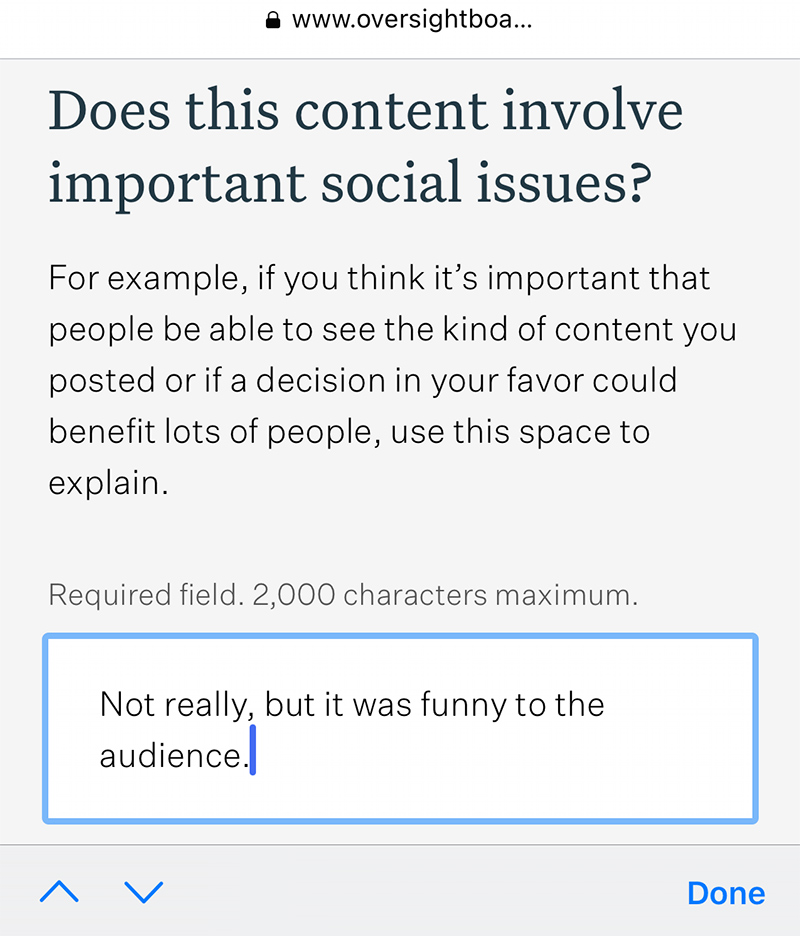 And even more…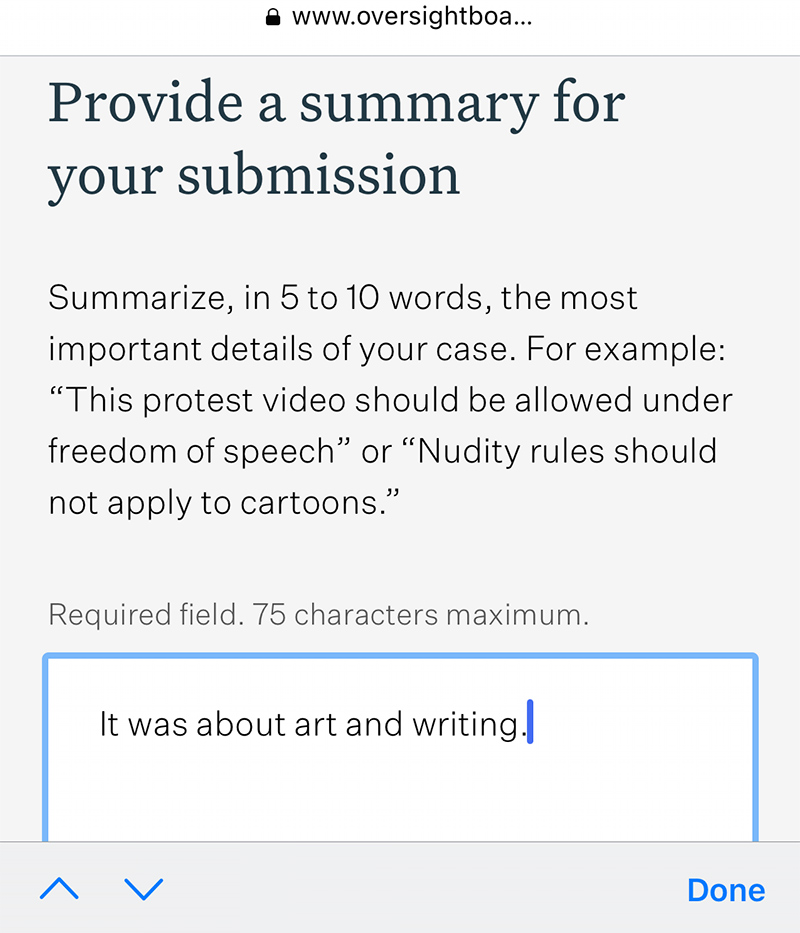 Finally, I got a message that my appeal was received and would be reviewed. It may take a few weeks, and…again, with billions of users, that's not a ridiculous wait.
But…again, why let so many damaging voices through when you obviously CAN catch things?
Of course, we know some social media platforms have said if they shut down many things locking out Nazis and racists and other terrible people, that many Republican politicians and pundits would get caught in the net.
Imagine!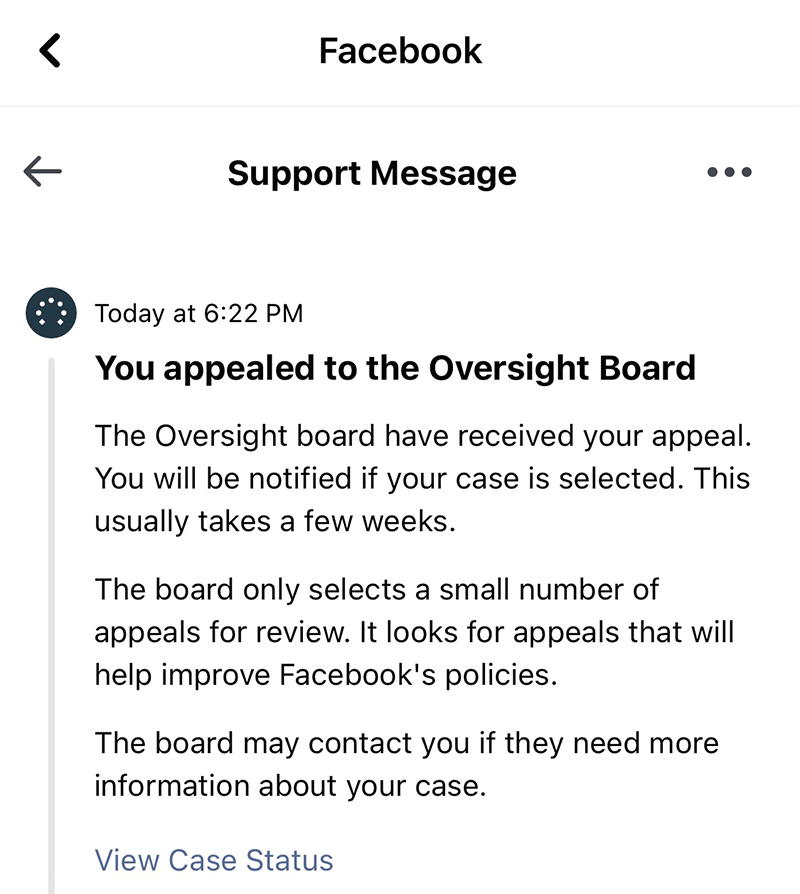 So that's it…that's kind of the Facebook appeals process when you make a comment they don't like…