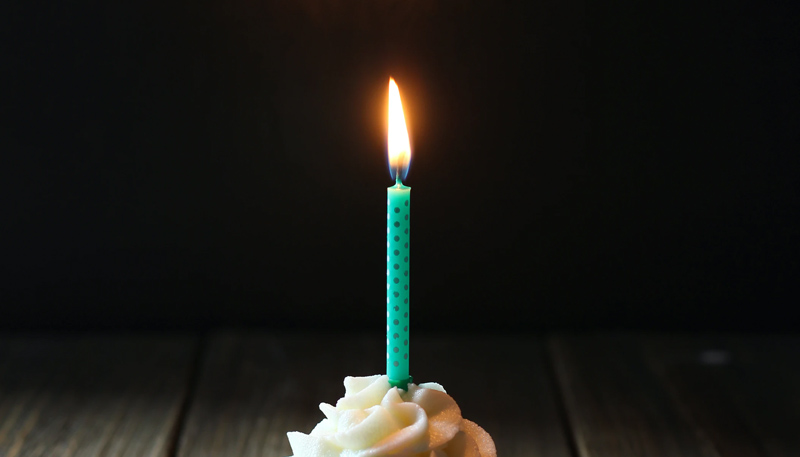 Three days ago, my wife and I visited my mom for a little birthday celebration in my honor (today is my actual birthday). We have all come to an agreement over the years that while we are all willing to put time into preparing meals and making the day seem a bit bigger for any of us celebrating another year, it's best to just order food and focus on visiting. No hassle and very little cleanup.
I wanted falafel, so…we ordered from a place that is decent enough when it comes to one of my favorite foods. (I know that doesn't sell it well, but the place we order from when visiting my mom is not bad — it's just not as good as my favorite place.)
But…this one time — for my birthday celebration — the falafel was terrible! The pearl couscous was a sticky mess, and even the sauce and hummus were lacking. In short, it was a terrible meal…bad enough to complain, but who has time for that when we were there to visit and enjoy the afternoon?
This year, my mom made a birthday cake for me. To keep things simple, I usually request a single brownie from Cinnaholic — vegan brownies so good, they often sell out. But my mom was in the mood to make a cake…so she did.
Normally, we wouldn't have eaten dessert right after lunch, but we wanted to wipe the memory of the terrible meal from our mouths. And so, it was on to birthday cake.
Make a Wish…
My mom recently moved into a new apartment, and she is still getting a few odds and ends settled. She looked for candles to put on the cake, but couldn't find any. My mom was a bit bummed.
To break the tension, I said, "It doesn't matter — it's not like those wishes come true."
I know that sounds negative — maybe even heartbreaking — but we all laughed. Big belly laughs because, if we're being honest, birthday wishes have no actual power to change anything. At best, a wish might help some people focus on a thing important to them, but no genuine magic happens when blowing out candles on one's birthday. (Another nice reason for getting the brownies I mentioned: one candle on the birthday person's serving, rather than birthday breath all over the top of a cake as we come out of a pandemic.)
But back to birthday wishes…
Every year, I can wish for health, money, or another big thing like that. But I always wish for the same thing: that the next year will be the year something bigger happens with my writing.
When my sister was sick with cancer; when I discovered I have a brain tumor; in other years shitty things happened in my life, I still always wished that it would become the big year for writing; in part, because I know a birthday wish wouldn't have stopped my sister from dying or taken away a tumor that's wreaked havoc my endocrine system for decades.
A New Tradition?
I recently mentioned that I'm [sort of] quitting writing…at least commercially.
On Sunday, my wife and my mom sang "Happy Birthday" to me. When they were done, we paused so I could make a wish. No candles — only the memory of the joke I'd made shortly before about the futility of wishes.
I briefly thought about a new annual wish, but stuck with tradition instead. I made the same wish I've made since I was twenty years old and decided to take writing seriously: I wished the coming year to become the year for my writing.
And my wife and mom knew what I wished for; in fact, my mom looked at my candle-free piece of birthday cake and said, "Ya know, it would be pretty funny if this were the year it finally came true…"