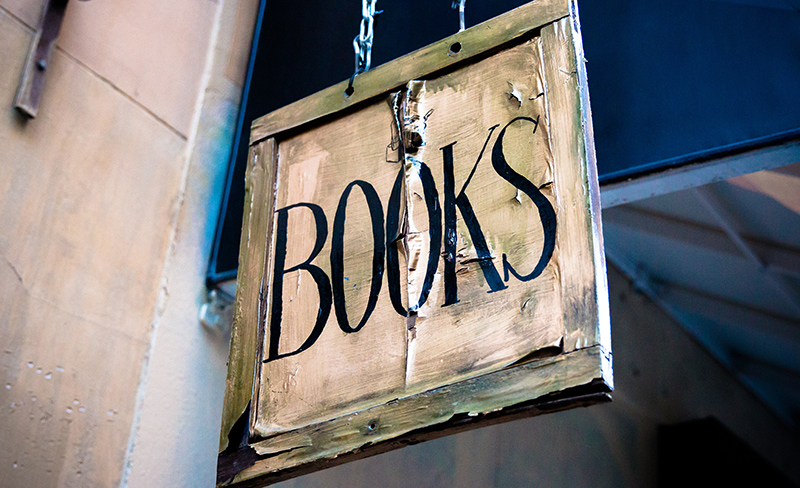 Max Joseph makes movies. Sometimes they are short things built around an idea that sticks in his head — and other times he digs into something deeper.
His latest movie/mini-documentary is about bookstores and what it means to slow down to read in a hurried world. (Video at the end of this entry.)
My First Bookstore
My earliest book memories, of course, are all the books on shelves we had in every room of the houses I grew up in. We were that family: a pack of readers with books always within arm's reach anywhere in our home. Along the way came libraries…in school and then city libraries. Because of that, I came to bookstores maybe later in life than some people…at least as far as I recall.
One of the largest stores in a mall near my hometown in northern Illinois was a Kroch's and Brentano's store. Like a compact version of the flagship store in downtown Chicago, it brought a certain class to the mall. It was a place where the looks of the 70s and 80s hadn't vomited on every display like the rest of the mall. This was a bright and clean space one could lose themselves in for hours.
The Art of Display
With each bookstore I stumbled into after that, I marveled at how books were displayed. I loved the spaces and buildings that housed these places where books were sold. Max's video, in part, focuses on this as he travels around parts of the world visiting some of the most famous and beautiful bookstores in existence.
But perhaps my description about the most beautiful bookstores is unfair, because I find the basement of Recycled Books and Records in Denton, Texas to be a beautiful temple to books…this almost musty space that seems ready to fall in on itself, crushing patrons beneath tons of old books. It's how bright and caring places like Interbang Books in Dallas, Texas and Skylark Bookshop in Columbia, Missouri curate what they sell. And Max does visit some smaller shops in Portugal in this video, despite reserving drone fly-throughs for some of the most famous stores in existence.
What I Loved Most about Max's Video
Max's video is not just a celebration of the physical spaces still in existence where we buy books…it's about finding more time to read in a world that seems to always be moving faster.
There are many reasons people read. A couple reasons I hear most are to escape or to learn. For me, it's much more than that. Perhaps I liked this video so much because I read to savor the way people put words and ideas together…but I also read, in part, because it's a quiet act.
In a world that seems busier each day, stopping the rush to plop down on the couch in the evening and read for an hour (or more) is claiming your place in all the busyness. It's saying — at least to me — that you're not going to give in to push notifications and checking work email on the go. It's about opting for something more than a momentary distraction.
For me, reading is about sitting still and finding the pieces to things bigger than you hidden away in thousands [or millions] of pages over a lifetime. While the world outside howls and demands your attention, you will not give in; instead, you will find that quiet part of yourself and let it be filled with more than we ever imagined.
* * *
Photo: César Viteri