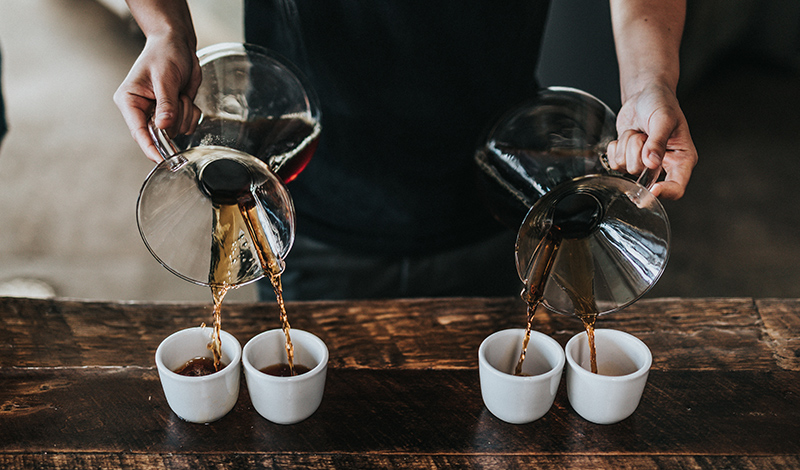 A friend and I recently chatted about productivity systems. Or, I should say, he talked about productivity systems…
We both appreciate the way the other looks at a thing they want to do and how they go about doing it. I tend to get more done, though, and that's what this friend finds interesting: that without a real productivity system, how I complete anything at all. (Hint: make things habits!)
And then this morning, I read this blog entry by Austin Kleon about getting things done and decided, "Hey, go write the first Juggling Writer entry of 2018…"
2017 Was Not The Year I Wanted…
I think at least two of the last three entries here touched on 2017 not being a very productive year for me.
"Politics got to you, too, eh?" some might say. But it was actually my day job that got in the way this year.
Still…I did keep working on the latest novel, knocked out episodes of Not About Lumberjacks (and another podcast I do), as well as doing other cool things.
My Process
I think my saving grace is that I tend to carry the things most important to me around in my head enough that I make them a priority without needing a convoluted system to track them. (Also: I don't cloud my mind with unnecessary things…)
That's largely it: I want to do the big things I do, so…I think about them and do them.
If there's any process in there, it's habit and a few rules.
Three Rules
1. Don't Do So Damn Much – Sometimes, when asking a friend if they want to get together, they give me their entire schedule instead of saying, "Does Wednesday night work for you?" It's not a matter of impressing me with all they are doing — it seems more like they have to talk out their schedule to decide if there's time.
I do a fair amount of things, but they are rarely things that require a planner. Most Friday nights, my wife and I visit my mom. Every other Saturday afternoon, my wife and I play Dungeons and Dragons with friends. The first [or sometimes second] Sunday of the month, I record Men in Gorilla Suits with a friend. Outside of day job work hours, my time is largely my own…by design.
I don't agree to so many things because I need time to do the things I enjoy doing more than others. If I want to work in a Sunday morning canoe paddle with my wife, the time is usually there (except on the first Sunday of the month when recording). Meeting up with friends is usually a go for me because I rarely have things planned. (And once I agree to a social thing, I usually never agree to more than one thing a week.)
2. Say "No" to Things – I'm able to have time because I say no to a lot of things. I don't make grand to-do lists because I've noticed when presented with a big list…if it gets done, more busy tasks that aren't really necessary get added on…and that makes life feel like my day job. Or…things don't get done, and the things that don't get done don't stop the world from spinning. (Once that is realized, why add so much in the first place?)
Mostly, though, I simply say no to other projects…even things I'd love to do!
There are two audiodramas I'd love to put out. A friend wants to do a podcast with me that is something I'd love to do! People ask me to write things for them, meaning the potential for extra money. But I say no because I know, as a juggler, that I can juggle a few things forever without ever dropping. I can keep five things going long enough to impress people. But beyond that, it all falls apart almost as soon as it begins — and things hit the floor.
So saying no takes care of #1, ensuring I don't end up doing so damn much.
3. Don't Get In Your Own Way – While I let distraction creep in more than usual in 2017 (mostly tiny breaks from work at all hours of the day, it seemed), my phone is still silent. It doesn't vibrate when text messages come through, and all apps with push notifications are off. (And it's usually face-down on my desk so I can't see it light up on the rare occasion it does. (I will never get a phone with an exposed edge that let's me know it's lighting up when face down.))
I only interact with my phone when I'm ready. (Granted, I have no kids or responsibilities that require me to be connected with a need to respond to things immediately, but…that's also by design.) And because I say no to most other things, I'm able to keep the things that matter most to me in my head.
When I'm in line at the grocery store, I don't distract myself with my phone…I think about the next scene in whatever it is I'm going to be writing next. I think about ways to make people aware of the things I'm doing, or…I may just talk to myself in my head about whatever comes to mind and see if it leads to some new idea.
Or…I may think about nothing at all…
Oh Yeah, and This…
If I have anything resembling a system, it's an erasable monthly wall calendar on which I drop in the few planned things for the month…and then I protect the time I have. Right now, it looks like this: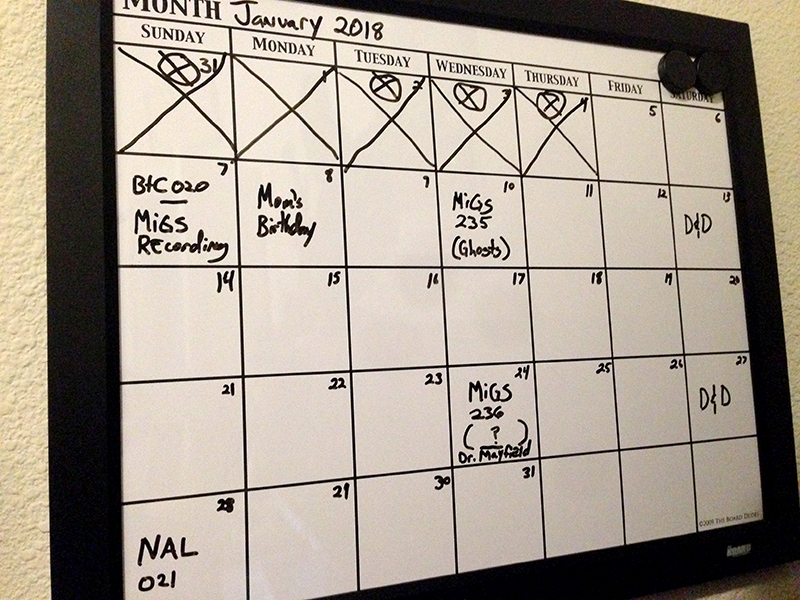 Notice there's no, "Record episode #…" or "Pick music for NAL 021" kinds of things on the list (like the "next action items" one deals with at work).
Because I don't do too many things, all I need to know is when things are coming out. When I'm done with the day's writing, which usually comes first, I work on some other effort if I'm in the mood (or if I've put it off long enough that I have to do it). I know what comes next and pace it out in between the other things I do. (And I usually still finish and post things early.)
I cross out each day because I like to see that march of time. (It's an ominous reminder of how time is marching on.) Also, it's easier to glance at the calendar and instantly see the current day.
And…you'll notice the little X in circles at the top of days on the calendar. Those get added when the day's writing is done. If I didn't write, there's no little X. (Example: I didn't write on New Year's Day…I read and hung out with my wife instead.)
The goal, there, is a chain of Xs…
An Instant View
At a glance, I can look up and see all those Xs and circles and the few things I have planned for the month. If a friend is like, "Let's get together for dinner," I usually just remember the day we're meeting and don't capture it anywhere. And…for things that are months off, I put reminders in my phone to pop up so I don't have to carry them in my head. (But even there, I don't have many reminders; in fact, the last one I had was January 2, to watch a friend on the Jeopardy game show. (She won, and came in second on her second day…)
(And because it was exciting to see her win and my mind is not that crowded, I didn't have to create a reminder to watch on the second day. I simply remembered and tuned in…)
One Last Rule
The most simple rule I have?
Put the thing that hurts most not to do first, and when you do it — only do it!
For me, that's writing. And when I write, I only write. I don't take breaks to check things online or look at my phone. I sit, sometimes for hours at a time, only doing that one thing.
If I wake up and write — doing it before anything else — the rest of the day can go to shit, but it won't be shitty…Because I've already written, and that's the most important thing I don't have to do that I do…
(Also, it doesn't hurt to remember that time is always running out…)