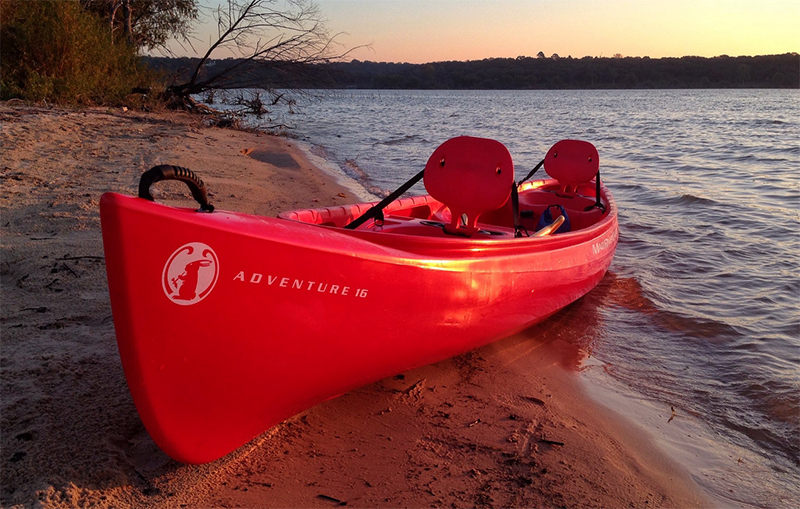 I thought about writing a longer piece about the little red canoe (that, if we're being honest, is anything but little (or light)).
I thought about sharing the story how it, and all its gear, was purchased with money from a travel article chronicling Texas roadside attractions.
I could tell you that we've had it long enough that we've forgotten if we named the canoe Big Ralph or Bertil — either name, in honor of my father.
I could tell you so much about it, but this seems like a better way to convey what it means to my wife and me…
Wide Waters
A hundred white ibises rise up from the flats and float away like kites as two paddles slice through the shallows.

The sun, hidden by distant bluffs, casts a spectral haze across a calm surface turning choppy as a red canoe discovers deeper water.

No signs of life for miles, except two paddlers out early, annoying birds searching the waves for breakfast.

Each stroke matches their breathing; ripples cut their way back to primordial waters before their kind ever took to land.

A cool breeze drives the canoe toward logs and reeds, but the wind lacks their experience—they draw and pry their way through like ghosts, until waves lure them into wide waters.

When the sun finally breaks beyond the bluffs and turns their vision to fire, they head south and discover a beach.

In the first rays of morning, it glows like a dream; were it not for old footprints, it would be easy to imagine they finally discovered a new world after years away at sea.

Waves crash against the shore and the sides of the canoe, sounding a drumbeat that reverberates through time.

Struggling through the deep sand, he explores a trail while she toasts the arrival of a perfect morning with a sip of clear, cool water.

If this were all there was to life, it would be more than enough; no hurried pace or list of tasks—this is the way people were meant to live.

Heading back to the shallows, two snowy egrets stand face to face like sentries, their bodies rising from the water like solitary flames signaling safe passage.

Among the branches, spiders cast webs like nets; wasps race across a mirrored surface. 

A beaver, spotting the canoe that means more to them than they could have ever imagined, crosses a log and disappears into the water as though it were never there.

Paddles strike silt; the tiny boat cuts through a foot of water where shorebirds stand patient, waiting for the feast of sunrise to come their way.

Behind them, the wake of the canoe spreads out like a fan, causing the sun's reflection to widen and shimmer in the waves like an echo.

Mornings like this are a reminder that no matter how wide the world gets, there will always be smaller places to welcome those willing to rise and find them.