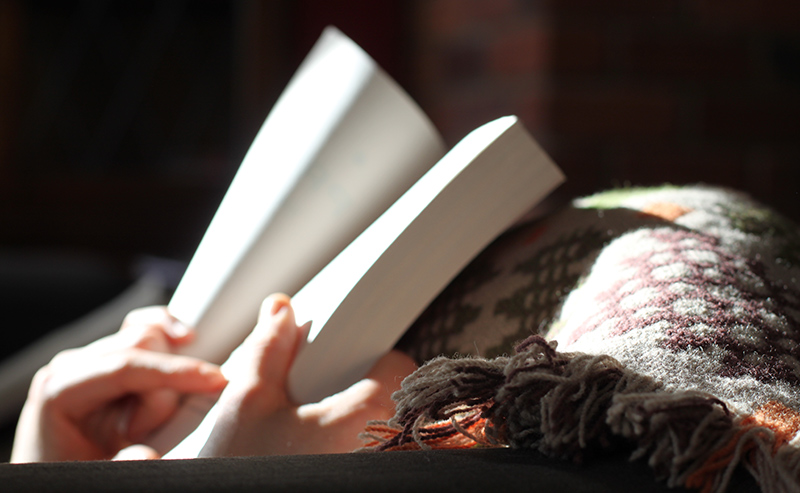 Growing up, it was never lost on me how fortunate I was to have the women in my life who helped me become the man I am today.
In some cases, the women were authors I'd never know: women who'd written books that floored me and gave me a different perspective on life than many of the male authors I'd read.
Friends' mothers guided me, and a handful of teachers always nudged me in the right direction. (Particularly my 5th grade teacher, Ms. Armstrong, who always read to us and suggested books she knew I'd love. My 6th grade teacher's aide, Ms. Sammons, who helped me make a Jack London costume so I could give a talk to my class dressed as my favorite author at the time. And Dr. Rios, my high school English teacher who knew so much about Beowulf, we joked, because she was probably alive when it was written. But put that woman in a literary battle against all my college English professors combined, and my money would definitely be on Dr. Gladys Rios!)
But more than the women mentioned above, there are three women who really shaped the writer I am today…
My Mom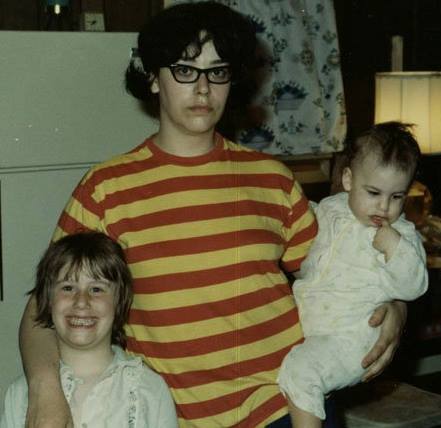 That tired woman holding me [and looking like a Dan Clowes character] is Mary Salerno.
My mom was a reluctant mother in a time when getting married and having kids was largely what you just did.
One of her heroes in life was my great aunt, Catherine Viviano, who never married or had children because she was content running an art gallery rather than a home. But that is no knock against tradition during the time, because my mom also loved and admired another aunt who was a stay-at-home seamstress.
My mom divorced my dad when I was five. Obviously, at the time, I didn't understand her reasons, but as I got older I can't blame her…and I'm glad that near the end of my father's life (he died at 50, when I was 22), my mom and dad became great friends again.
I say all this because it's important to establish that while divorce was not unheard of in 1974, it was not common. To some of our neighbors, my mom (and a friend's mom across the street who was also a single mom), may as well have been the Witches of Grove Street. Some friends' parents didn't want their kids playing with me because I was "the kid from a broken home."
But that's all bullshit.
As busy as her life was, and as tight as funds were, my mom was always there when I needed her. And many of the times I needed her, what I really needed was having someone read to me.
The go-to was Carl Sandburg's Rootabaga Stories, but we lived in a house full of books. My mom's room was full of books, my room was full of books, my sister's room was full of books, and both living rooms were full of books. Hell, we even had a few boxes of books on the front porch.
Anything I wanted to read was fair game — and I was encouraged to grab books and read (and discuss what I had read).
Writing is a struggle at times, and there are days I've worked long hours and just want to rest. It's easier doing the work when I think about my mom back then.
I know many days — maybe even most days — my mom wanted to come home and rest. Instead, she cooked for my sister and me, and then sat at the kitchen table where we talked about our day. We laughed and talked — and then talked and laughed some more. We talked about books and life. And while my mom quickly retreated to her bedroom to chill when dinner was done, if my sister and I needed her, she was always there…
Even when she wanted to sleep and I needed her to read to me.
Laurie Gronlund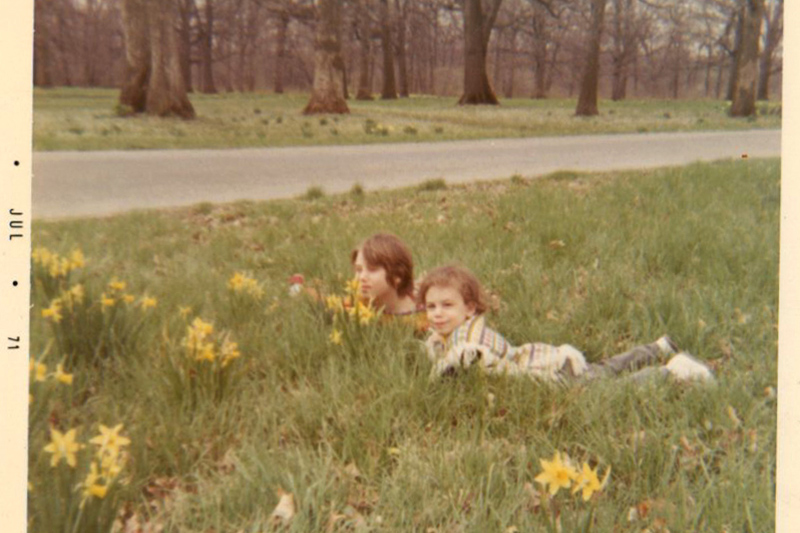 To say my sister was a voracious reader would be like saying the surface of the sun is hot: obvious for anyone in the know.
My sister's bedroom was a black hole whose gravity worked only on books.
If there was a book on a shelf I wanted to read that wasn't there, chances are it was in my sister's room. I'd go in and sometimes dig through the shelves in her room…or rummage about the floor, which was often tiled in hardbacks.
When my sister handed me a book and said, "Read this," I did as I was told. And I was never let down.
We talked about books and sat on the couch in our living room reading books. We acted out scenes from books and read to each other. (I don't read out loud very well to this day…something I'm still a bit self-conscious about. But for all the torments my older sister could dish out on her little brother, she never made fun of my reading.)
My sister died when I was 33 (and she was 38).
We had a lot of chats — just us — before she died. We talked about so many things in those final months. Up to the end, we talked about books.
In the weeks before my sister could no longer really communicate, she apologized to me for dying before she finished reading my first novel. She started reading the manuscript, but as cancer moved from her lungs to her brain, she could no longer read. I read pages to her, but we never finished.
Every time I write, I write with my sister in mind.
(I had no bigger fan…)
Cuyler Etheredge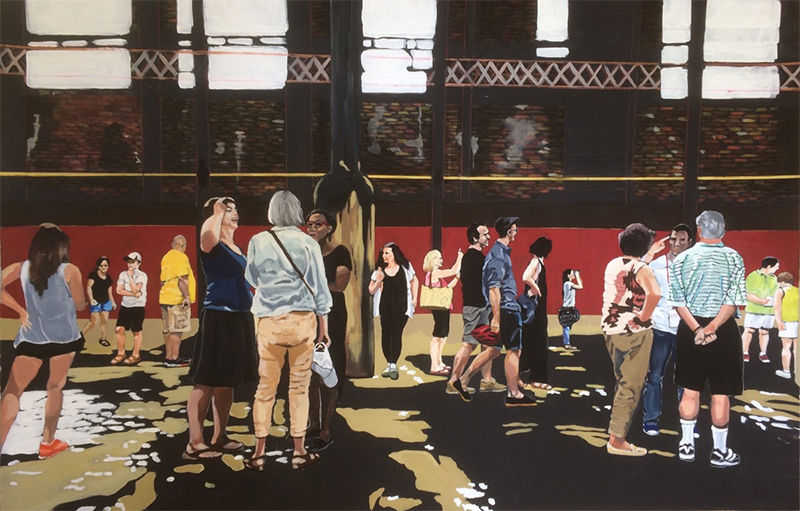 When I was 21, I took the one creative writing class I've ever taken. There, I met the right teacher at the right time: Cuyler Etheredge.
I was an awkward punk about to see some independent comic book credits come my way. I was knocking out horror short stories and some other genre fiction. I struggled with the kind of writing I really wanted to write — and that's where Cuyler came in.
She never knocked the genre stories I wrote early in the semester, but she recognized in me something more. When it became apparent that I wanted to focus on the kind of fiction I grew up reading, she guided me that way and showed me I had in me what it takes to pull it off. It's not that I didn't have confidence as a writer, but being a kid who suffered through learning disability classes and believed formula horror and comic book scripts was the best I could pull off, I was shown that wasn't the case.
(If you check out Not about Lumberjacks, you know I have no problem with horror and quirkier stories…it's just not something I'd want to do for 100K words.)
Cuyler recommended a list of authors for the class to read, and when I got behind on my reading list, she let those of us willing to drive to Southern Methodist University for a literary festival consider each author we saw in person as credit for an author on our reading list.
I went every night. Here's a description from D Magazine in 1990:
This year's festival, November 11-16, again boasts an impressive lineup. Southern-dipped humorist Roy Blount Jr. begins it all Sunday, with sci-fi star Ray Bradbury, former U.S. poet laureate Howard Nemerov, playwright John Guare, and novelists Rosellen Brown and Marilynne Robinson filling out the week.
I'll confess now that I walked out of the John Guare talk, but the rest of the writers that week changed everything for me. I've written about Ray Bradbury and that night before. And I'll confess to having a slight beer buzz for every talk I saw (a friend from the class and I made sure to buy 40 ouncers on the way to Dallas and chug them in the parking lot to help us get through the talks, while having plenty of time to sober up for the drive back home). Listening to the kinds of writers I grew up reading talk about craft and what it was to write made me let go and do the same.
It was in Cuyler's class that I took my first shots at more serious fiction.
At a crossroads, I met the perfect person for everything I wanted to be as a writer!
* * *
I included a painting Cuyler did above for a reason: after she quit teaching English and creative writing, she studied art and painted more. Since that time, her art has appeared in gallery shows with other artists — and she's had solo shows at respected galleries.
I turn 48 at the end of the month. I've not had a novel published, despite some close calls. But each time I see Cuyler share a painting and see her somehow getting better, it's a reminder that regardless of what happens with the writing I do, there's much to be said for simply appreciating the craft of it all and improving.
Cuyler took painting more seriously later in life, and she's caught up quite well. (Some more of her work.) I'm almost where I want to be as a writer. Being closer to 50 than 40 (when I told myself at 20 that I'd make it full time with fiction), I know there's always time to get better because I see it each time Cuyler shares a new painting.
Happy [Literary] Mother's Day
It's no secret that most writers have a person or small group of people in mind when they write. And I'd be remiss to not mention my wife as a vital influence on my writing — if not its heartbeat. (But come on, to include one's wife of almost 25 years as a "mother" figure is a level of creepy I just won't do!) I'd also be remiss to not mention my mother-in-law, Karen Griffith, who has held on to manuscripts I've shared as if they were printed books.
Each time I sit down and work on the current novel-in-progress, the women mentioned in this entry are the people I'm writing for (okay, and for a friend and his daughter, too). It's a story about a girl who becomes a woman who makes a life for herself in spite of all the things stacked against her. It's not-so-hard to write when I've seen it lived by people I love and respect.
So happy Literary Mother's Day to my mom, my sister, and Cuyler!
It's hard not to write well when you're writing for the people who helped shape the writer I am today…