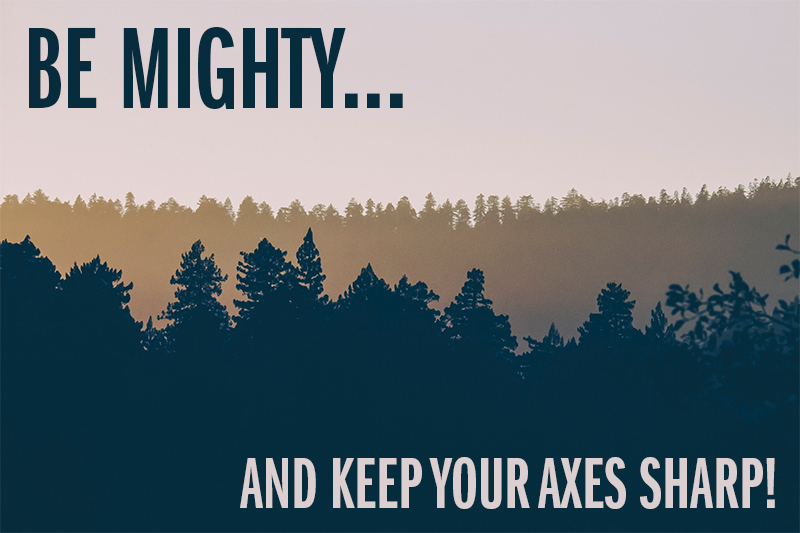 This post is not about lumberjacks.
That would be silly, to make this a post about lumberjacks…
Who would do such a thing?
* * *
I recently mentioned the goal of The Juggling Writer has always been this:
To keep writing at the front of my mind by writing about it, and hoping it might help someone else out along the way.
When writing long fiction, sometimes it can be hard to keep writing at the front of one's mind — at least beyond a sense of, "Today, I will sit down and write again because, eventually, these tiny efforts will become a book."
I love writing novels, but there's a long time between the start and completion of a book with day job tasks and other everyday life things vying for time.
Sometimes you need a quicker sense of completion to keep writing at the front of your mind…
Short Stories
There are few things more fun to me than writing short stories. Novels are satisfying, but not usually the fun romp that even serious short stories are for me. An added benefit of short stories is a quicker sense of completion.
I also like the weekly schedule of a podcast. There's only one thing I miss with the current podcast: a deeper level of production. (The weekly show is Shawn Kupfer and me getting philosophical about pop culture and life, so there are no sound effects or musical interludes. It's all pretty lean and raw, which suits the needs of the show.)
So I started thinking about it while coming up with a talk for a local podcast group:
Why not combine the two? Short fiction and podcasts.
Not About Lumberjacks
A fiction-based podcast is not an original idea. The first podcasts I listened to were Escape Pod and Scott Sigler's first book. But most podcasts featuring fiction are either ongoing novels, like my first podcast, or short fiction written by various writers. (And, with exceptions like the New Yorker's short fiction podcast, most short-fiction-as-podcasts are genre fiction.)
There aren't many shows featuring one writer's work as an ongoing thing — focusing on literary fiction, genre fiction, and just-whatever fiction. (Even one of my favorite podcasts, Getting On with James Urbaniak, features different writers.)
I'm sure part of that is it's rather daunting to produce a show based exclusively on one's own short stories when not even the most prolific writer has that much work in reserves. At best, even reworking old stories can only carry a show for so long. But that's my plan: to produce a regular podcast (monthly), and make it all original content written only by me. And because I don't want to totally lean on old work, that means new stories mixed in with existing stories few people have ever seen.
It's still in planning stages, but this much I know: come November, I want to get back to short fiction and share it with anyone who wants to listen.
So what's the show called? If the hints above didn't give it away, this will: