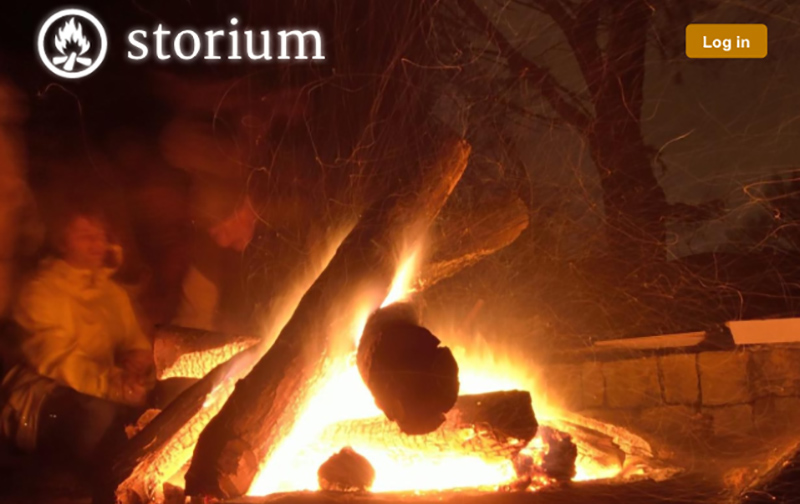 I love Kickstarter and Indiegogo. I think it's so cool that someone can come up with an idea and, possibly, see it funded. (Hell, I even took a try myself a couple years ago.)
I've helped fund tiny projects, things I was really happy to fund, and even some of the biggest things to hit Kickstarter. One of the things I helped fund last spring was Storium.
It's not even something I really intended to use; I knew they planned to try creating a version for schools, allowing kids to learn how to tell stories, so I threw a little money at it.
And that was that…until Lee Perry messaged some friends and me and said, "Hey, there's this Storium thing I've been wanting to try…"
What the Hell is Storium?
Storium is an online shared story game. There's a narrator who creates a world (or picks one of the many ready-made worlds, which is what we're doing), and players who create characters in the story. The narrator creates goals to guide the story in a general direction and cards to allow the fulfillment of the goals by the players. Players write their turn and play cards to achieve goals and take control of the story.
We've barely started, and so far it's a lot of fun.

Who's Playing?
In order to figure out gameplay, it's just a small group playing right now. A couple invited friends declined for one of the reasons I haven't played until this week: they're busy with other things. Hopefully they'll have time later, because the game has a feel of a tabletop role-playing game, but allows more control over the moves through writing.
So here's the gang:
Lee Perry. If you've ever played Gears of War, you've wandered around inside Lee's head to some degree. Lee designs video games, but he's obsessed with games of any kind (particularly boardgames and role-playing games when stepping away from video game design). Because he's a geek for games, it's fun hearing him talk about the way Storium is set up. He's very impressed.
Lee's blog – This particular entry kind of relates to Storium.

Mark Felps. I've been playing role-playing games and writing alongside Mark for almost 30 years. Some of my fondest storytelling moments aren't confined just to the fiction I write; much of it is from games I've played with Mark and other friends for decades. I've figured out plenty of new games with Mark in the past (Shadowrun!), so it's fun having him along while trying out something new.

Shawn Kupfer. Shawn writes stuff like this. We also do weekly episodes of the Men in Gorilla Suits podcast together. Apparently we're not sick of each other because I jumped straight to Shawn when Lee said, "Anyone know anyone else who'd give this a try?"
Shawn and I have joked on the podcast that if we wrote something together, we'd probably kill each other. This may be the closest we ever get to that…or maybe not…

What It's Like to Play Storium
I'm still very new to playing, but so far, playing Storium is a blast! The narrator set up the archetypical plane crash on a remote island and gave players something to go by. (The cool thing is the narrator gets to write just as much as the players. It's this level of interaction I like best. Lee isn't just a game master; he's really part of the story.)
In my first move, I decided to give Lee, Mark, and Shawn a bit of a feel for my character and then focus on an injured non-player character Lee mentioned in the opening of the chapter. Instead of trying to explain it all, here's my move: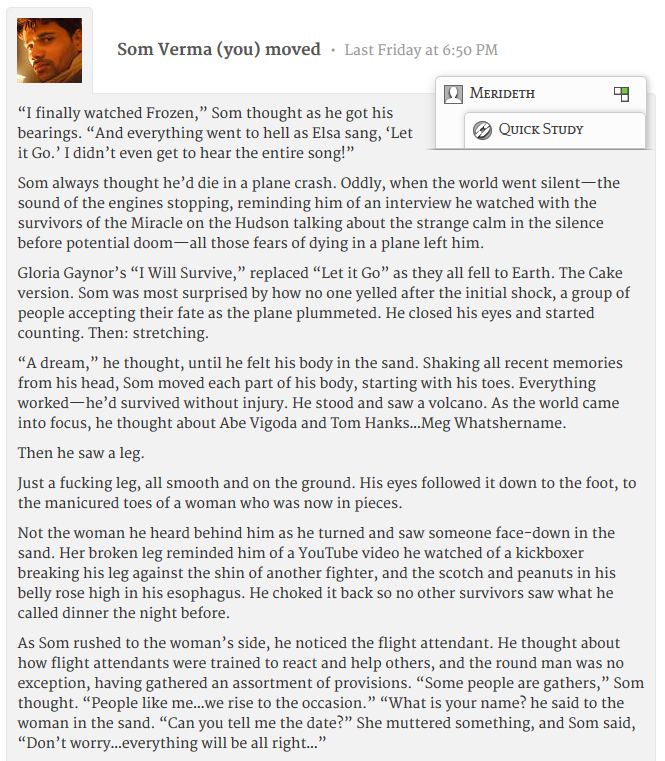 I'm still getting used to playing cards and a couple other things. On my second turn, I definitely did much better, picking up a First Aid Kit card and writing about returning to the plane to retrieve the kit so I could help Merideth.
I definitely look forward to seeing the story develop.
What I (Really) Like about Storium
I like that I can just write. What I write in the game isn't like the fiction I normally write. I'm not rolling a scene over and over at least a dozen times — I just take into consideration what Lee, Mark, and Shawn have done and have 500 words to move the story forward.
I can't remember the last time I've written fiction right in the moment and then just moved on, but I like it. In many things I do, I tend to become too focused. It's nice to have that balance of wanting to write something well enough to entertain friends and anyone on Storium taking a peek at the story (you can set things private of public), but not obsessing about where things are going next and how you can make every scene better. (I won't try imagining I'm in charge because there are three other writers who can change where I might go. I love working with so many possibilities beyond my control. I love that aspect of the weekly podcast, and I love that aspect of Storium so far.)
I know what will be created won't be a brilliant work of literature, but there will be brilliant moments. And there is definitely potential for something more…
The Potential of Storium
When I say we will not create a great work of literature, it's simply because we are taking a stock world and situation and using it to familiarize ourselves with game play. However…
There exists a genuine potential to create something very good inside Storium. In our case, I think we will always gravitate toward games resembling the kinds of tabletop role-playing games we've all played, simply because we don't play them like we once did. But if a group decided to create their own world and use Storium as a way to outline a larger work…there's great potential, here. It would be wonderful to see something more come out of the game for a small group.
I can easily see a large game running the length of a screenplay or novel and then a group of friends turning things into something more. Going back to why I backed Storium in the first place — because I see the potential to assist people in telling cool stories — I would not be surprised to see some group of friends take what was created around the Storium campfire and turn it into an e-book or something else.
There's that much potential, here.
But most of all — for me anyway — it's just a lot of fun!
(If only that Mark Hosack guy wasn't so damn busy! Seems like something he might dig…)