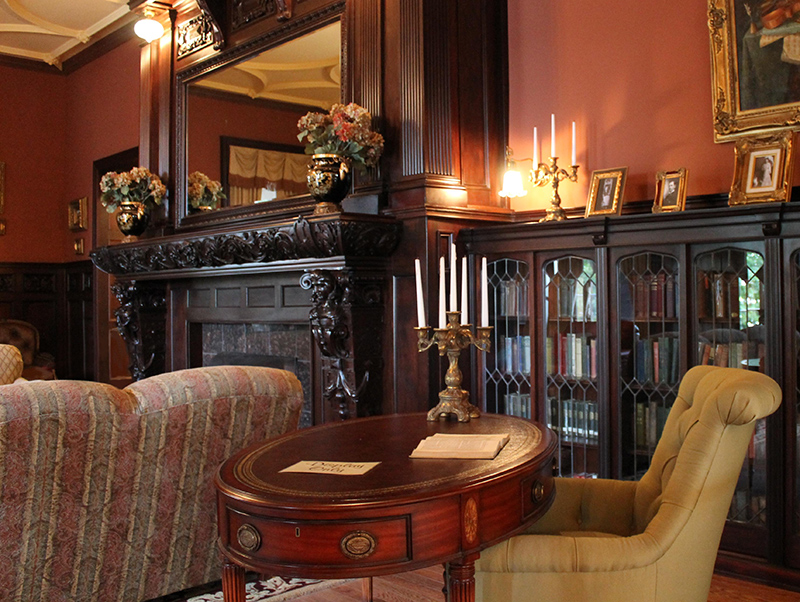 Most writers I know dream of three kinds of offices: the mahogany office that doubles as a library, a room that looks like the Bomb of Eclecticism went off in the middle of the room, and the minimalist office that looks like something out of an issue of Zen Writer magazine. (If Zen Writer magazine existed, that is.)
I'll admit: I'm quite partial to the first kind of office, but what matters most about an office is not its design or even the things contained within — what matters most is the drive of the writer inside the office, no matter how small that office may be.
My Dream Office
Sure, I'd love the mahogany office with shelves so full of books, I even had the little library ladder to climb on and slide around. A place to sit beside a big fireplace and read and think and talk with other writers and my wife (an artist and [mostly] historical costumer). A long sofa made for naps would also be ideal…maybe a window overlooking a garden where peacocks frolic. (Okay, so a no-go on the peacocks…have you heard those things?!)
When I think about this office, it's a dream, but…it's not my ideal office.
My Ideal Office
My ideal office still has a place to sit and chat and read and think…and a couch on which I can stretch out and not worry about curling up this way and that (because I'm fairly tall). But it's not an office full of mahogany bookcases; in fact, it's pretty plain, allowing me to make it my own. A writing desk in one corner, and another corner made for podcasting. I'd rather have a big closet where I could stash all my manuscripts and other things away and out of sight than a hand-carved desk that weighs as much as a water buffalo.
On the walls, I might still stick with the combination of old family photos in oval frames from the 1800s mingled with quirky art that I like, but the podcasting corner would be decorated to support the shows and videos I make. When it comes to desks, small is nice — as long as I have a closet where things can be stored.
In other ways, my ideal office is a shed in a backyard, and my space in a house would be made more for podcasting and reading and relaxing so my wife can wander all she wants in the rest of the house. (We currently live in less than 850 square feet, and how my wife finishes art and costuming in such confined spaces amazes me.)
My Current Office
Right now, my office doubles as storage for some books and storage for some of my wife's creative work (historical costuming). I have a small desk against a wall that serves as the place where I write, record and edit podcasts with Shawn Kupfer, pay bills, and work at the day job on my work-from-home days.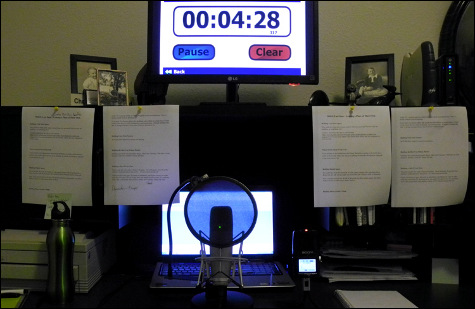 There is no couch or even a comfy lounge chair; in fact, there is only an old office chair where I sit. (When recording episodes of Men in Gorilla Suits, a chair is dragged in from the living room so Shawn has a place to sit.)
It's not ideal, but because it's where I do the things I do — even if things must be moved around before beginning almost any task — it's still the perfect office. It's where I finished the best thing I've written to date and the book I'm about to finish, which is something I wasn't sure I could even pull off.
I can't complain about this office because here's the thing: If I had to write in a notebook while sitting in a folding metal chair in a closet, I would. (In fact, one apartment we looked at…that would have been my office, right there with all our clothes and Christmas decorations and other things tucked away in the Tetris manner my wife seems to have.)
You do what you have to  in order to make the things you want to make. I understand there are tasks that require a certain space (I'm aware of this when I watch my wife make things), but writing is not one of those things.
Writing can be done almost anywhere…
And for that, we are truly lucky!
* * *
Your Perfect Office
I'm curious: what's your perfect office like?
My friend Mark Finn has the coolest office on the second floor of the Vernon Plaza Theater in Vernon, Texas (complete with a badass, hidden library full of the stuff dreams are made of.)
What's the current place where you write like? (I know writers who have no office at all and write at the kitchen table.)
How important is comfort and design to creating what it is you do?