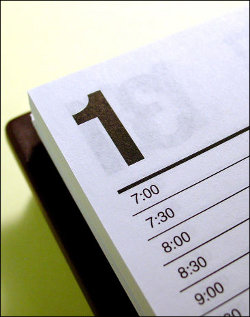 It's a simple pleasure: driving along in an open lane on a wide road and having a light turn green right before needing to slow down. All the cars standing still from the red light begin their crawl through the intersection, but you sail through.
Every year, so many people make resolutions for the new year. They slow down as they approach the end-of-the year intersection and decide to wait until January 1 to begin moving again. They know what they want to accomplish in the new year, mostly because they are the same resolutions as the year before.
I'll lose weight this year…

I'll write that novel this year…

I'll learn that new thing this year…
Do It Now
Why wait until January 1 to start what you want today?
Seriously!
I want to get back to running 5Ks…maybe even do a 10K in 2014. It would be easy to tell myself, "Enjoy all the holiday food and wait until the new year to start." But one of the 5Ks is in the first quarter of the year, and the last time I ran it, I didn't start getting ready until January. I wasn't expecting the hills and crowds and blocks-long distance to the starting gate. I did it, but it was an effort.
And so, my wife and I have been doing some trail running on our hikes and getting a jump on getting back to running. (I partially blame Paul Lamb!)
A Long Weekend
There are other things that would be easy to put off until the beginning of a new year, but I have a long weekend coming up (Thanksgiving in America), and not all of it will be spent with family and friends. There's time to plan for 2014 and continue doing the things I've already started — and get a running start on the things I haven't done, but want to do in 2014.
It seems worth setting aside at least a few hours on a long weekend to get a jump on things and feel like I do when my lane is open on the road and the light turns green as I approach the intersection…