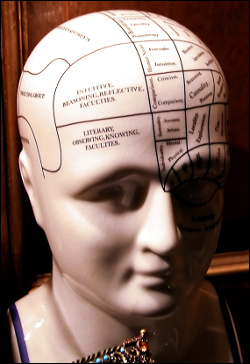 It's easy to come up with an idea and keep it tucked away safely in your head.
Tell no one; you have this thing that cannot be touched or criticized by others. You can idealize it–make it into more than it might even be.
It is all yours, a precious thing that you know is perfect. And you can keep it there–in your mind forever–untainted.
The Problem with Expectations
For awhile, now, I've followed Laura Mills's blog, The Blank Page. Laura is…well, I hate calling her a teenage writer because she's crossed the threshold of 18, and if someone called me a teenager at 18, I would have probably told them where they could stuff their "teenager." So…young adult. Laura is a young adult who's had insight in her truly teen years that I didn't stumble upon until my mid 20s or so.
She wrote a good entry about expectation vs. reality. I won't spoil it because it's worth the read, but the gist: what we build up in our mind often seems better than reality. But what matters is the work, and Laura gets that.
The [Safe] Bubble
I've known a lot of people who, once I got them talking, confessed there were all kinds of things they wanted to do. They wanted to start a business, pursue an art, or just do something cool for the sake of doing it because they liked the thought. When asked why they never tried any of those things, they said one of two things:
I was scared of what others would think…
It was better in my mind…
The Safety of the Mind (Hiding in Your Head)
I can–right now–think of several cool things that were not in my head 10 minutes ago. In 10 more minutes, I can build those things into something perfect. The only problem: it only seems perfect in the safety of my mind. My mind has not done the work; my mind has inflated a mere idea into something I can carry, a secret perfection only I know about.
That does me no good. That does nobody any good. I've seriously heard people who have seen a movie, read a book, or seen a product offered for sale get angry because, "I thought of that first!"
So what? Lots of other people probably did, too. And you probably really didn't think of it like the person or people who made it real. (In fact, you didn't think of it for real because you idealized it in your mind, instead of making it a thing others can actually see.)
Hell, I thought of something similar to this thing I just discovered this week. I can't tell you how many times in my life that I've seen people come up with similar or even identical ideas I've had. It happens when you make stuff, and if it happens to you more than a few times in your life, doesn't it make sense to stop retreating to the safety of your head and doing something with your ideas?
The Surprise of Real
With my current work in progress, I've told people close to me, "If I can make this manuscript even half of what it is in my head, it will be the best thing I've written to date!" That's the expectation Laura talks about. In the safety of my head, this story is perfect.
Except it's not!
In my head, it's really nothing. At best, it's an inflated idea, but it feels safe. I can already see things I will change in those opening chapters when the draft is done, so the expectation is deflated before the first draft is complete. So why not keep it safely tucked away in my head where it will always be perfect?
Something Better than Perfect
There have been moments in every novel I've written where I've jumped up from my chair, pointed at my screen, and yelled some kind of surprised victory cry.
"Holy crap, did I just fuckin' write that?! Holy fuckin' shit boogers on a stick!"

"Fuck yeah! Fuck yeah, that's fuckin' brilliant! Damn, that's fuckin' perfect!" (I really am a humble person…seriously!)

" . . ."
That last one? That's me with my hand over my mouth in shock. Maybe my eyes are tearing up a bit as something all comes together in a way that makes everything I've ever imagined as perfect in the safety of my mind pale in comparison to what actually ended up on the page.
I had one of those moments last night…
The Point of It All
A point of Laura's blog entry, and the point of this one, is that the work matters.
Rarely, now, do I write something I dislike, and I never think what I put down sucks. I write things I know I'll make better in later drafts, but even then–I've written long enough to know that the reality is better than what was once protected in my head.
What ends up on the page may not feel safe, but nothing beats real!