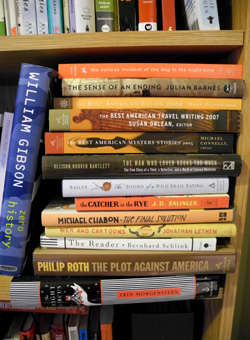 Last month, I posted video tours of a bookcase in my living room and another in my office. Because I try keeping the videos I make 3-5 minutes in length, I didn't have time to focus on the pile in the bookcase in my office. (It's the image over there to the right.)
I have a habit of giving books away. Years ago, I gave boxes of books (several bookcases worth) to a good friend who has a library and a house full of books.
This pile is slated to go to an independent bookstore.
For Your Perusal
I lived in Grapevine, Texas longer than any other place I've lived. I'm still in the area and still make treks to the mighty Grapeburg on a fairly regular basis.
It's been some time since there's been a bookstore in town — even longer since there's been a book store on Main Street. That's all changed with For Your Perusal, an independent bookstore selling new and used books in the heart of Grapevine.
A Dry Spell
For awhile, it seemed most bookstores in the Dallas/Ft. Worth Metroplex were large chains, or more specialized bookstores (Christian, metaphysical, children's books). Lately, there seems to be a return of independent stores catering to a wider audience, and it's nice having something at 411 S. Main St.
What I like most about For Your Perusal is the variety. Since they deal in new and used books, it's quite possible to stumble upon a pile of old Ray Bradbury paperbacks or some book you haven't seen for years. When I stopped by, new books were up front. There's also a room packed full of kid's books as well as some toys and games.
Another thing I like about For Your Perusal, and independent stores in general, is the look of the place. It's not the big Barnes and Noble that looks like every other Barnes and Noble out there. Independent stores have their own look; there's something nice about an old building in downtown Grapevine housing a bookstore that is like stepping into a study. Red walls, wood paneling, and desk lamps make it feel like you're buying books from a private collector.
For the Love of Books
Whether I make money or not, I will always write novels. I do it because I love it. Chatting with the owners of For Your Perusal (Janelle Foster and Greg Kowalski)…obviously, they love books, too.
I've been to plenty of large stores where it's clear that at least some of the employees are there just because it's a job. I like little shops where you can chat with the people who have a bigger stake in things going well. The afternoon I chatted with the owners of For Your Perusal was fun because it was a bunch of book geeks chatting about a thing we all love dearly.
I've been very busy with my day job, lately, working the past several weekends. This coming weekend, though, I need to grab the little pile of books I set aside and make a trip to Grapevine to drop them off.
It's always nice knowing the books I love will end up in good hands, and with a store like For Your Perusal in the area, I know they'll always find a good home.