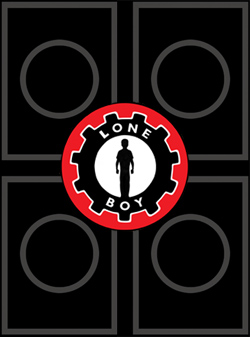 John Picacio won the Hugo Award for Best Professional Artist this year. It was his eighth consecutive year nominated and his first win.
On his blog, John wrote about a whirlwind weekend that had him winning a Chesley Award while at DragonCon one day, and the Hugo at Worldcon in Chicago the next.
It was nice to read about John's experience because anyone who knows the guy knows there are few people as kind and gracious; it was a well-deserved weekend!
But what I liked most about John's entry was the closing. After all he had to say about being recognized for his efforts in a mighty big way, John ended with this:
"Time to get back to work. Time to make better art. Thanks, everyone!"
It's easy for an outsider to think, "Wow, you won the biggest award in your industry — time to rest on your laurels," but at the end of it all, it's about the work and getting better.
John's Recent Work
John's not just busy creating new and better art; he's also been busy starting up some side companies. First, he's set up an online shop to sell limited edition prints. (The Drood print and — especially — the print for A Canticle for Lebowitz are some faves.)
But John's biggest new endeavor is Lone Boy.
Lone Boy is John's home for his creator-owned works. For years, John has paid the bills doing book covers; Lone Boy gives him the chance to do his own thing.
The 2013 calendar looks like quite a thing, but what I'm most excited about is the Loteria deck, and not just because it comes with the promise of 54 pieces of new art by John! (Okay, so that's why I'm excited!)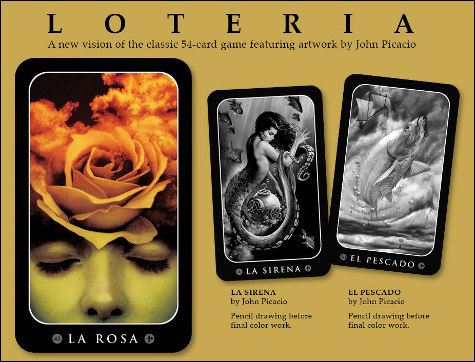 Loteria is similar, in ways, to bingo…just much more fun to look at…especially when John Picacio is doing the art.
If these concepts are any indication of what's to come, it's going to be quite a remarkable thing! (I mean, look at that fish — I love that piece of art! And, knowing that The Heron is one of the cards in a traditional Loteria deck — and one of my favorite animals — I can't wait to see what John does with the heron card.)
If you read The Juggling Writer regularly, you know I rarely say, "Hey, go buy this/go sign up for this!" but…if you like what you see and want to see more, there are worse things you can do today than going to the Lone Boy website, clicking the Sign Up link beneath the calendar image, and getting on John's mailing list.
Getting Back to Work
There really is a point to this entry beyond sharing what a friend is up to. If you don't read John's blog entry about how award-winning weekend above, go back and look at the quote I included about getting back to work and making better art.
John's art is stunning. It's impressed the hell out of me since I met him in 1992 and he showed me some comic book pages of a group of kids on an adventure. Since then, he's only gotten better because he works hard to make what he does look effortless. And while he's won the biggest awards in his industry, he's not out there shouting about his accomplishments from rooftops for all to hear (he's a humble guy); instead, he's working harder than ever to get even better.
It's easy to daydream about making it big and being recognized for our work. Anybody who's done something they love and received positive feedback in the form of praise or even awards knows how good it feels when all that effort gets some credit. But…those moments are fleeting. At the end of it all, there's always another novel, another comic strip, another painting, another sculpture, another song.
No matter how good somebody gets, it's always time to get back to work and make better art.