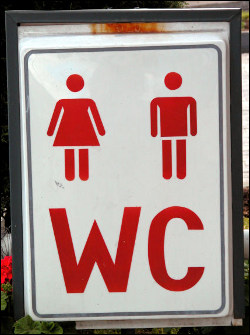 This morning on Twitter, Michael Magras asked what "Fiction for men," is supposed to mean. It's perhaps a bit of a rhetorical question, as well as a way of saying, "I read much more than what is deemed 'fiction for men.'"(From what I've seen, Michael's very well read and reads anything and everything!)
I think we all know what "Fiction for men," is supposed to mean.
At the same time, as a man, I rarely read "fiction for men."
Marketing to Gender
I feel safe in saying that a higher percentage of men than women read Clive Cussler novels, and a higher percentage of women than men read Sophie Kinsella novels. The "fiction for men" Michael asks about, I'm guessing, is written by authors like Cussler, Clancy, and Coonts.
I understand that marketing to gender often works. Still, I think we lose something when we say, "This is for men/this is for women."
Even though I'm a goofy guy built like a defensive tackle, I'd probably read a Kinsella novel before a Cussler novel. I'm far more likely to pick up the next Ann Patchett novel than something by Clancy or Coonts. If Anne Ursu were to write another adult novel, I'd preorder that book in a heartbeat without even hearing what it's about. Margaret Atwood and Toni Morrison cut deep, and I'm not sure there's a better opening line to a novel than Louise Erdrich's Tracks. ("We started dying before the snow, and like the snow, we continued to fall," for those wondering.)
Still, there's obviously enough to some demographics that it's worth marketing things to certain people. I've only read a couple romances in my life and have no real desire to ever read another. Jane Austen's Northanger Abbey is on my to read pile, but I don't have a desire to read all of Austen's works. I could read Jack London and Robert E. Howard boxing stories all day. My neighbor is a voracious reader, and when I've stopped by to chat when he's on his balcony, he almost always has some kind of "fiction for men" in his hands.
I don't see many men excited about beach reads, and the book clubs I've seen are mostly made up of women.
So there are some truths to the likelihood that "Men like this and women like that." (At least if we're trying to box things up nicely for the sake of marketing demographics, instead of just letting a good story stand on its own as a good story.)
Different Tastes?
So…do women and men have different tastes?
Some women and men have different tastes — enough that it's worth it to publishers to market particular titles based on one's gender. It's a subject that fascinates me in ways because the men I know don't read "fiction for men," and the women I know don't necessarily read "fiction for women."
The women and men I know read fiction. Straight up — no "men's" or "women's" preceding fiction.
Sometimes it's what falls along the stereotype of gender, and other times it doesn't. While my wife likes Jane Austen, she owned the only Tom Clancy novel we've ever had in our possession. While she's fond of period pieces on TV and in film (she's a historical costumer), she just might like The Three Stooges more than me. An evening with a couple pints of beer and mixed martial arts fights on TV is a good way to spend an evening as far as I'm concerned, but calling an early night to climb into bed and read something like Jane Eyre works just as well for me.
Promise's Gender
My own experience with tastes based along gender:
There's a chapter in my book, Promise, that some male beta readers said the book can do without. Seriously, they said, "Yeah…just strip that chapter out entirely — it does nothing."
The interesting thing: women who've read the book love the chapter. (One female beta reader said the chapter in question is one of her favorite chapters in the book.) Female beta readers feel the particular chapter is vital to the story.
Another thing with Promise: I received more interest in the query when this line was left out:
"Hoping to impress Allison, Ryan enrolls in wrestling lessons, where he spends more time wrestling with unresolved issues from his divorce than impressing people in the ring."
When I first shopped Promise around, I left out all mention of wrestling. (There's really only one wrestling chapter in the entire book — any other mention of wrestling serves a symbolic purpose.) When mention of wrestling was left out, there was more interest in the story.
The moment I mentioned "wrestling," the only agents to respond were males. (There was a steep increase in not even receiving rejection letters — just silence — from female agents after inserting the line about wrestling.) But I'd be foolish to say that it came down to a matter of gender that agents passed on Promise. The agents who replied with more than a form letter — male and female — had the same thing to say about Promise: "You're a talented writer, but this is a bit too quirky for my tastes."
It came down to people in the business of representing writers looking at all demographics (male, female, genres, etc.) and saying, "It's good, but it will be a hard sell/just isn't my thing, so I'm passing."
Does Gender Matter?
Obviously, gender matters. There are things I like about being a male, and things I will never experience because I'm not a female. I was mainly raised by my mother and sister. Times spent in their care was much different than when I visited my father in the summer. Being raised in such separate conditions, I saw certain strengths that [typically] fall along the lines of gender. And…I also saw where lines blurred and reasons why stereotypes regarding gender are best shunned.
So where are the lines regarding gender with fiction? For me, they are the same lines I saw growing up in separate households. Sure, there are stories that are more likely to appeal to men and stories that are more likely to appeal to women. But my mother can be a stone in a storm, and my father was sentimental and teared up rather easily. But that doesn't mean he was any less a man or that my mother is any less a woman. They are people who have/had strengths and weaknesses that go well beyond gender.
And like them, a good story is a good story, regardless of who the target audience is and who ends up actually reading it.
What's a Writer to Do?
So what's one to do as a writer? Should we all shoot for appealing to gender? I don't think so.
Good fiction is good fiction. Sometimes it's about men surviving in the wild; other times it's about women surviving in a city. But mostly, good fiction is just about people.
Yeah, Beloved is a mother/daughter story, but it goes way beyond just that. Native Son is gritty, but it's not a decidedly masculine book. Both books are about the effects people, the environment, and so many other things have on the main characters, regardless of gender. Sure, Sethe experiences certain things because she's a woman and Bigger experiences certain things because he's a man. But…the struggles involved in both stories are wholly human.
For me, the answer is simple for writers wondering what to do: just write the book you want to write and hope it touches a person in the way you intended!