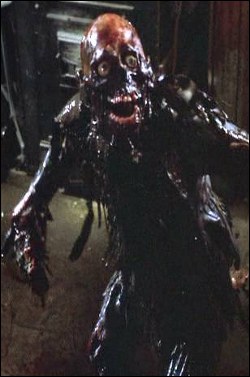 Part 1: It Started in the Basement
* * *
When VHS tapes came out and we no longer had to wait for a movie to air on cable or see it in theaters, one of the greatest things in the world to me was being able to rent the horror movies I'd only heard about: The Texas Chainsaw Massacre, The Evil Dead, The Beyond, Hellraiser, The Thing (Because I couldn't get enough of it on HBO), Fright Night, and even hokey horror movies like The Toxic Avenger and the brilliant Killer Klowns from Outer Space. And, because it needs to stand out on its own, one of the best movies ever: Tremors!
Oh yeah — and zombie flicks.
Plenty of zombie flicks…
Zombies A Go-Go
It's not a big secret that zombies bother the hell out of me. The first zombie movie to terrify me: Zombie.
I'd heard about Night of the Living Dead and Dawn of the Dead from my big sister; she liked the movies enough that she couldn't wait to see Zombie. I was 10 or 11 at the time, and I wish I'd never even seen the commercial, let alone the movie! (She also brought me to see Scanners and told me she had the power to make my head explode.) The thought of the living dead petrified me. (30+ years later, that hasn't changed.) At the same time, zombies fascinated me.
A singular creature like The Thing or even the monster in Prophecy was a stand-alone beast, but zombies represented widespread infection! (Quick aside: My sister took me to see Zombie; my step brother took me to see Prophecy. At a young age, I was convinced that what we did to the environment would come back to kill us all in the form of malformed creatures or disease. I'm still not ruling out the possibility.)
I knew by then the bite of a werewolf made you a werewolf, but…I also knew you could just lay low on the night of a full moon, or at least stand a chance with a gun loaded with a silver bullet. Zombies are ever present, though. While you sleep, they are coming for you. You can run and get ahead, but they are like the proverbial tortoise in the race against the hare: slow and steady wins the race. A silver bullet (or any bullet) will stop one, but…zombies are not singular creatures like werewolves — they are a virus or bacteria that is unrelenting.
For that reason, back then (and even today), they bothered me!
Well, with a few exceptions…
"Send…More…Paramedics…"
I saw Return of the Living Dead before I saw Dawn of the Dead — probably a good thing. (Dawn of the Dead is everything that creeps me out about zombies as a genre…just the whole depiction of the apocalypse. It's brilliant horror, but man…it was one of the few movies that bothered me in high school when I finally saw it. I have no desire to see the remake because I know it will freak me out all over again in new ways.)
Return of the Living Dead will always be one of my favorite movies. It epitomizes the 80s — and while it's wrong of me, it's much easier to stomach a bunch of punks getting killed, instead of families being devoured by the living dead. Hell, Linnea Quigley, of Sorority Babes in the Slimeball Bowl-O-Rama fame (yes, you read that title correctly), plays a character obsessed with death — so in a way she gets what she wants!
There's also a link between Cold War fears I grew up with and those my parents grew up reflected in horror movies a generation apart…just in a different manner. Little things like that made [and still make] horror matter to me, even though I don't watch much horror these days.
There's no doubt that Return of the Living Dead is creepy and gory, but the combination of humor and snappy dialogue was unlike anything I'd ever seen in a horror movie to that point. For me, it's that combination of horror an humor that makes the genre accessible to me. Straight up, well-done horror, while having the ability to be brilliant, drags out that little kid in me. Even as an adult, it sticks in my head and I will go for weeks on edge after seeing a horror flick lacking humor that does its job with making me feel uncomfortable in my surroundings.
But toss in just a sprinkling of humor, and I'm good…
Horror and Humor
So Night of the Living Dead…love it! And it's not the only movie to combine humor and horror that I love.
Shaun of the Dead is obviously known for its humor, and that's definitely what I love about the movie…but there's a lot more to it than that. The opening scenes and then the next day walk-through of the same patterns of the main character (only with a zombie apocalypse going on and the statement being made that we have become a society of zombies in our routines) is brilliant as far as I'm concerned. And when the film turns from humor to horror, it's a reminder that zombies aren't fun…especially when it's family and friends turning and you're faced with hard decisions.
Another zombie-ish film combining humor and horror that I love: Night of the Creeps. It may be one of the earlier memories of seeing how a touching moment in a story that's otherwise pretty ridiculous can hit a reader or watcher. It's mostly schlock, but there's one scene that stands out as a testament to friendship and, in a weird way, how being infected with slugs from space can be a special thing if you look at it the right way.
Seriously.
Let's see Citizen Kane do that!
Why These [Often Stupid] Movies Matter to Me
I'll be the first to admit that with some exceptions, the movies I've listed here are not the best horror movies of all time. Many of them really are little more than 80s schlock. But…
Just as the fears of the 50s and 60s drove the horror movies of the times, the culture I was ensconced in was reflected in the horror movies I watched. Again, like the writing of Stephen King I mentioned yesterday, it didn't belong to the generation or generations before me — it belonged to me!
Like the shows I watched on TV, the music I listened to at the time, and so many other things…it wasn't my dad playing a song he liked in the hope I'd see in it what he did with decades of nostalgia behind it all. What I watched belonged to my generation and helped define who I was in some weird way, whether I liked it or not.
Chopping Mall is a butt-dumb movie, but…mine was a generation raised in malls and on the cusp of that time we traded freedoms for a false sense of corporate security. Nothing could go wrong with weaponized robots in charge, right?
Right…?
* * *
Tomorrow: my own Tales of Terror…