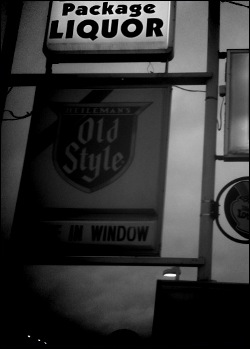 My father moved to Kansas from Chicago when I was 8 or 9. After my step mother divorced him (sometime in my early teens), he eventually settled in Independence, Missouri, where I visited during the summers.
He tried taking time off work when I visited so we could go fishing, canoeing, and camping. Before one of those trips, on a Friday he'd taken off to prepare for a long weekend, he took me to the shop where he worked so he could pick up his paycheck (he was a mechanic specializing in forklifts and heavy machinery).
After stopping at the shop, he drove to a liquor store where he cashed his check and paid his tab for booze he'd purchased there before payday. (In addition to being a good mechanic, my father was also a good alcoholic.)
Then we drove to another liquor store where he paid another tab.
Then another liquor store, and finally one more…
Autobiographic Fiction
I've mentioned that I like making most things up. I've always believed people who say, "Truth is stranger than fiction," simply aren't reading the right fiction.
Good fiction is a reflection of the things that happen to us, the things around us, and our thoughts. But it's still fiction.
I've met a lot of people who take real-life experiences and drop them into stories…and it's usually pretty boring. Unless you've lived a life worthy of a story, retelling your life's story is probably only interesting to you and a handful of people.
That's not to say that, as writers, we shouldn't write what we know. We should just know enough to take a bit of truth and make it something more.
Making it Up
Rarely does something that actually happened make it into a story I've written. And when it does, things are often changed quite a bit.
The memory of my father paying his tab at several liquor stores popped up in my last completed novel. The protagonist, a former celebrity chef named Ryan, talks with his friend — an artist nicknamed Grizz — asking why he never drinks more than two beers:
"Why do you stop at two?"
Grizz stopped cleaning brushes for a moment and looked across the garage. "My old man was a drunk. And I think, if given the opportunity—especially now that Gert's gone—that I could be one too. I've been awfully close to it in the past."
"Gotcha," Ryan said.
Grizz returned to cleaning, working on a brush as thick as his thumb. "My dad was a beer drunk. He drank other stuff when it was available, but it was primarily beer. From bottles—he said cans were for alcoholics. He was never mean, but he was always hammered.
"We had a deal," Grizz continued. "He'd ask me to get him another beer when he was done with the one before, and I'd get a sip before handing it to him. There were days he drank so much—so fast—that those sips added up and I was getting drunk when I was ten, just bringing Dad beer.
"When I got older, I realized what a problem it was. He took me into his shop on a payday, and he cashed his check at a liquor store. He also paid a tab he had open: forty bucks—all booze and smokes. Then we stopped at another store and paid another tab. And then another. It seemed like we hit every liquor store in the north woods. I asked him why we were hitting so many places. He just kept driving. I knew he was embarrassed about his drinking. He thought that if he at least spread it out over several stores, he wouldn't look like the drunk he was.
"After paying his last tab that day, he paid cash for a case of beer and went home and drank it in a sitting—a reward for a hard week's work."
Ryan set his beer down on Grizz's workbench. "Damn…"
"Yeah. It was sad—Dad just sitting in a chair, watching TV, drinking beer after beer." Grizz began drying his brushes with paper towels. "I saved the bottletops—for six months. I kept them in a bag, and one morning, before he woke up and started drinking, I went into his room and dumped them on him. He asked what the hell I was doing. I told him if he loved me, that he'd count every damn bottlecap."
"Did he?"
"Oh, yeah. He loved the hell out of me—can't deny that."
"How many were there?" Ryan asked.
"Two thousand thirteen. And that's just what I brought him after work and on weekends."
"Geez. Did he stop?"
"For the most part, yeah. He limited himself to two beers a day."
"That's good."
"Yep!"
Grizz twirled the ends of his dried brushes in his mouth and set them near his easel. When he was done with the final brush, he said, "Just wish he would have done the same thing with cigarettes…"
The Reality
With the exception of one of my earliest short stories, this is as close to something real appearing in a story I've written; and even then, much of it is made up.
My dad did drink beer, but never from bottles. I never counted how much he drank; I never demanded he stop. My dad did smoke — it's what killed him 20 years ago last Saturday — but I have no regrets about it because it was his issue and not mine.
I needed a reason why Grizz never drinks more than two beers for later in the novel, and my mind went to the day I rode around Kansas City with my dad paying his tabs at liquor stores. Despite being based on a true event, most of what makes the scene is made up.
Most of what I write is even more made up.
How about you: do you base much of your writing on real life, or do you prefer making things up?