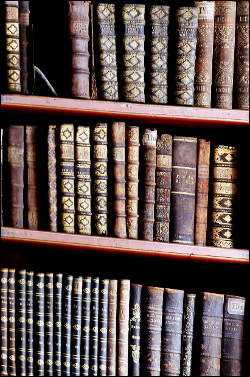 I like e-books. I've been buying more e-books than physical books, lately. Not that I have anything against physical books — quite the contrary: I love physical books. But in a one-bedroom apartment, there's not a lot of room for physical books. (Which is why I tend to give books away.)
E-books are a great way to save space if you don't have it. But they can't do everything.
The Power of Physical Books
A friend recently loaned me Mark Z. Danielewski's Only Revolutions. Like Danielewski's first book, House of Leaves, Only Revolutions relies heavily on the formatting of the book. (We'll see if I get through Only Revolutions…formatting like this in House of Leaves annoyed me, and I set it aside.)
More than formatting that would be tough to pull off in an e-book right now, one of the best things about physical books is the personal library.
Behold, the Library!
Flavorwire recently had a peek inside the libraries of famous writers. I love how each writer's personality is reflected in their libraries.
As much as I love e-books, it's weird to think there may come a day when the famous writers of the future all hold up the same reading device as others when asked to show off their libraries.
(It's one of the reasons I think the physical books will always be around.)