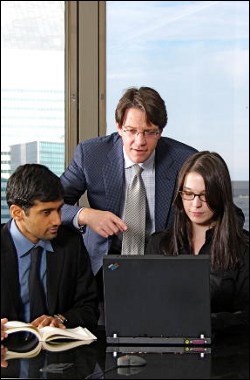 Yesterday, I read this article on Lifehacker about how surfing the Web at work can make people more productive.
I wasn't surprised to hear this. While I work at a desk with a great view of a lake and have everything I need to do my job as a technical writer, aspects of my job aren't much different than all the warehouse and factory jobs I once worked. (Well, there is that luxury of having air conditioning in the office, which is nice during the summer in Texas!)
A large part of my job is moving things (information) around and eventually breaking it down to tiny steps. In many ways, it reminds me of gathering materials in a warehouse to make something and then put it in a box for shipping.
Most jobs I've had–manual labor and office work–have never been particularly difficult. So that short break to check something else, to pull me from the monotony of what I may be doing, helps keep me focused on work.
Writing is Different (At Least for Me)
As I mentioned above, I pay the bills as a technical writer. At times, I do have to focus more to understand a process or throw myself completely into a large procedure without distraction. During those times, I force myself to take breaks, but I don't look at anything online. I walk around and stay in that zone…just like I [usually] do when I'm home and working on a novel.
When I'm working on a short story, article, or novel, I disconnect from everything. The phone goes off and the Web browser is shut down. If my wife is awake, I let her know that I'm going to be writing for several hours. I block out the world with [mostly] instrumental music.
To take a break and surf the Web or check social media sites when I'm writing makes me anything but productive. But there have been times I took that online break in the past year or so because I felt I had to.
What about My Writing Platform?
[Okay, so I'm not a fan of referring to what I write as a brand or platform, but hey–it made for a good subheading.]
As more people replied to my blog and chatted with me online, I felt like I needed to be available for those people. I know people who make a living by interacting with people online, and some of that philosophy transferred to me in the last year. That, and most of my friends stay in touch through Facebook.
While I can take a break and check things online when I'm entering edits I've already done on a manuscript (mindless work), I can't do it while writing…but I was doing just that!
Thanks, Monica!
Monica Valentinelli, who was the inspiration for me to cut out social media for 50 days, recently wrote about the compulsion to always be available for her fans. In the entry, she writes:
"Being hyper-connected doesn't work for me, so I've since figured out a better way to manage my time to focus on what's important."
In the last year it may look like I've been productive–recording a podcast, releasing ebooks and polishing a novel to submit to agents–but I worked on things that allowed me to feel productive while dealing with distractions. I worked on things I'd already written, kidding myself that I was being "busy." Part of the reason I did that was the compulsion to be available to people online.
I Like People!
Even when I was so shy that I couldn't talk to even some people I've known for years, I liked people. So I love the ability to be online and in touch with people all around the world now that I'm not so shy. More than that, since I often chat with people online about writing, I felt like I was being productive; after all, who was going to buy what I wrote? How was I going to let people know I exist?
Social media sites seemed like the natural answer, but I'm not so sure that's the case anymore.
My 50-day break isn't an attack against social media. As I stated above, I know people who make a living communicating with others online. My 50-day break from social media is to reinforce what I already know: that–just like Monica Valentinelli–always being online doesn't work for me.
I need to manage my time better and focus what's most important: writing!
The Social Media Break and Writing
I'm enjoying my break from the online world so I can be more productive.
For me, writing isn't like working in a factory or working at most desk jobs I've had–it requires much more focus. Since writing is one of the things I enjoy more than most things in my life, I owe it to myself and to what I love to find that old focus. That means taking this break.
I've already thought about extending the social media break to 100 days; hell, I've even tinkered with the thought of staying off social media sites until I finish my next novel!
That seems like a long time away, but if I focus on what's important to me, it may not be as long as it would be if I let the Web continue to distract me while doing what I love.
How about you? Does surfing the Web while writing work, or does it get in the way?