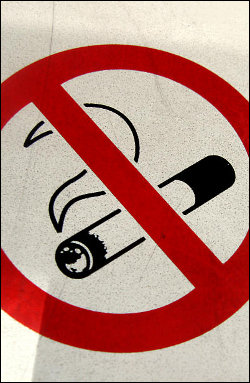 I never tried a cigarette, but I have friends and family who smoked.
When they quit, they all mentioned how much of a habit reaching for a cigarette was. Just BOOM! they reached out for something that was no longer there.
I mentioned yesterday that I'm taking a 50-day break from social media. Sunday night before going to bed, I did it without thinking–I typed "F-A-C…" in my Web browser's address bar and "Facebook.com" popped up. I pressed the enter key on my keyboard and the page popped up.
I logged out of all these sites (and removed them from my iPhone), before starting the break, so the Facebook login page popped up. I didn't see anything, but it hit me: without thinking, I logged into Facebook. It was automatic; my browser even helped get me there faster by filling in the rest of the URL!
Morning's Are Different, Now
One of the first things I do when I wake up is check email and social media sites. (Much like a smoker reaches for a cigarette.)
I wake up, reach over to the nightstand for my iPhone and my glasses, and I do a quick sweep through things to see what happened in the world during the 6-9 hours I've been asleep.
As I make my way to the kitchen to get coffee and a little something to eat, I stop off in my office to fire up my work computer and my personal computer.
When I get back to my desk, I reply to Facebook, Twitter, and Google+ messages and updates while waiting for my work system to fully boot up. I read blog feeds and check out some other things online before turning my attention to work.
In addition to cutting out all social media sites, I significantly reduced the amount of blogs in my blog reader. Now when I'm done with my sweep through the blogs I really follow, when I refresh things, new entries aren't there. In such a short time, I've reduced the morning info-dump and forced myself to go back to an old habit: being very productive early in the day.
If I'm up before 7:00, I write. If I'm up around 7:00, I go straight to work.
I get things done early, and without interruption.
The Urge
The urge to check Facebook, Twitter, and Google+ is still there. When I reach the point of taking a break with writing or work, I find myself starting to fall into the old habit of completing a sweep of social media sites without even thinking about it. I check my blog feeds, but they come through much slower now. Even email seems quiet. And I'm forced to get right back to work, whether it's day job work or the writing I do on the side.
The Excuse (Is Dead)
I'm not the only writer who works from home who says I use social media because writing is lonely work and it's my equivalent of chatting with coworkers. There may even be some truth to that. But in my case, my wife is home, too–I always have somebody I can chat with. And I like that writing is lonely, quiet work…it's one of the many reasons I write.
Taking a break from social media is already a strong reminder of just how much I really cherish quiet time alone with uninterrupted thoughts.
Already, I can tell that when these 50 days are up, I'll have a totally different relationship with social media.