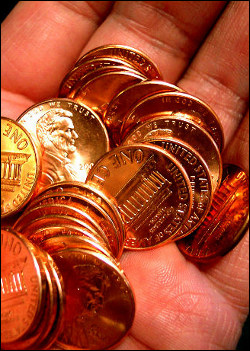 Yesterday, the Wall Street Journal had a piece about cheap e-books.
I've heard more than a few people bemoan the race toward the bottom when it comes to pricing stories on Amazon, Barnes and Noble, and other sites selling e-books.
While I understand where these people are coming from (it can be hard to stomach that something you may spend years writing is seen as overpriced if you charge more than $2.99 for it), it doesn't surprise me.
Factory Life
I've worked in manufacturing, making automobile air conditioner compressors, printing T-shirts, and even making the body parts of collectible dolls. (Yes, you read that last one right–body parts for collectible dolls!)
In every case, the goal was to make piles of stock as cheaply as possible.
The competition, after all, was out to offer the same thing for less, so it was important to beat them. In many cases, that meant the quality of what we created wasn't the best. We shot for good enough.
Eventually, with the exception of the collectible doll parts, other companies were able to produce what we did for less. And after gaining a reputation for being affordable, we could no longer say we were the best quality out there because we engaged in the wrong race.
When racing toward the bottom, you can rarely beat what can be made in another country for next to nothing.
When you race toward being the cheapest, if you lose, you're usually screwed.
Writing Is a Little Different
I know many people have complained that even an e-book full of typos should be worth more than $.99. After all, it's not a product–it's a person's passion!
Publishers don't like hearing there are legions of fans out there who see anything priced more than $2.99 for an e-book–even from a lone author working a full time job to make ends meet–akin to robbery.
But like it or not, that's the way it is.
Maybe you get mad at the thought; maybe you realize that you're not as special as you thought you were when anybody with the wherewithal to put their butt in a chair and produce a novel can sell it as an e-book.
An industry that's been slow to adapt–one that even scoffed at the thought of e-books and, especially, at self publishing–now scrambles to catch up.
But there's a difference between e-books and manufacturing: with e-books, a single writer can be in control of their success.
Maybe your writing isn't on par with a literary master, but there are people out there just wanting a fun story, and maybe you can provide it.
It's not a factory with three shifts and thousands of employees, it's you and a lot of hard work.
You at least get a chance.
I'm Babbling
Okay, so this isn't the most cohesive thing I've written on The Juggling Writer, but let's get back to some of the crappy jobs I've had.
The compressors I used to make? They started making custom parts and came up with technology that improved efficiency. They survived by realizing being the cheapest wasn't the best bet.
…but they got known by one time taking shortcuts and being an affordable part.
The T-shirts I used to print? Realizing that they couldn't beat larger printers in the race for the cheapest shirts (and definitely couldn't beat shirts printed in China), they specialized. They started working hard to get licensing deals and putting a little more time into the runs to make as quality a T-shirt that you can produce.
…but they got known by one time doing cheap runs that weren't the best quality you could buy.
The collectible dolls? Okay, they were always expensive, even though some of the parts were cast using the most affordable resins that were good enough.
I guess sometimes you really can dress something up and make hundreds–even thousands–for something costing mere dollars to produce.
My Point?
I'm not entirely sure what my point is, other than I've worked in factories and warehouses where I've seen cheap being beat overseas, forcing the companies to go back to quality. I saw an operation so proud of what they produced that the price they commanded became what people paid, even if the parts cost pennies or dollars to produce.
I know it hurts for publishers and some writers to think of selling an e-book for next to nothing, especially when years might go into a great book and a small army of people are behind everything, including the covers.
But that's the way it is.
One thing's certain: new writers are being discovered, writers who–like some of the factories and warehouses I've worked in–caught the eye of consumers with an affordable product.
Maybe we'll see a pull back the other way sometime in the not-too-distant future. Perhaps a million-selling e-book author will produce a run of 250 special addition print books worthy of charging $125 a piece for. Maybe somebody discovered by selling e-books for $.99 – $2.99 becomes so popular that they decide to treat writing like some artists treat original paintings–selling single stories for thousands of dollars to collectors eager to be the only person (other than the author and maybe an editor) to read the work.
Like I said–I'm babbling. But in all the strange things going on in publishing, I have to think we're about to see even more interesting things in the next handful of years.
Granted, most of what we see will probably be gimmicks, but I like to think that somewhere out there somebody's creating something really special and will share it in ways that leave us thinking, "Why didn't I think of that?!"
Your Turn
What do you think about cheap e-books and the future of publishing?
Chime in, and don't worry if you babble a bit!