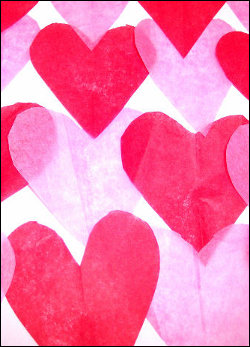 Valentine's Day seems to be a day that drags out so many opinions and feelings.
There are the touching proclamations of love. (You gotta read this if for no other reason to see the last two photos and Wendig's commentary surrounding them.)
There are those without somebody to spend the day with talking about how horrible the day is. (Remember this one, 'cause it's kinda the point of this entry.)
There are those who, regardless of their relationship status, proudly proclaim that they shun the day entirely because it's too commercial.
Valentine's Day Today
I consider myself very lucky to be spending the day with my wife.
We met in 1992 when I was writing for a small comic book company and she was doing art for the company. But it wasn't writing and art that brought us together: it was juggling.
I was too shy to talk to her until I found out that she knew how to juggle (and wanted to learn more).
We started hanging out, juggling all day — and almost 19 years later she still hangs out with me.
Valentine's Day Back Then
Before I met my wife, I never had a girlfriend. (I met my wife when I was 23.)
I was shy to the point I'd damn-near vomit if I forgot a #2 pencil for a test in school and had to ask a girl if they had one I could borrow.
I never kissed somebody before I met my wife; hell, I never even held hands with a girl because that paralyzing shyness got in the way.
But Valentine's Day never bothered me.
Why Valentine's Day Never Bothered Me
The way I looked at it, if it was just a made-up holiday about love, then I would spend it doing what I loved.
Valentine's Day was a day of writing and juggling for me. (It still is.)
Sure, I'll hang out with my wife most of today, but right now I'm writing. Before I make a nice dinner tonight, we're packing a picnic basket and going to spend the afternoon juggling.
So for me, Valentine's Day isn't that much different than it was before I met my wife, except, well…I now have a very cool wife I'll spend the day with.
Celebrate What You Love
Regardless of your relationship status, spend some time today doing what you love: writing! (I assume, if you read The Juggling Writer, that you love writing.)
If you're alone and not happy about Valentine's Day, instead of spending the day dwelling on that, use the energy to write some great stuff not just today, but this entire week!
If you don't write, still — spend the day doing something you love! (It's what we should do at least a little bit every day, regardless of whether it's February 14th or not.)