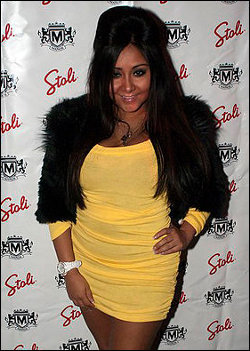 I know next to nothing about Snooki.
I know there's a show called Jersey Shore and that people watch it because it's a supposed train wreck, full of ridiculous people being, well…ridiculous.
I'm not a fan of fame for the sake of fame, but the main reason I have never watched the show is — I'll admit — while I have my moments of refined taste, I also have a love for tacky things.
I'm afraid, much like my life-long love of professional wrestling (which I admit is beyond ridiculous), I just might find myself eagerly awaiting the next exploits of those nutty, obnoxious people from Jersey.
Outside of Snooki's book deal being part of a bigger problem we face as a country (more people can probably name every winner of American Idol than the Vice President), I could care less.
The Snooki Thing…It Writes
Last year, some writer friends were outraged when Snooki got her book deal.
Not a non-fiction, "This is how much fake tan you can use before being compared to an original Oompa Loompa," deal, but a full-blown, "Even though I've only read two novels in my life, I'm gonna write one!" deal.
I've read excerpts of Snooki's book and they are laughably bad (although if somebody like Junot Díaz wrote a line like, "Johnny Hulk tasted like fresh gorilla," we'd probably not be as critical; of course, it would probably make more sense than I imagine it does in Snooki's book). (I have no idea what the line's about, but taken out of context, it's a line I almost wish I had written!)
So Snooki, a person who has probably never hungered to be published like the rest of us, has a book out…
This Isn't New
I'm not a fan of many blockbuster novelists. (And there are some blockbuster novelists I love.)
I've tried reading Nicolas Sparks, James Patterson, and even a Danielle Steele novel when I worked at a library and it was back behind the desk. When Bridges of Madison County came out, I picked it up to see what the hype was all about; within the first 1/8th of the tiny book, I put it back down.
But I'd never begrudge any of these authors of their successes.
Nicolas Sparks wrote a handful of novels before his million dollar sale that came with the agreement [paraphrased], "You're not that good, but the story has something — make these changes to the manuscript and we can maybe work something out." Granted, the goal is to get better with those first few novels nobody sees, but still — he wrote more than most of us before we ever saw one of his books on a shelf.
Publishing is a business, and if Stephenie Meyer has legions of fans willing to read her poorly-written stories about her emo vampires and buff werewolves, so be it. (To be fair, I put Twilight down, so maybe the writing got better.)
Traditionally, it's been those very blockbusters that many of us dislike — even loathe in cases — that allow many of the writers we love the chance to be published.
"Crappy" writers making huge piles of cash make publishing houses a little more willing to take chances on writers who may not even break even on a $5,000 advance. Some big name writers cranking out trashy stories many scoff at, in a roundabout way, are responsible for the careers of more than a handful of writers who were eventually able to pay the bills exclusively through writing.
If a handful of crappy books brings in so much money that publishers can have breathing room for the books they truly love that barely break even, why complain?
Staying Power
Every year, I see publishing stories that infuriate writers. Sure, it can be discouraging when somebody like Snooki "makes it," while the rest of us look ahead to another decade of  busting our asses, striving to be better writers.
But do you really think Snooki's made it?
Does anybody really think she'll be anything more than a "where are they now," spot on VH-1 in a decade, instead of a "star" on MTV right now?
We all have the right to be loud, pick our teeth in public, and desperately push our way into the spotlight, just like so many flash-in-the-pan celebrities who aren't really celebrities.
But do you really want to do that?
Even more: do you really think this is the first step of Snooki's long career as an established novelist? (I'll say this, if there's a day Haruki Murakami and Snooki are up for the Nobel Prize in Literature and Snooki wins, I'll give up writing and start using spray on tan!)
I can name more than a few unsuccessful writers who were supposed to be big, like Snooki.
Okay, so I can't…and that's the point. They don't last! Most writers given the kinds of deals that work the rest of us into a frenzy are one shots at best, never to be heard from again.
When everything you do relies on making a spectacle of yourself, the only people really following your career (if it can even be called a career), are fickle individuals looking for the next wreck.
Once the next wreck comes along, you're looking at sitting in a nail salon in Jersey in 20 years, talking about the time "I once wrote one of them book thingies!"
Jealousy
I could care less about Snooki's publishing deal beyond the reaction it's caused. (I do understand where Jane Devin's coming from in the linked blog; I just don't think it does a person any good being jealous of others.)
If somebody has something I want, I don't begrudge the person — I figure out what I need to do in order to attain whatever it is I've seen. If something prevents me from getting there, I still have plenty; to complain would be ridiculous.
In the case of Snooki, never in my life would I want to be what she is in order to get a publishing deal.
We all know she didn't get the deal because she can write. Sure, it furthers stereotypes that anybody can write a book and all the other annoyances that come with what we've chosen to do with our lives. But nobody's putting a gun to my head and telling me to write…and definitely, nobody's putting a gun to my head and telling me to write like Snooki. (If that ever happens, I'll meet Jane Devin on the rooftop of Walmart and jump head first to the pavement below with her.)
I write because I want to write, and nothing — not even if Snooki makes every bestseller list and stays there for a year until her next bestseller comes out — can stop me!
If she makes Simon and Schuster enough money to give a small advance to a new writer whose hard work eventually pays off in the form of eking out a living, great!
If Snooki makes it big and writes more books and it infuriates writers enough to leave the publishing industry wallowing in its own desperate waste one day while the rest of us have found different ways to spread our writing without them, great!
I'm that optimist many people want to slap, but it's fine by me…'cause I wouldn't want to be Snooki for anything, and it would be a real shame if I let jealousy of her success slow me down for even a moment…
*          *          *
Snooki image by Jeff Lewis.