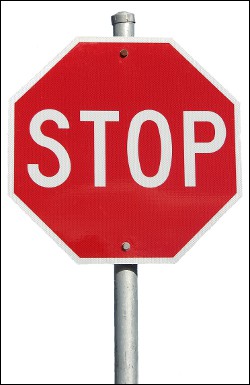 There's a huge industry based around productivity.
I only have a couple productivity books, but I follow many blogs that discuss productivity in passing.
I can see the allure of constantly revising one's system for being productive. (It's kind of like revising a story or article if you think about it.)
I see reviews for apps, systems, and books that sound like the cure-all for keeping even the busiest life in order.
But when I really think about it, busy is the problem.
The Problem With Busy
I'm a fairly busy person. I blog, I have a podcast, I write and edit things. I go to the gym with my wife more days than not. I get out and see people I like being around. I have hobbies.
The busy I do is busy of my own choosing — and it doesn't come without some sacrifice.
I've passed by promotions at jobs because I knew it would have meant working longer hours. Because I made this choice, I've typically made less money than most of my friends.
I've passed by offers to go out and do things some weekends. While others were out spending their hard-earned money, I was home writing.
I've made other decisions to deliberately reduce the amount of busy in my life so that I could focus on the things that matter most to me.
The payoff: I'm pretty laid back and I get most things I set out to do done.
The Best Productivity Tip I Know
Here's the best productivity tip I know: don't do everything.
Really, that's it!
Don't even try to do everything!
If overtime at work becomes the norm and you don't want to do it…don't!
If you worry you'll lose your job, suck up the overtime and look for another job. Or say, "No, I'm not available to work 60 hours this week," even if it means people will get mad at you.
Chances are, if you're bullied into working a lot of overtime, you work at a job you're probably not particularly fond of, anyway — so saying no really won't make you much more miserable than you already are. (Do you really think your boss will be at the side of your bed when you die to say, "Thank you for the thousands of extra hours you worked instead of lived that put you in this bed before your time — here's a gift card to Chili's in honor of your years of overtime!"?)
Resist Every New Idea
Sometimes not doing everything is hard.
Not a week goes by that I don't come up with a new idea that I want to pursue.
My wife is a very patient woman; she lets me talk about ideas to get them out of my system and get back to the things that matter most to me.
If the idea won't leave me alone, I look at it to see if it's so big that I'm willing to stop working on the last big idea. Most times, I don't.
At best, I file away the good ideas to be considered when I'm done with something that came first that needs to be finished.
As a writer, if I don't finish things, I fail!
Those Few Things

Few people are known for doing "everything."
I can't name one best-selling novelist who not only cured three diseases, but also won a World Series in between climbing every mountain on Earth taller than 20,000 feet and acting as CEO of four Fortune 100 companies.
Most people are known for doing a few things really well at best.
Why not focus on those things, and cut out the rest?
You'll be much more productive; probably even more happy.