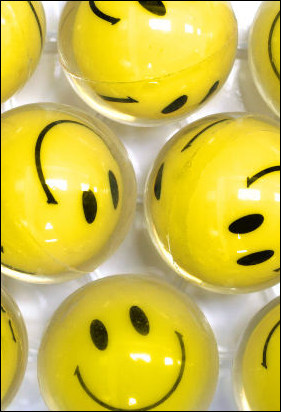 Does writing make you happy?
Should writing make you happy?
I've talked with other writers and the results are mixed.
If It Makes You Miserable
One thing I hear even more than whether writing makes writers happy is how miserable it makes them.
I've encountered writers who talk about how they have to write, even though it pains them. They talk about writing in a very dramatic fashion, seemingly putting more effort into discussing how miserable writing makes them than they put into actually writing.
I never understood this. While I have a compulsion to write and can't imagine not writing, I don't have to write. I'm simply compelled to write; most days, I even want to write!
I sometimes wonder if writers who talk about how miserable writing makes them put too much pressure on the act to make them happy.
I wonder if those writers are happy in any aspect of their lives.
Is It Writing's Fault That You're Not Happy?
If you think about it, the physical act of writing isn't very exciting. Most of us go into a room all by ourselves for hours and create something from nothing.
It's fun, but it's not easy. Some days, it is miserable!
Writing can be frustrating. Few things are worse than knowing what you want to create and not being able to do it when you sit down. Some days you see a better cadence to the pacing and better words on the page than you put down. Some days you know you can do sooooooo much better. (Which is why we revise.)
But is writing to blame for one's misery?
What Else Do You Do?
I write every day. (In addition to the other writing I do, so far this month I've written a Juggling Writer entry a day.) I edit things, too.
I write fiction, non-fiction, and technical documentation. But I also get out and see friends. I workout more days than I don't. I love hanging out with my wife. I juggle and have other hobbies.
Those things make me happy.
Writing doesn't necessarily make me happy, though…
So What Does Writing Do?
While writing doesn't necessarily make me happy, it satisfies me.
Every time!
Writing leaves me feeling like I've accomplished something and moved another step toward doing the writing I really want to do full time. It's not the act of writing, but the thought of making it writing that makes me happy.
Right now as I freelance, I have more time to spend with people I love — I have more time to do the things I enjoy doing.
There are times I'm so incredibly happy while writing that I can't even describe it. (Even though I'm a writer.) There are times the words flow and what goes from my brain, through my body, and makes it on a page makes me so happy and excited that I leap up from my chair, point at the monitor — at the words that surprised me — and laugh or cheer.
Seriously.
But most days, writing's work…and hard work at that.
I like hard work when it has a payoff. It leaves me satisfied. In a sense, there's happiness in that satisfaction, but when I look at a printed article, screenplay, or novel on my desk, there's no bigger sense of accomplishment in my life!
Writing leaves me feeling satisfied.
Sometimes, it even makes me happy.
(I'm not sure it's supposed to do any more than that.)
What About You?
Does writing make you miserable, happy, satisfied, or something else?
Do you have to write, or just want to write?
I've never understood self-flagellation and really would love to hear from somebody who absolutely hates writing, but keeps at it.
If I hate something, I don't do it — so I'd love to hear why somebody chooses to be miserable, and what good it does them to keep writing.