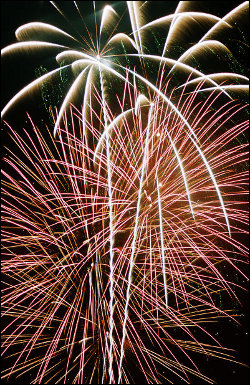 It seems that failure's received a good rap lately.
While there are still those who are terrified to take a step toward the things they want to do for fear of things not working out perfectly, most people in the creative community have come to accept that getting better takes some failing along the way.
Failure + Tenacity = Eventual Success
I've known people who see something they want to do, try it once or twice, and give up because they didn't create a work of art or writing on the level of those they aspired to be like.
It's insulting to think that you just decide to do something and BOOM! it happens without years of practice. It takes years of practice and study to perform a surgery; it takes years of practice and study to write a good novel.
Tenacity is the big thing that separates people doing things from those who stopped along the way — not lack of talent or not knowing the right people (although talent and connections help…and they come when you work continually). Many people stop sticking with creative dreams because the failing along the way doesn't always feel good. (Many people don't realize that some of the discoveries that come from failing do feel good — sometimes ranking right up there with success!)
Listen to This
I recently discussed a podcast interview with Merlin Mann a friend shared with me. In the podcast, Mann talks about what it takes to shed doubts and fears and start creating. Along the way, there are times you're simply going to suck — so why not accept it and keep moving toward a goal of not sucking?
You're Doing It Wrong. And That's Right!
While I never bought into the Hemingway quote that the first draft of everything is shit, I've written some  very weak first drafts. I've written things nobody will ever see. The good things I've written have required polishes and complete rewrites. (The novel I recently finished was completely rewritten four times.)
Getting that pile of paper to shine, whether it's a short story, screenplay, article, or novel, takes a lot of failing along the way.
There's a great podcast interview with Rob Zombie I like in which he talks about his secret to success. He attributes it to the following:
"The secret to my success is doing everything the wrong way first."
Notice, Rob said "first" — not "repeatedly."
Do Not Repeat
If you repeatedly fail at the same thing, step back and be honest with yourself: does what you're trying to do take years to master, or are you just not pushing yourself hard enough?
Becoming a great writer can take decades, but there are small successes along the way. If you don't see successes on the way to getting where you want to go, perhaps you're afraid to accept some degree of failure and instead have subconsciously decided to stick with what's comfortable.
Failure and You
Don't embrace failure…but don't fear it.
Failure isn't comfortable, but it's necessary to get good.
Most of us work in industries where failure is frowned upon. (Or to be more realistic: pointing out other people's missteps is a tactic used by many to take the heat off of their failures.)
It's no wonder some people have a hard time failing in order to get good when they spend 8 – 10 hours a day in environments where people are more concerned in covering their asses than actually being innovative and making cool things!
It took me thousands of drops to become a good juggler and thousands of pages to become a good writer.
If you've been afraid to push yourself, go for it this week! You may fall flat on your face, but if you get back up having learned something — if coupled with a little tenacity — you've found the secret to success.