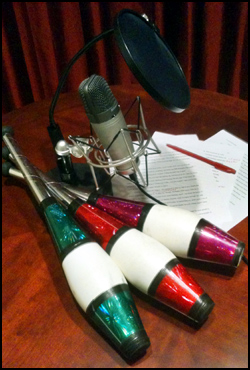 I've been having a blast doing the Hell Comes With Wood Paneled Doors podcast.
I've mentioned before that I want to do a  Juggling Writer Podcast.
I'm still thinking about it…
Some Ideas
I don't want the podcast to be the exact same content covered by The Juggling Writer blog. While I know there are people who don't read the blog who would listen to a podcast, I want the blog and podcast to complement each other — not be the same thing.
Bouncing initial thoughts off a few people, I've come up with a pile of ideas.
Obviously, a podcast lends itself to doing interviews, discussing books, and covering publishing news, but I also want to focus on different kinds of writing and opportunities for writers.
I have enough ideas to run with a Juggling Writer podcast for awhile. But I'm not the person who'd be listening.
What Would You Like To Hear?
What would you like from a writing podcast that you're not hearing from other writing podcasts out there?
How Often/How Long?
I've noticed with Hell Comes With Wood Paneled Doors that some people have a tough time keeping up with a weekly podcast. They catch up, but once I put more than a handful of chapters online, it's taken some listeners a longer time to catch up.
I don't see doing a Juggling Writer Podcast more than twice a month (and probably monthly at first). When it comes to the length of the podcast, with the exception of interview episodes, I'd try keeping it around 20 minutes.
How often would you want a Juggling Writer podcast, and how long do you like podcasts to run?
Audio, Video, or Both?
I'm not a fan of long video podcasts, but I've really come to love 1 – 3 minute videos.
While I'd shoot for 1 – 2 Juggling Writer podcasts a month, I'd like to do short videos when certain thoughts come to mind.
How about you — are you a fan of short videos? Would you like audio only, or a podcast supported by short videos here and there?
Thank You
I appreciate any thoughts readers have about a Juggling Writer podcast. Feel free to leave a comment below, or e-mail me through the contact page.
Thanks!
A Shameless Plug
Oh! And if a weekly dose of a humorous coming-of-age story about a family traveling cross country in a possessed station wagon sounds like you're kind of thing, click the Hell Comes With Wood Paneled Doors logo in the far right sidebar and come along for the ride!
It's a good time to start listening because I'll be announcing a giveaway later this week.